Maybelline V- Face Duo Contour Stick in Dark: Review and Swatches
Hello everyone,
Recently Maybelline launched their V-Face Blush/ Contour products here in India and I was super excited to try them out as they probably are the latest and first set of products in the contouring and highlighting department that have been launched in India. So finally we do not have to order contouring products from international websites and hopefully more companies will definitely come up with contouring and highlighting products in the near future. I have heard that Milani is finally coming to India and I am so so excited. I have been wanting to try out so many products from Milani specially their baked blushes and finally my wait is over. So without blabbering much let's start with the Maybelline V-Face Duo Contour Stick in Dark: Review and Swatches.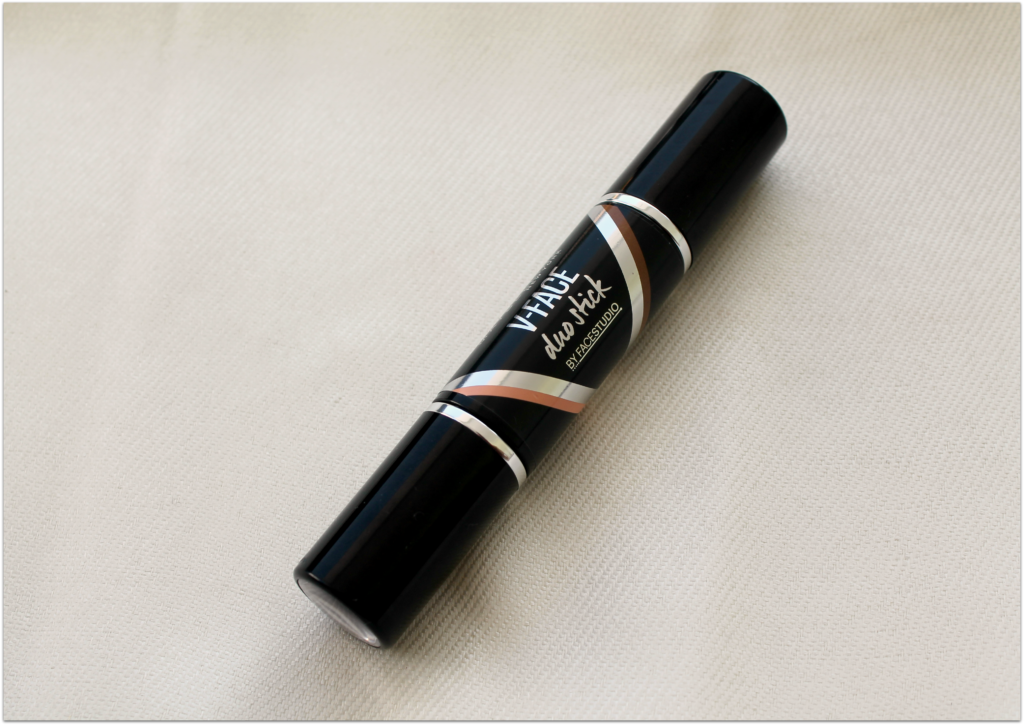 Price of the Maybelline V- Face Duo Contour Stick:
Rs.650.
You can buy it from Amazon.
Product Description:
Maybelline New York presents the stunning V-face Duo Stick by Face Studio that makes it easy to define, shape and highlight your features like a pro. An all-in-one contouring and face sculpting duo stick, this gives dimension to your face with its contouring shade and highlighter. Promising a 10% slimmer face and an instantly sharper nose in just a few steps, Maybelline V-face Duo Stick can be used to accentuate your features with ease to achieve that natural foolproof contoured look!
⦁ All in one contouring and highlighting duo stick.
⦁ Easily blendable creamy formula.
⦁ Available in 2 shades for Light to Medium and Medium to Dark skin tone.
⦁ Suitable for all face types – square, round or heart shaped face.
V-Face Duo Stick
Maybelline New York's new V-Face Duo Stick by Face Studio #CALLSFORCONTOURING for all your occasions. Shape and dimensionalize for a 10% slimmer V-face. Contour for structure and highlight to enhance, now in an easy 2 step glide!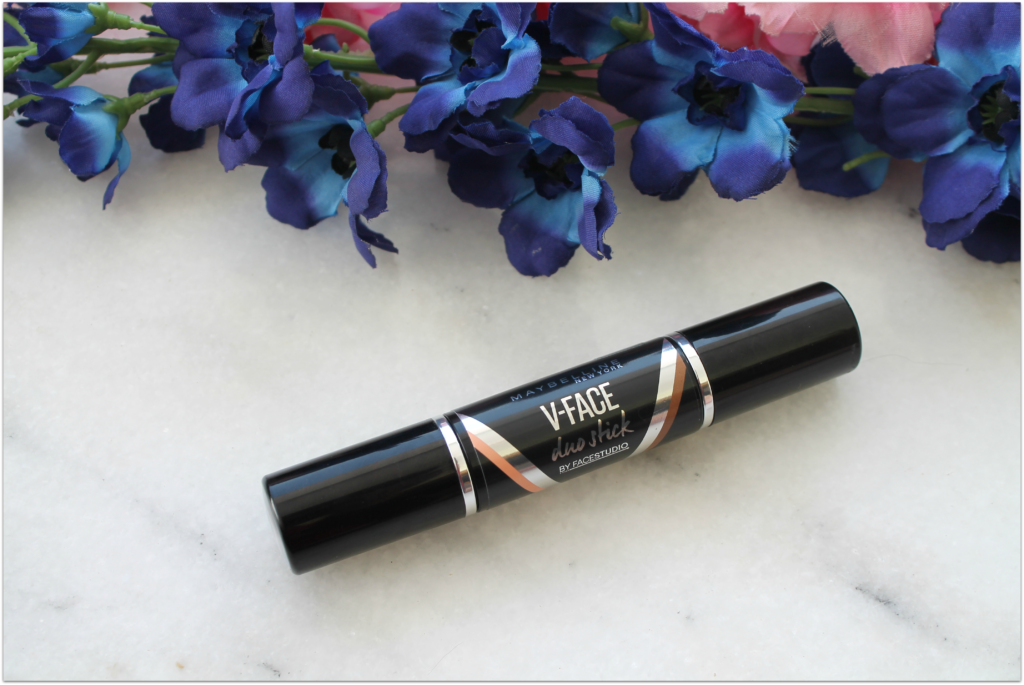 Why You'll Love It
Choose from 2 Shades:
For contouring, create depth by using a 2 shade darker product. For highlighting, use 2 shades brighter than your skin tone.
How to Contour and Highlight:
Step 1

Apply dark shade along the jawline and hollows of the cheeks and blend well.

Step 2

Apply light shade to high points of the face – top of cheeks and bridge of nose. Blend well.
Benefits:
Master the perfect V-shaped face in an easy 2 step glide.
All-in-one contouring duo stick creates illusion of structure and lift.
Creamy formula glides and blends easily.
For best results, use with the V-Face duo powder.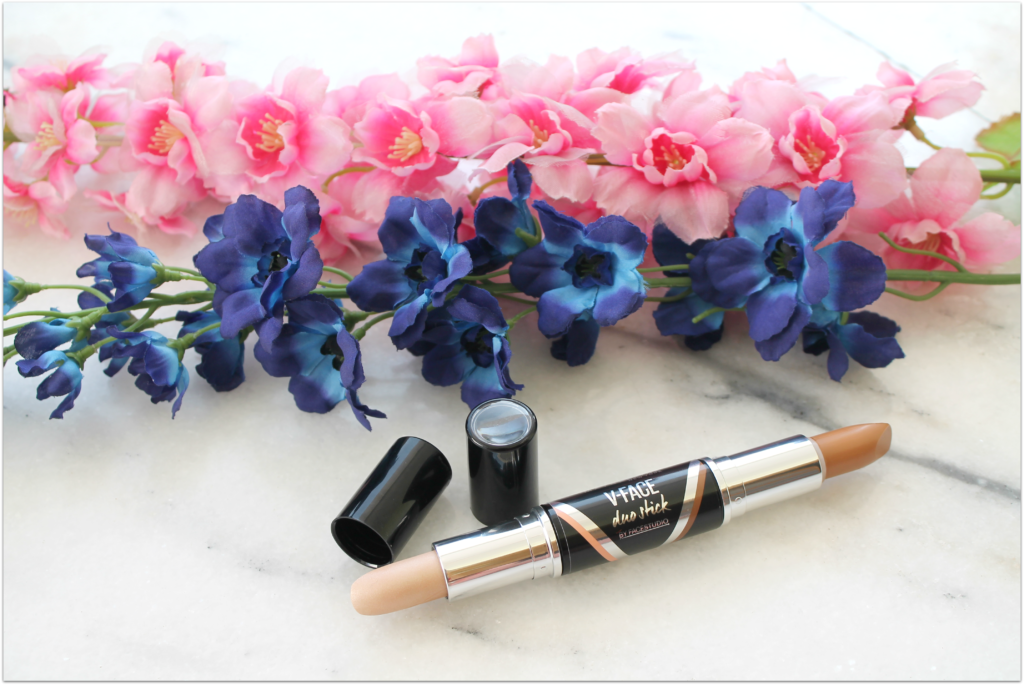 My Take on the Maybelline V-Face Duo Contour Stick in Dark:
The Maybelline Face Studio V-Face Duo Stick comes in long pen shaped dual sided retractable bullet stick. Both the ends are tightly secured with a cap which shuts quite nicely. It consists of one dark matte creamy shade for contouring/sculpting the face and the other side contains a shimmery creamy shade for highlighting the face. Both of the cream based products are very smooth on application and they do not require any tugging or pulling, they glide on the face with so much ease. The texture is buttery smooth.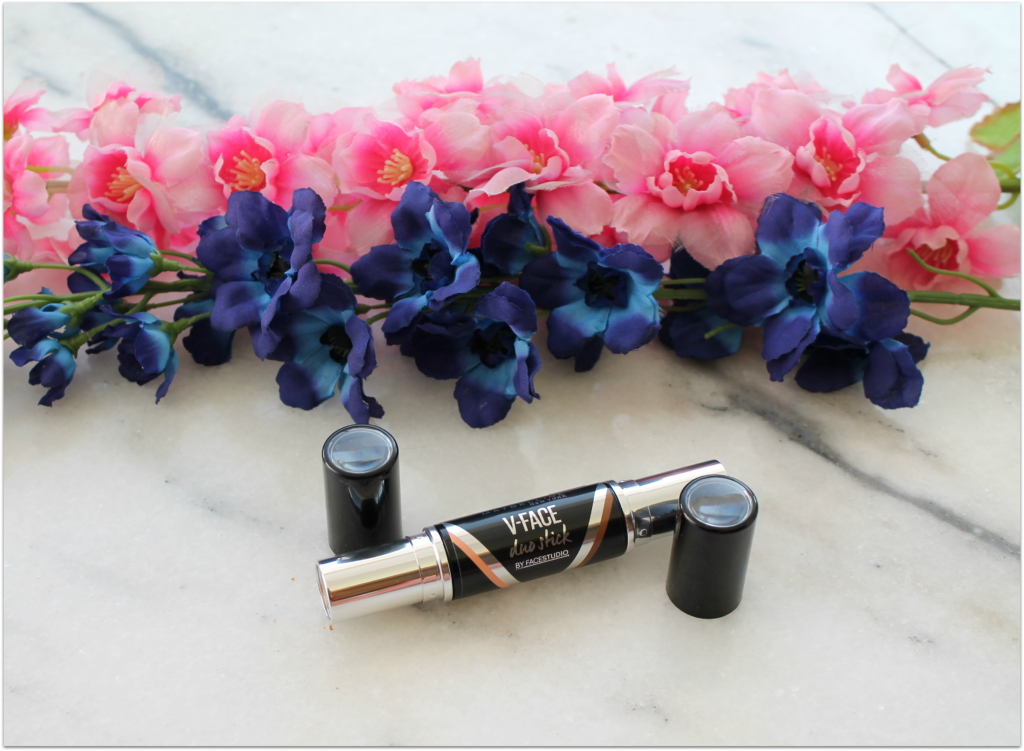 I ordered the darker shade i.e. Medium-Dark, even the dark shade didn't match my skin tone, it is too light for me. The contour shade is just one shade darker than my skin tone and it doesn't really show up on the face. It gives a bit of bronzey look to my face but does not give my face a sculpted look. I usually use it to sculpt my cheeks and my jaw line and then I use a dark powder bronzor to set it. It is ok for every day use when you just want to add a subtle dimension to your face but if you need a proper contoured face this product is really going to disappoint you.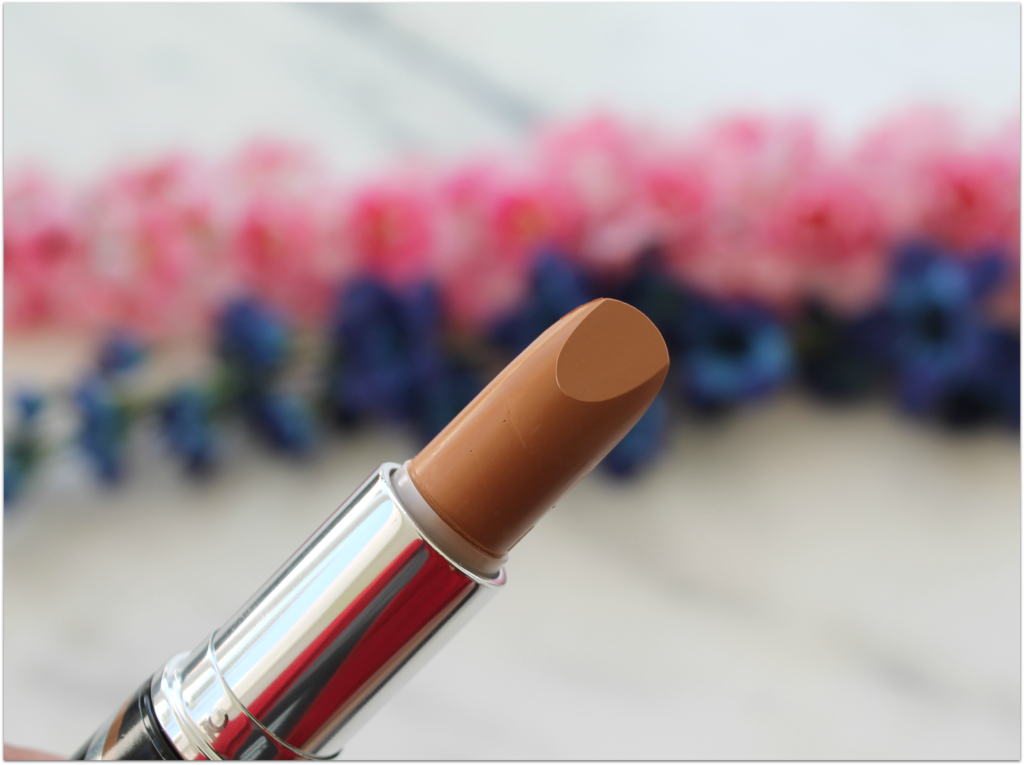 It is not a perfect contour shade for me but it is fine for the days when you want a very subtle contouring. I think the lighter shade is not going to suit any Indian skin tone because it is too light and the darker shade also gives a subtle contour for fair skin girls. I feel this contour shade is just for fair skin girls because it is too light for medium to dark complexion. Maybelline should have launched a few more darker shades to suit all Indian complexions. I feel bad that these shades will not work for a wide range of skin tones. It will not at all work for dusky skin beauties.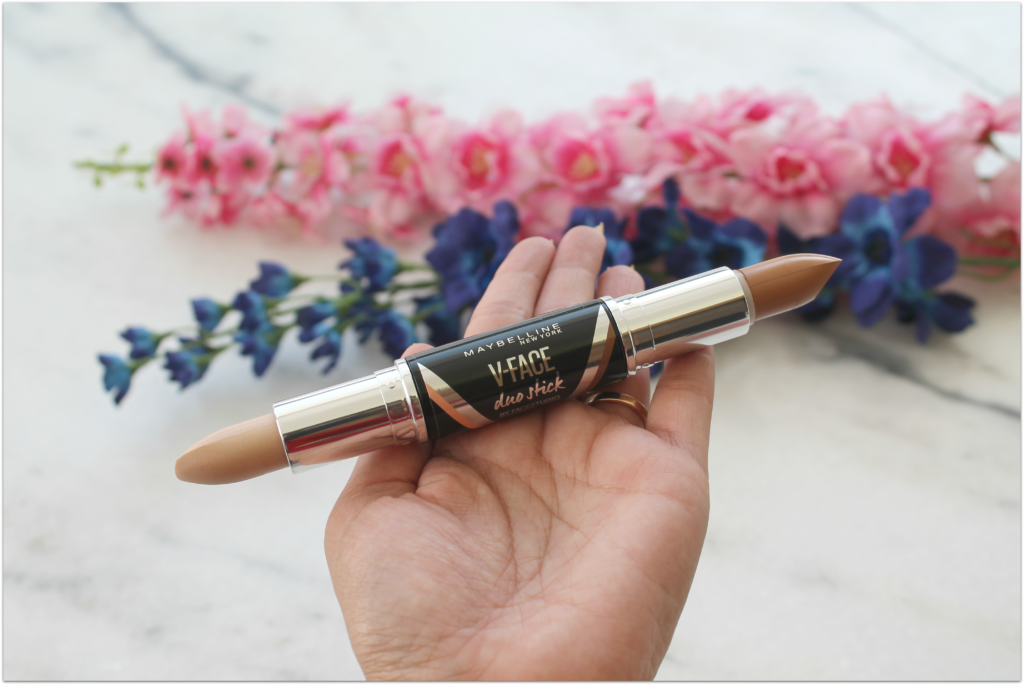 Swatches of the Maybelline V-Face Duo Contour Stick in Dark: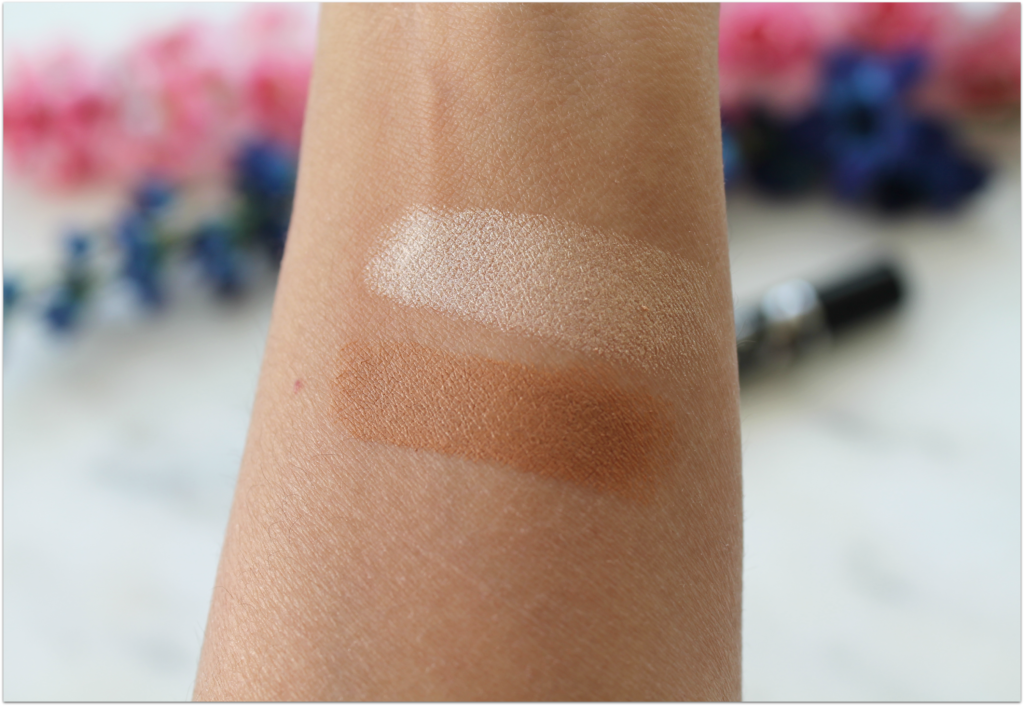 As for the highlighter end I feel it is a pretty good one. It is a shimmery champagne highlighter that gives a very natural glow to the highest points of my face. The fine shimmery particles give a very natural glow once it is blended properly.  I am a bit crazy when it comes to highlighters so I go ahead and set the subtle cream highlighter with a blinding powder highlighter to intensify it all the more. I use The Balm Mary Lou Manizer or the Mac Soft and Gentle for setting the cream highlighter and the combo works perfectly for me. On the other hand, I think this cream highlighter will go well with all skin tones,it will suit the dusky girls too.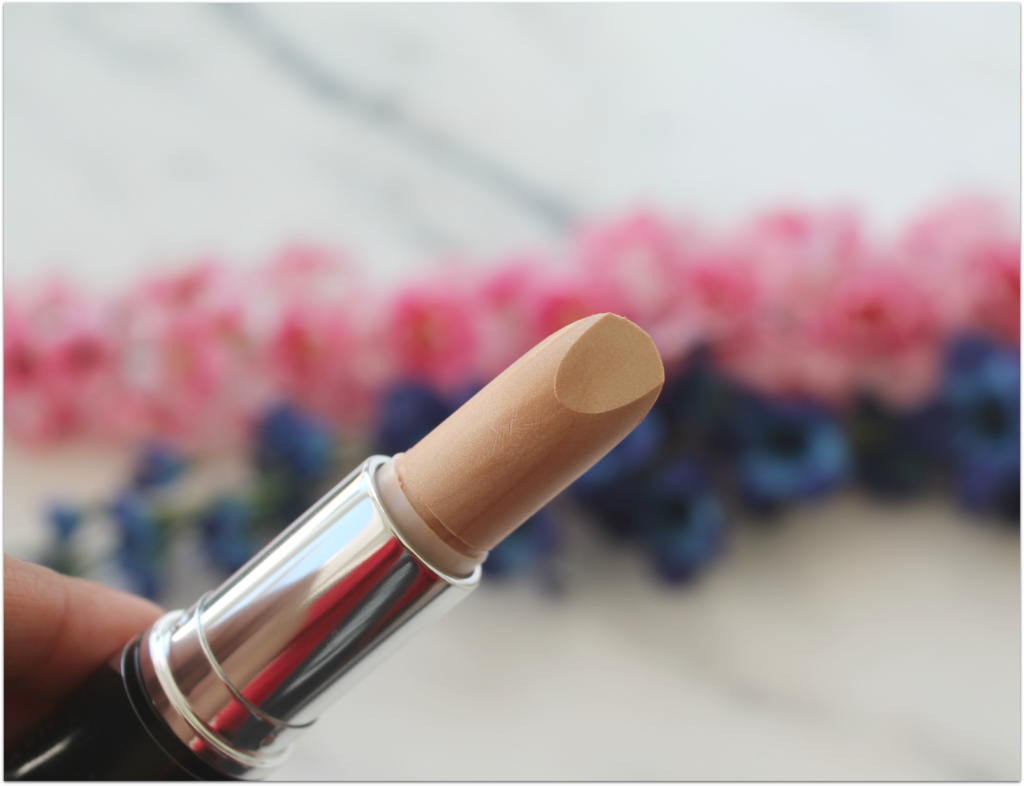 The staying power of both the products is fine, they stay on my face for a good 4-5 hours and then they fade off gradually. Both the formulas are creamy and smooth and do not require much effort while blending. I sometimes use my Real Techniques Expert Face Brush to blend in the contour shade and for the highlighter I blend it with my fingers or with a beauty sponge. Both of these cream products settle to a powdery smooth finish without getting blotchy on the skin. They never leave any harsh lines on the face.
Final Thoughts on the Maybelline V- Face Duo Contour Stick in Dark:
The Maybelline V- Face Duo Contour Stick is a nice product but I wish that Maybelline would have taken the wide skin tones perspective into mind while designing a product for the Indian consumers. This contour shade is not for me, it hardly shows up on the face, I have to use a separate powder bronzor to make it work for my skin tone. I use it for adding a little bit of warmth to my face, it does not help to sculpt my face at all. I am very disappointed with the contour shade, I wish it was a bit dark so that it could show up on the skin.  It is just one shade darker than my skin tone whereas my perfect contouring shade would be 2-3 shades darker than my skin tone.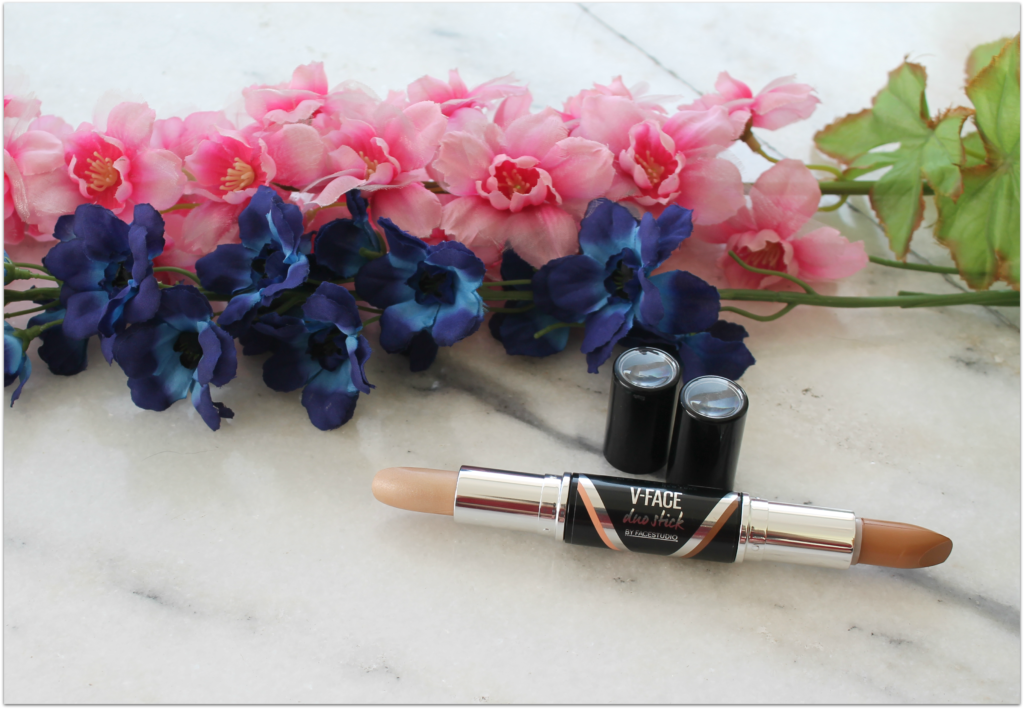 I am pretty impressed with the highlighter side. It is just my kind of cream highlighter, nothing too chunky or nothing too shimmery, it is just perfect for a glow from within kind of look. I love the highlighter. You can use it to highlight your cheek bones, the bridge of the nose, the cupid's bow, the brow bone and the center of the forehead. It gives a very luminous effect to the entire face. The texture of both the products is very creamy and they blend in like a dream. The staying is also great. All in all do get this product just because of the highlighter, it is simply great. The contouring shade is also fine for everyday use but if you like a drastic contoured face then you will be disappointed. Go ahead and buy it just because of the highlighter.
Pros of the Maybelline V- Face Duo Contour Stick in Dark:
Travel friendly. Love the packaging of this product.
2-in-1 stick.
Super smooth texture.
Never feels patchy on the skin.
Contour shade provides a very soft contoured look.
The highlighter provides a very nice and healthy glow to the face.
Decent staying power.
Perfect for everyday use.
Cons of the Maybelline V- Face Duo Contour Stick in Dark:
Available in only 2 shades.
Contour shade is too light for tan or dusky girls.
The contour shade is not pigmented.
Rating of the Maybelline V- Face Duo Contour Stick in Dark:
Contour shade: 2.5/5.
Highlighter shade: 4/5.
Will I recommend the Maybelline V- Face Duo Contour Stick to anyone?
I will recommend it to anyone who doesn't like a drastic contour on their face because this contour shade will give you a very slight dimension to your face. I would recommend it to all girls just for the highlighter because the highlighter is really good.
Will I repurchase the Maybelline V- Face Duo Contour Stick?
I will definitely buy this stick if Maybelline decides to launch a few more darker shades.