Mac Mineralize Skinfinish in Soft and Gentle Review and Swatches
Hello everybody,
How are all of you doing? I have been loving my minimal makeup these days. I have been keeping it very simple and minimal because of the hot weather. I just conceal my dark circles, powder my face, highlight my face, pop on some lip balm or some bright lipstick and I am sorted for the day. I have been keeping my look very highlighted, it is all about STROBING  these days. My latest makeup addiction are highlighters. Recently I bought the much coveted and the much talked about Mac Mineralize Skinfinish in Soft and Gentle and I fell in love with it the moment I swatched it at the store. I was in search of a decent highlighter, I had The Balm Mary-Lou Manizer and Becca Cosmetics Champagne Pop by Jaclyn Hill in wishlist but the MUA at Mac suggested me to try out the Mac Mineralize Skinfinish in Soft and Gentle and as they say it was love at first sight or should I say love at first swatch. I swatched it on my finger first and then the MUA applied it to the points of my face like my cheekbones, down the bridge of my nose, my cupid's bow, inner corner of my eye, my brow bone and BOOM, I looked so fresh and illuminated and that glow on my face was to die for. I knew it that I had to buy it. So I bought it and I have using it every single day since then.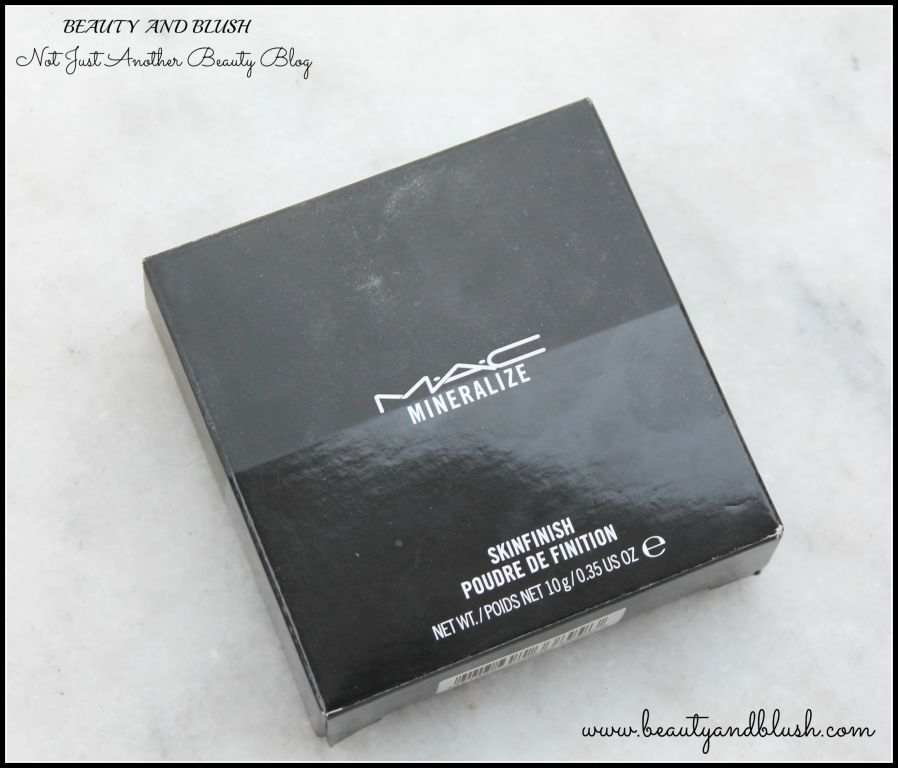 What Mac says about the product:
A luxurious powder with 77 Mineral Complex that adds highlights to the face and body.
Full Description:
A luxurious, slow baked, velvety soft, domed face powder with a radiant finish. Strategically buff on to add highlights to the high points of the face, or blend all over for a sheer luminous polish to the skin. Features our 77 Mineral Complex and Vitamin E.
Key Claims and Benefits:
Provides radiance.
Features a 77 Mineral-Complex.
Dermatologist tested.
Opthalmologist tested.
Non-acnegenic.
Usage:
Apply to face using a brush or as desired.
Price:Rs.2400 for 10 grams of product.
Ingredients: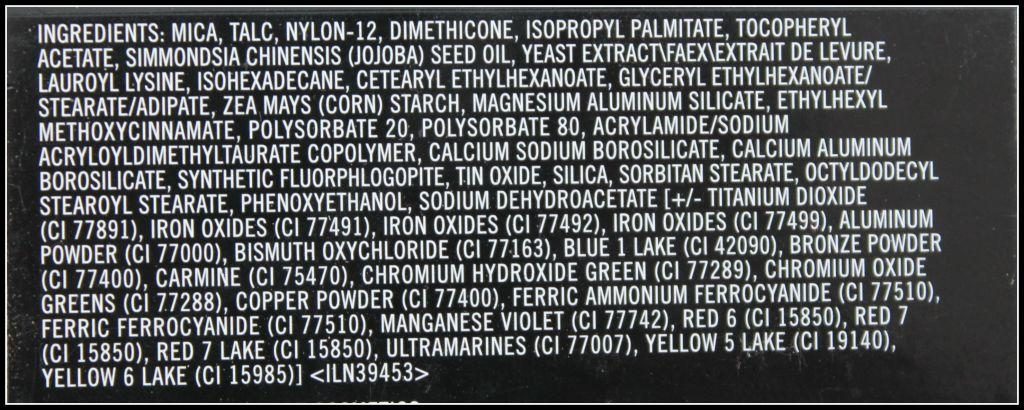 Shelf Life:3 years from the date of manufacture.
Swatch: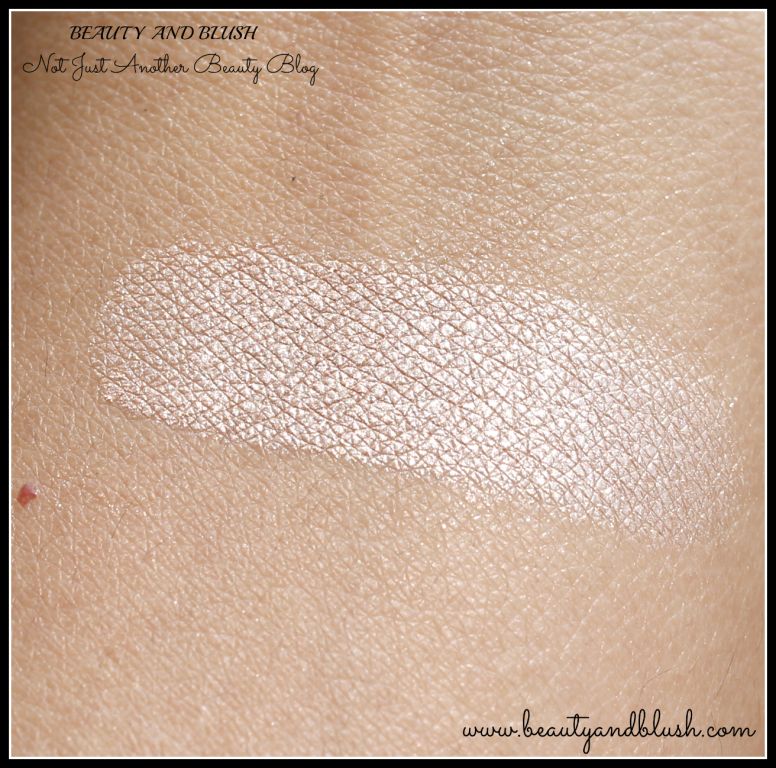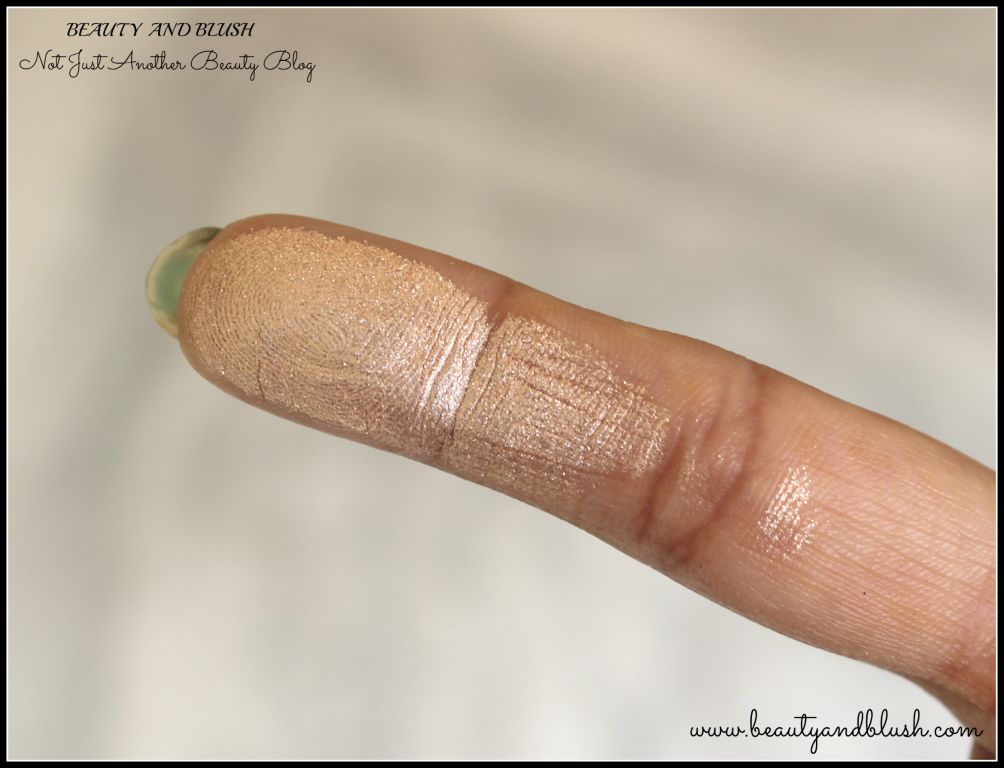 My Experience:
Mac Mineralize Skinfinish in Soft and Gentle has been talked by literally every single Youtuber that I have watched on Youtube, I guess everyone has this. So I kind of feel late on the bandwagon but I thought why not review it today. Soft and Gentle is one of Mac's Mineralize Skinfinish Powders, that being said, it is expected that it will be extremely buttery, very blendable and very nice to work with which is kind of true. It comes in the new revamped Mac packaging which is far more chic and classy than the earlier packaging. This time they have kept the mattified black packaging on the front but on the back side it has a shiny finish to it. The new packaging has a magnetic snap closure to it which I like a lot. It comes in a round compact case with a clear cover on top. All I would have wanted is a mirror inside the pan.
Mac has always fascinated a makeup geek like me, I can spend hours and hours at the Mac counter swatching all their stuff. I love all their stuff and this one surely tops the charts. Soft and Gentle is a very pretty peach toned highlighter, it can be used to highlight the cheekbones, bridge of the nose, brow bone and cupid's bow.It has peach and golden tones to it. It is a powder with a frost finish to it. It glides on so effortlessly on the skin. If you want to go for a super bronzed look or if you happen to be a Victoria Secrets model you can put this all over your face but I do not recommend it for everyday. This product is super pretty. The colour is absolutely to die for. The product is very reflective but when you blend it out it is very sheer, does not look like glitter, it looks very believable as a natural glow from within. It is a beautifully formulated powder and it has got just the right amount of shimmer to it. It gives you a very nice pretty healthy glow. It is neither too chunky nor tacky at all.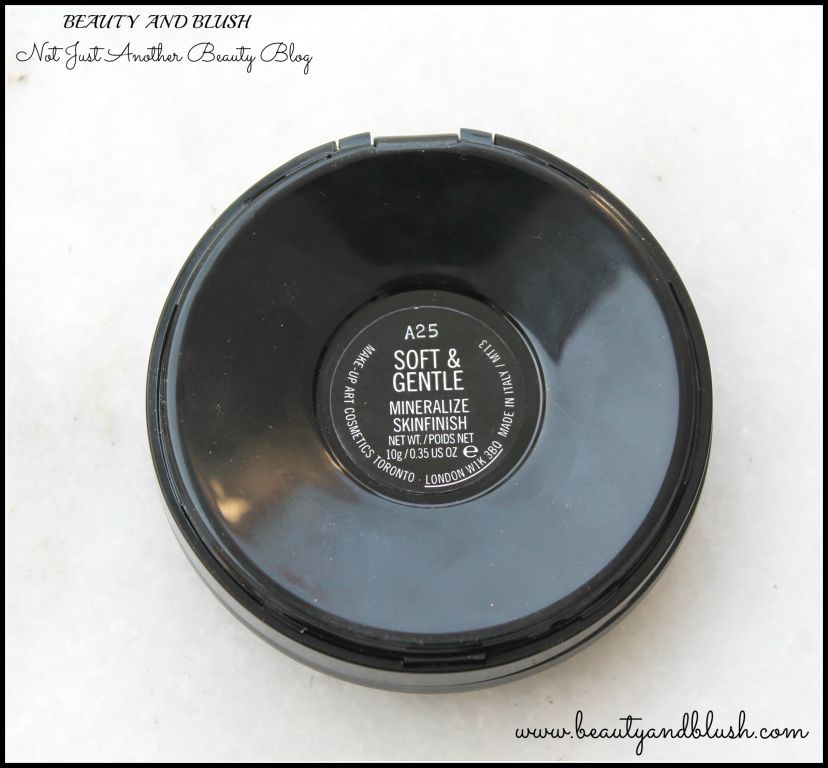 I gently swirl my fan brush in the dome shaped product with a light hand and then I apply it to the areas where the lights hits my face usually means the high points of my face. This highlight would suit all the skintones  as it has very subtle gold shimmer in it. The texture is very smooth and refined. I also use it as an eyeshadow sometimes and it works brilliantly. I swipe it all over my lid with a taupe or a light brown in the crease and it looks absolutely gorgeous. It works exceptionally well as a brow bone highlighter too.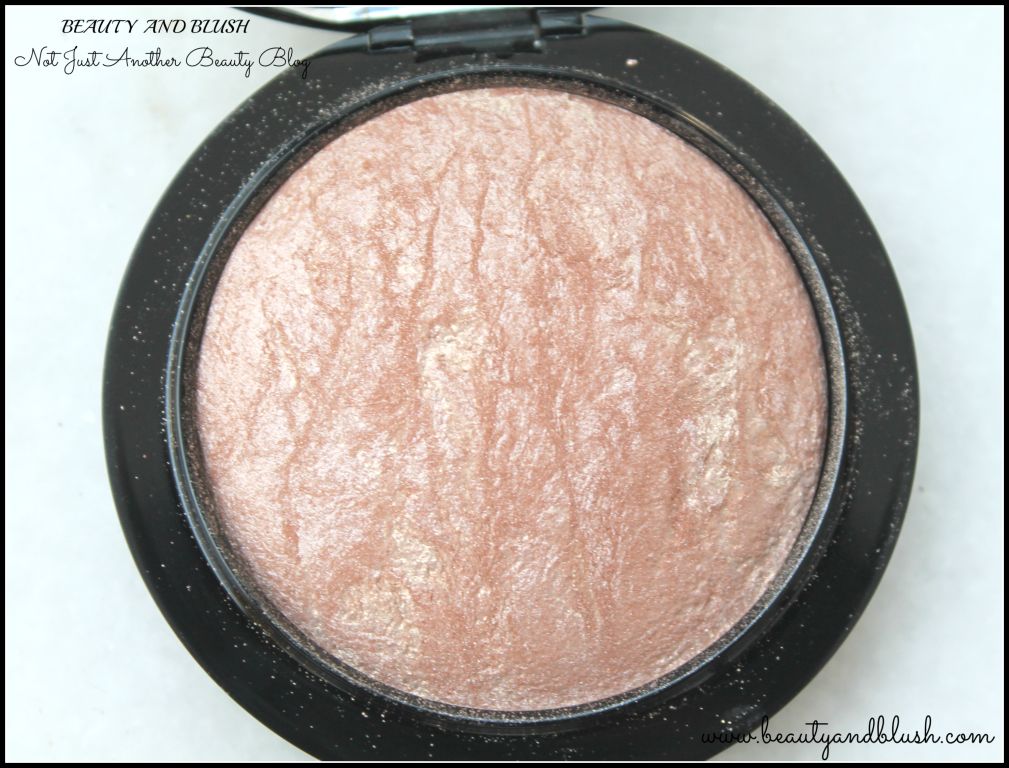 In the pan it looks a deep peachy bronzey colour but on application it looks like a peach champagne colour with a frosted sheen to it. The subtle shimmer and the hint of peach glow is so flattering on the skin. It looks like the skin is glowing from within. One thing that you should always remember is to use it in moderation. One thing that you should always keep in mind while applying such pigmented highlighters is that you should pick up a very little amount of product on your brush so that it gives you a very soft and natural glow to your face. Laying this product too heavily will not only make your face look shiny and unflattering, it will also become evident that you have packed tons of makeup on your face. So if you do not want to look like a glow ball always apply it in moderation.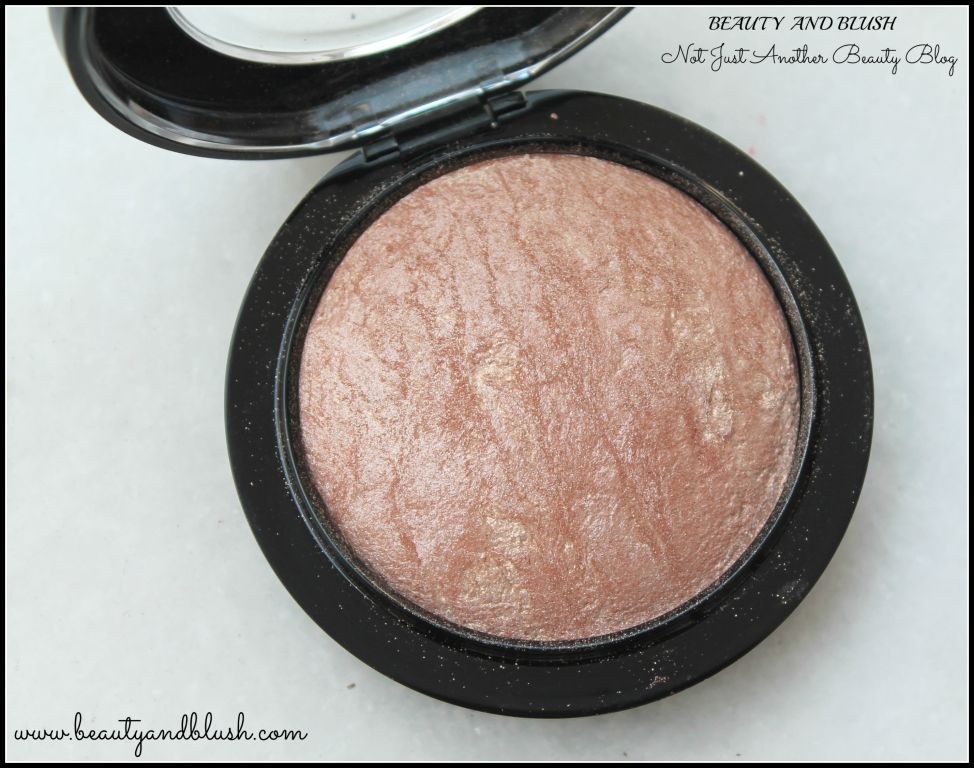 The product blend very easily and has great pigmentation and colour pay off. There is some fall out on the pan so I wish that it was finely milled so that there weren't that much of fall out. It photographs really well and looks natural in photographs.
After using a highlighter for the first time I have understood what difference a highlighter can make in your appearance. When the MUA applied it on my face I went outside to see how it looked on my face in natural light as I personally do not like to apply very shimmery products on my face but it looked fabulous and sheer in natural daylight too. It is a perfect blend of powder and shimmer.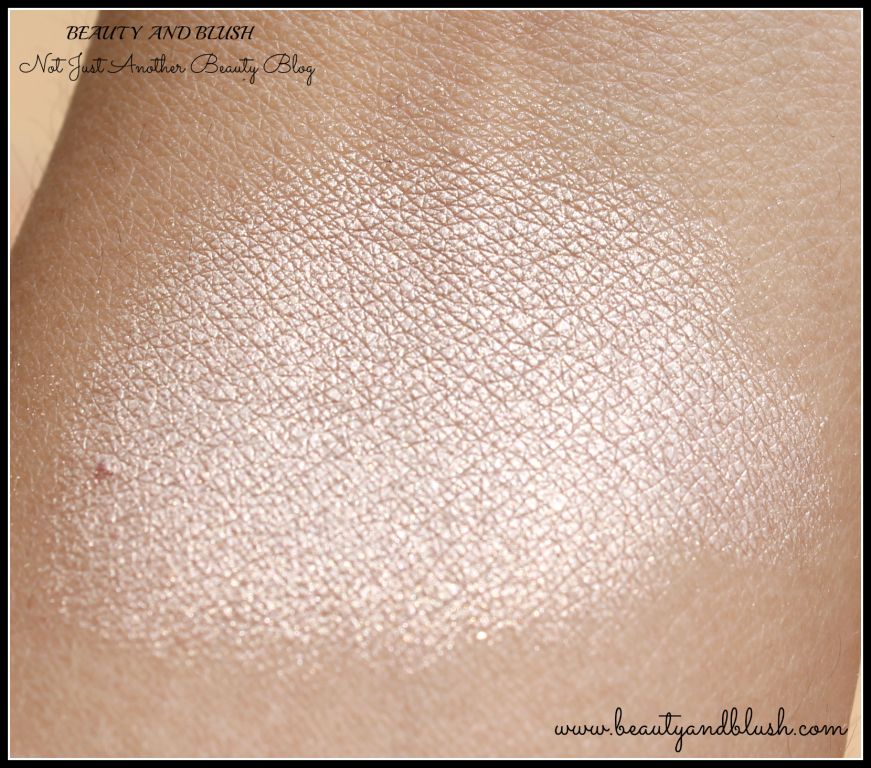 Soft and Gentle stays on my face for as long as 5-6 hours without fading. It has become my holy grail highlighter, for sure. It gives me a glow for the heavens. Really…I do not think any makeup artist does not have this in their makeup bags. It is one of the Mac's cult classics and I guess this is the reason why all the makeup geeks have it….including me….Hahaha.
Pros:
Gives a radiant finish.
Subtle gold shimmer.
Travel friendly.
Very buttery smooth.
Highly pigmented and super blendable.
Cons:
Expensive.
Has a little bit of fall out in the pan.
Rating: I would give it a 4.5/5.
Would I repurchase the Mac Mineralize Skinfinish in Soft and Gentle?
I think this will last me for ages and I will be trying to get hold of Champagne Pop by Jaclyn Hill as I love her and a product that she has come up with ought to be great so Champagne Pop is next on my list.
Would I recommend Mac Mineralize Skinfinish in Soft and Gentle to anyone?
Yes, I would urge all girls and makeup junkies to get hold of Soft and Gentle as soon as you can. You have to have Mac Soft and Gentle in your life guys.
Please do share your favourite highlighter with me as I would love to try some of the other highlighters available in India.