Dior Cannage Color Collection Eye Palette Review and Swatches
    I always wanted something luxurious in my makeup collection from brands like Chanel,Gucci or Dior,so this time when I was travelling abroad I decided to get hold of something from the high end makeup  brands.As I had told you in my earlier post that I am an eyeshadow palette hoarder,I pick up palettes at the drop of a hat.

I always go to airports hours before my flight because I love to shop at the Duty free makeup counters.This time when I was travelling  I went to the duty free counter and saw these adorable Dior eyeshadow palettes.It was love at first sight for me.The SA told me that these palettes are called the Dior Cannage Eyesgadow Palettes because it has the same stitching on them as there is on the Dior Cannage Handbags,so there is where they get their name from.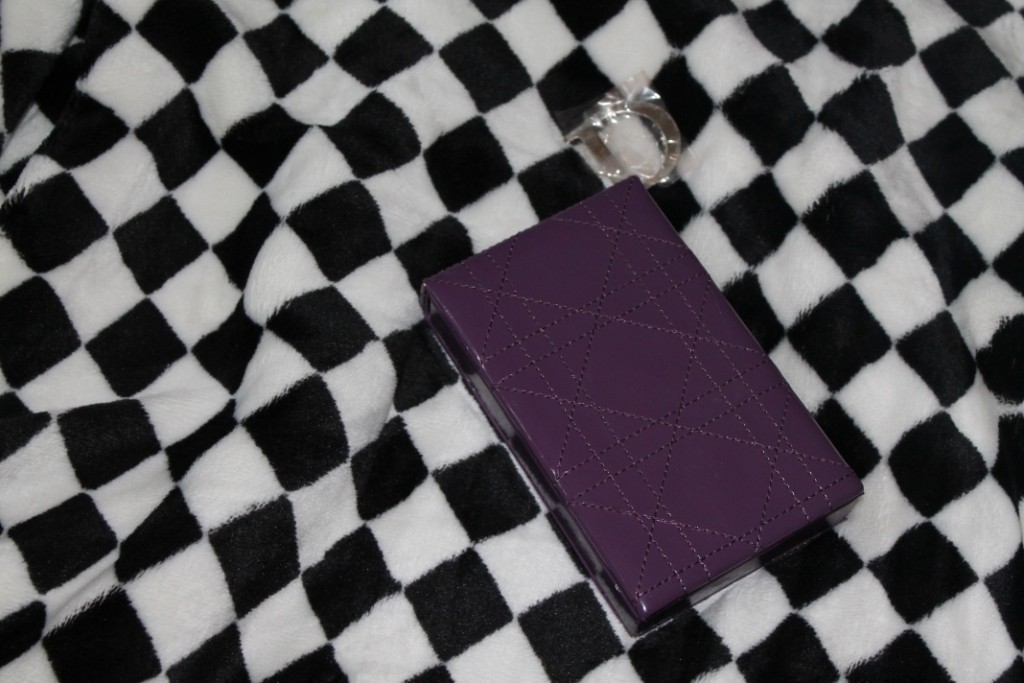 The moment I took the palette in my hand I was pretty adamant that I had to buy it.There are 8 beautiful shimmery eyeshadows in it which made me fall in love with it that very moment.After having a look around I was pretty sure that I had to buy the Dior palette but then the SA suggested me to try out the Dior Cannage Color Collection Lip Palette too.The lip palette too had the same packaging and it had an array of 8 beautiful lip colors.As I was more eager to buy the eyeshadow palette I kept the lip palette aside(though I was still eyeing it),but my husband was sweet enough to come up and let me buy both of the palettes.So eventually I picked up 2 Dior Palettes,one eyeshadow palette and one lip palette.I was simply jumping with joy like a little girl.I was so overwhelmed to own my first luxurious makeup palettes.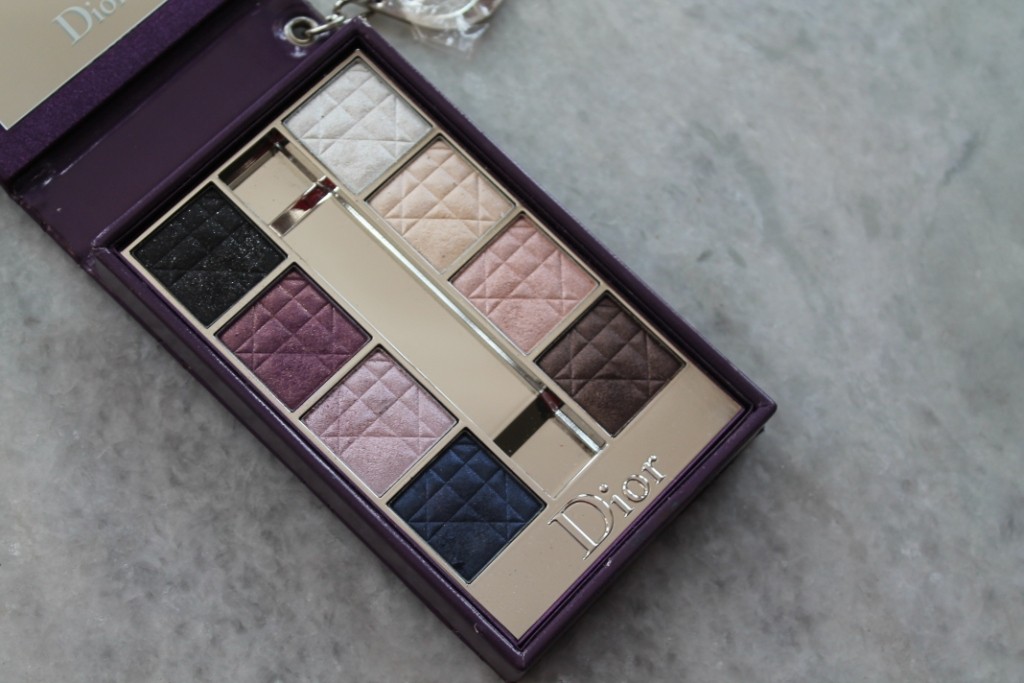 So lets start with the review.
Price:I got the eyeshadow and the lip palette at around $55 each.
 Packaging of the Dior Cannage Color Collection Eye Palette:The Dior Cannage Collection Palette has been inspired by the designer's baguette bags and features the classic Cannage pattern.The packaging of the palette is stunning.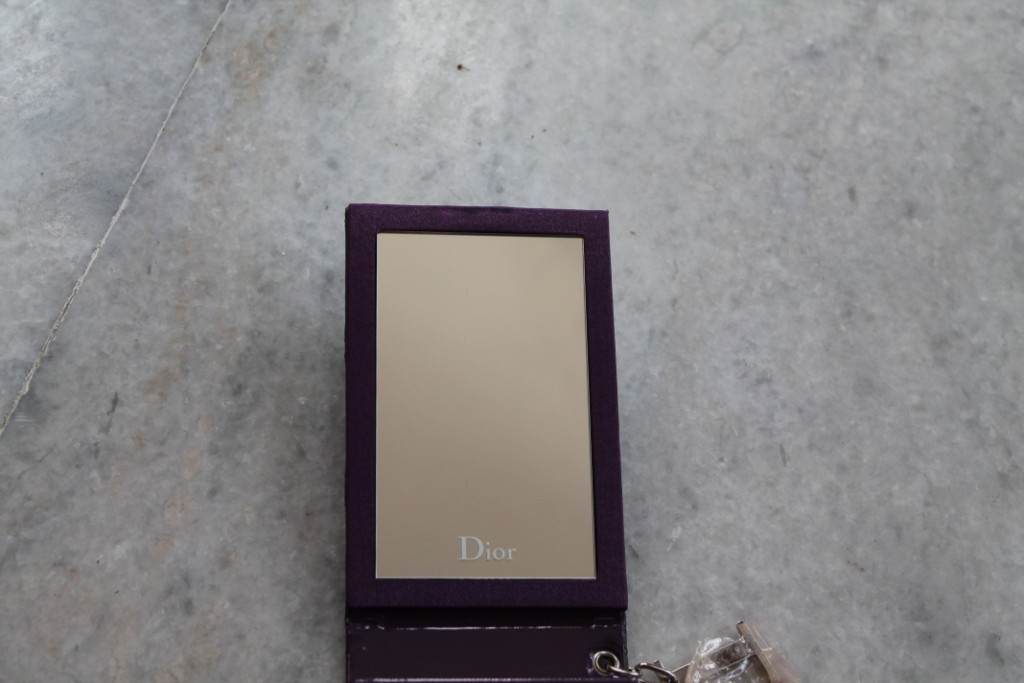 It comes in a rectangular,shiny purple patent leather type of look with the typical Dior pattern to it.It also has a small metal Dior "D" charm hanging on top of the palette which it very classy and chic.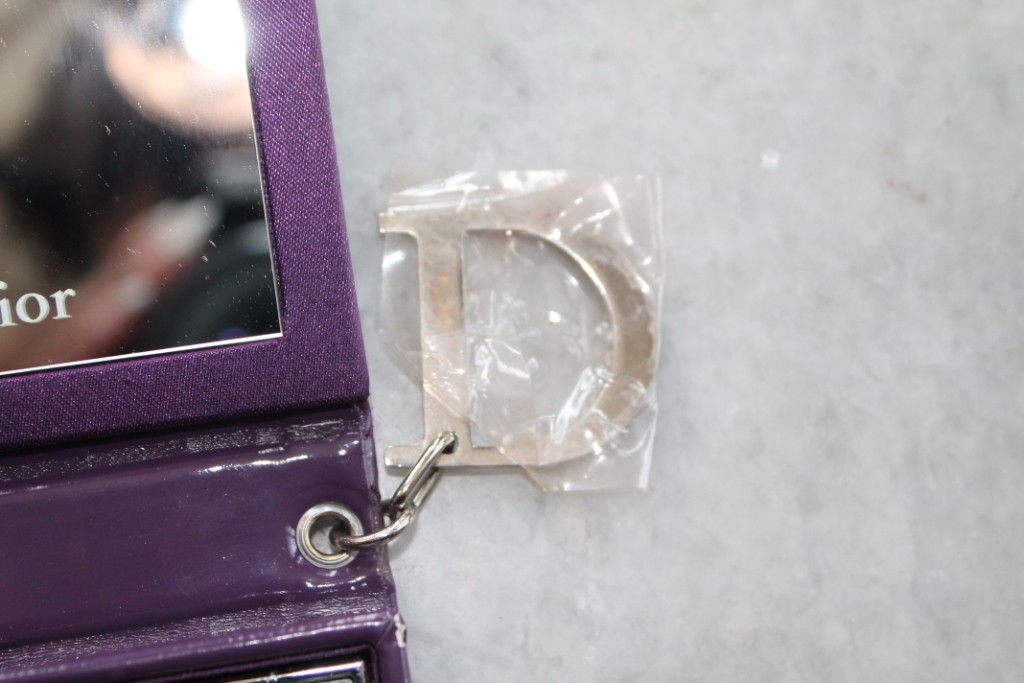 It has a full size panoramic mirror inside with 2 double sided sponge tip applicators.The packaging is a nice size because it fits in my hand easily and is very travel friendly because of its size.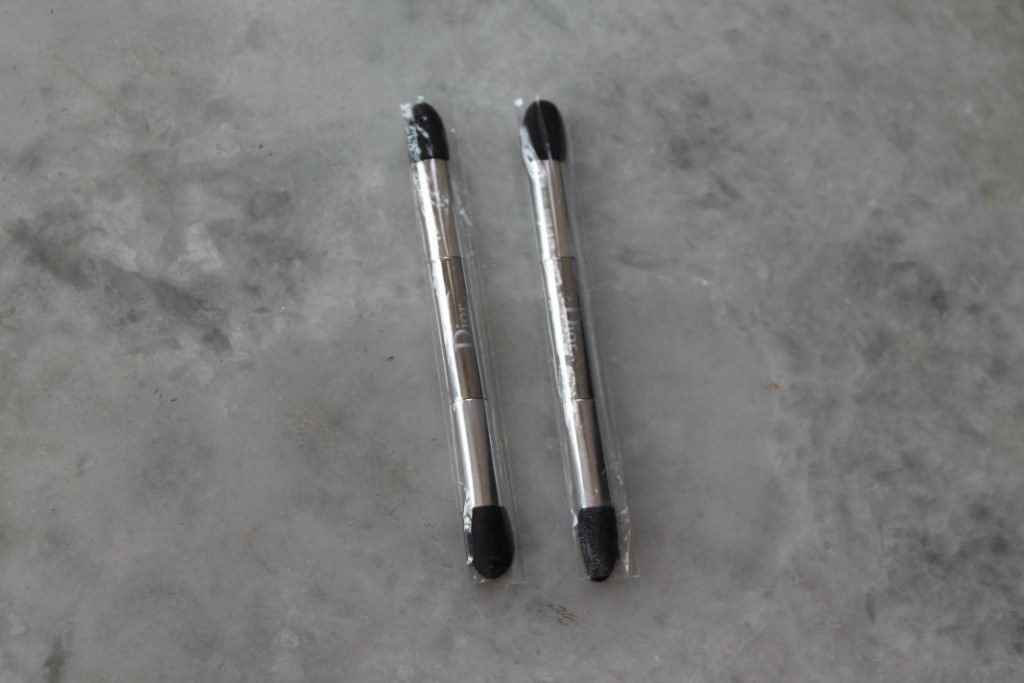 Shades and Swatches of the Dior Cannage Color Collection Eye Palette:
1.The first shade is a dark matte black shade with very tiny shimmer particles in it.It is probably the darkest  black eyeshadow that I own.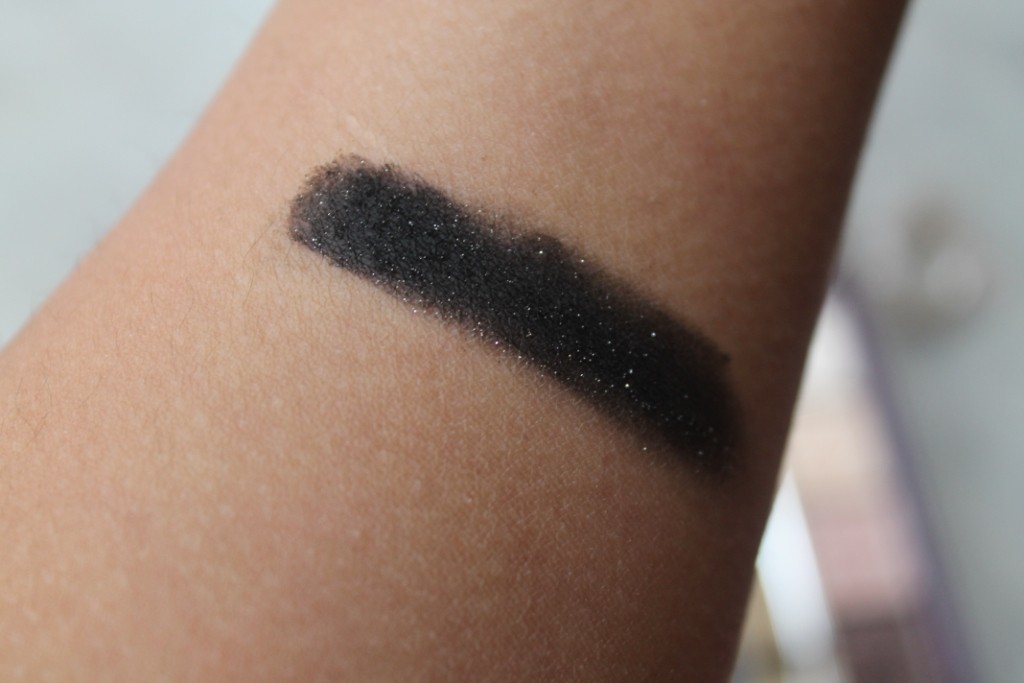 2.The second shade is my favourite.It is a matte purple colour with minute gold particles in it.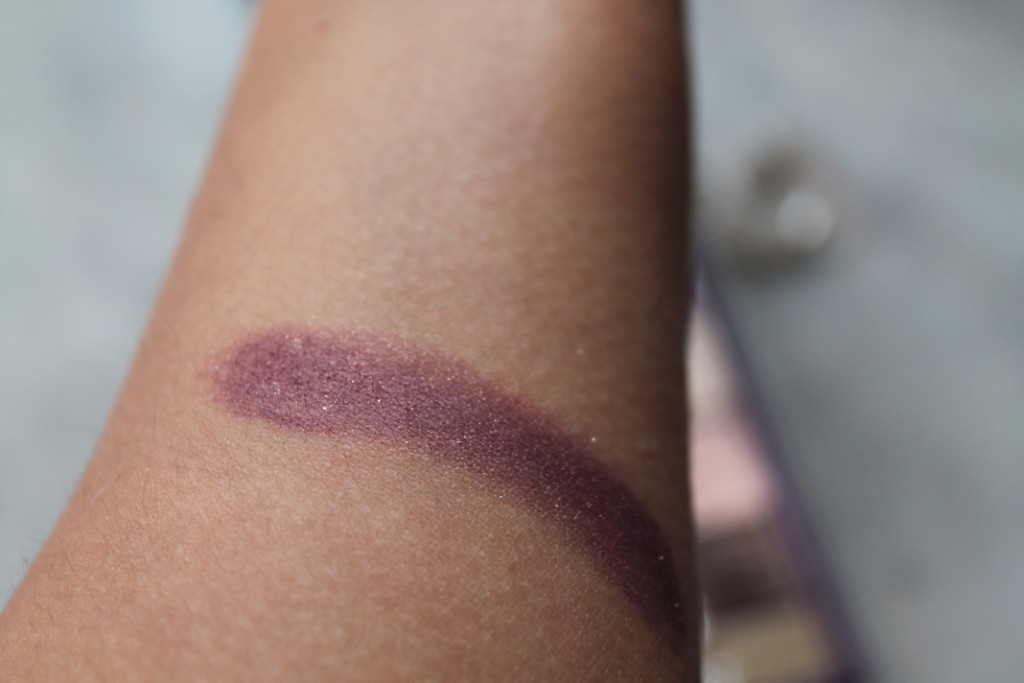 3.The third shade is a shimmery light pink colour with a slight lilac hint to it.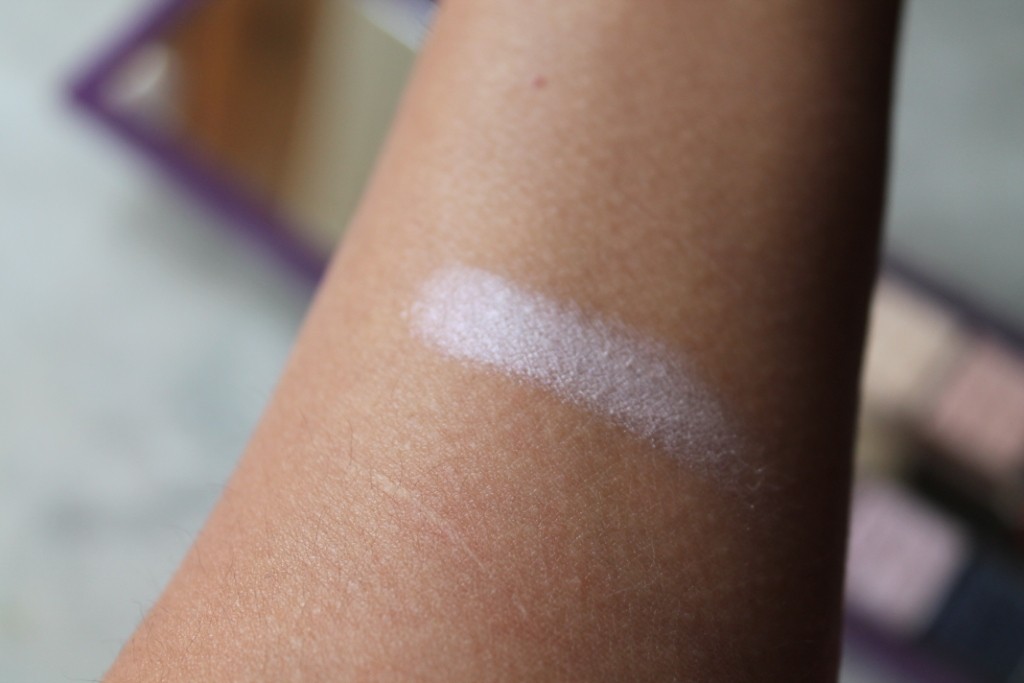 4.The fourth shade is a dark navy blue colour with blue and silver shimmer particles.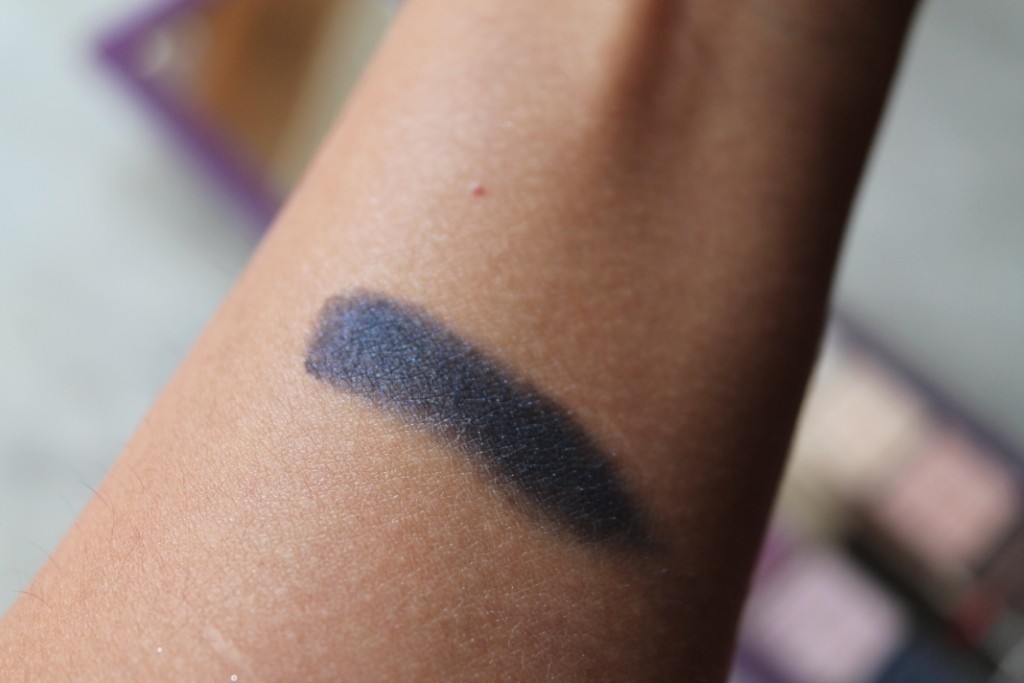 5.The fifth shade is a shimmery white colour.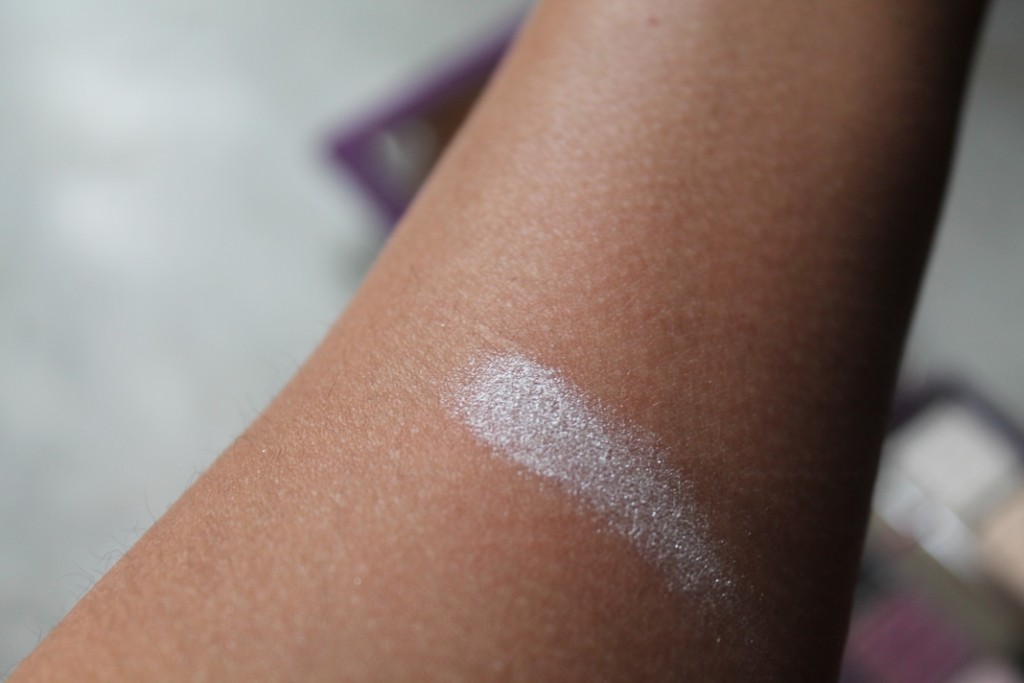 6.The sixth shade is a cream coloured shimmery champagne shade.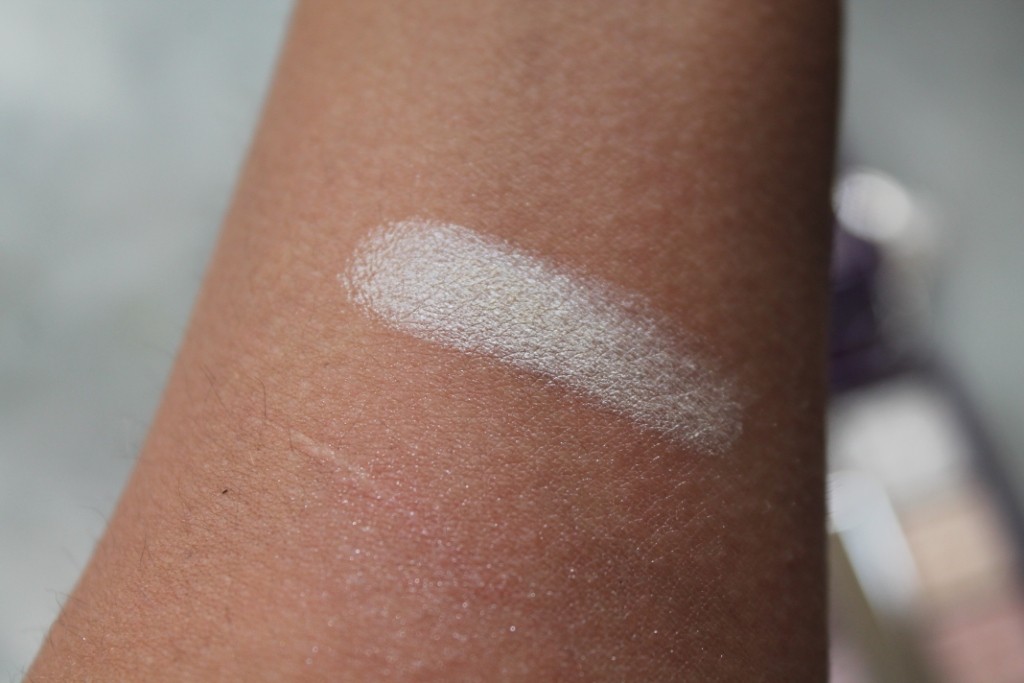 7.The seventh shade is a shimmery peach nude colour.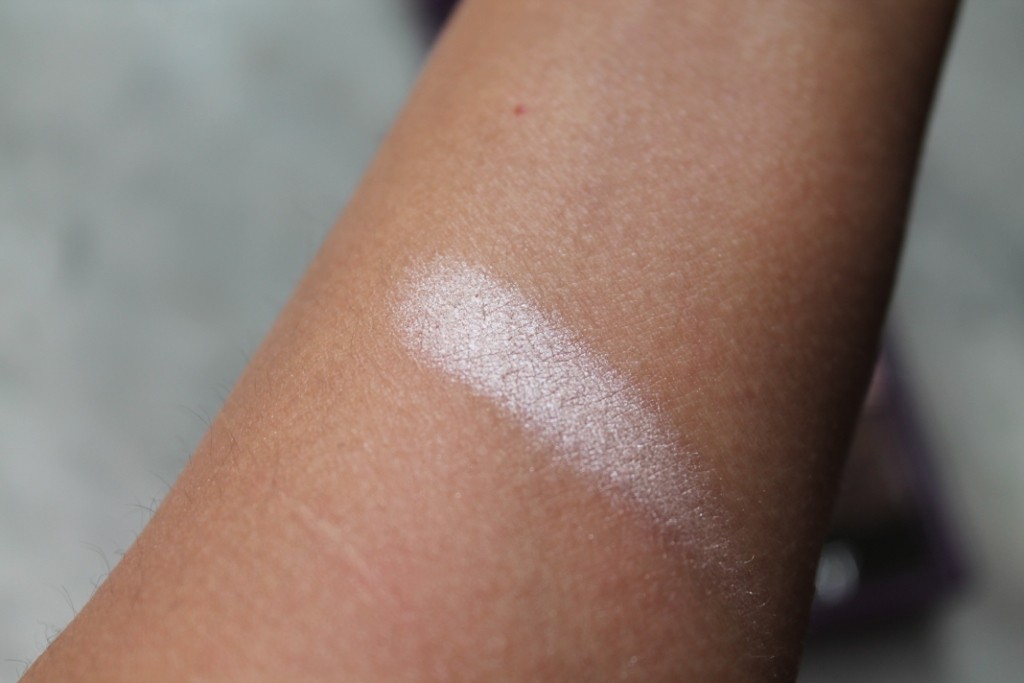 8.The eight shade is a dark shimmery metallic chocolate brown shade.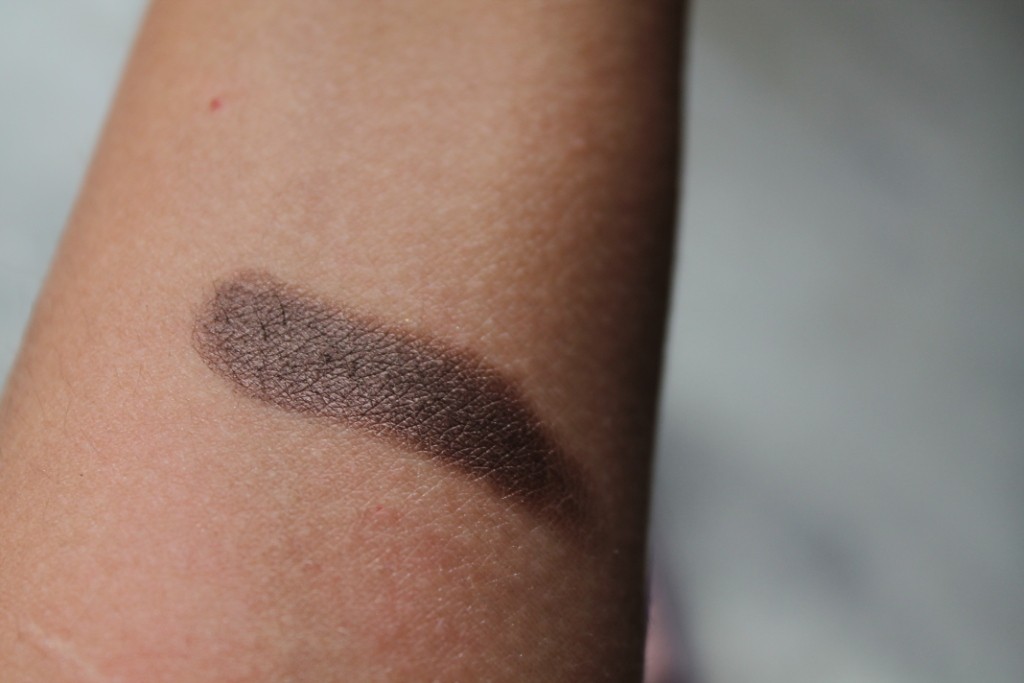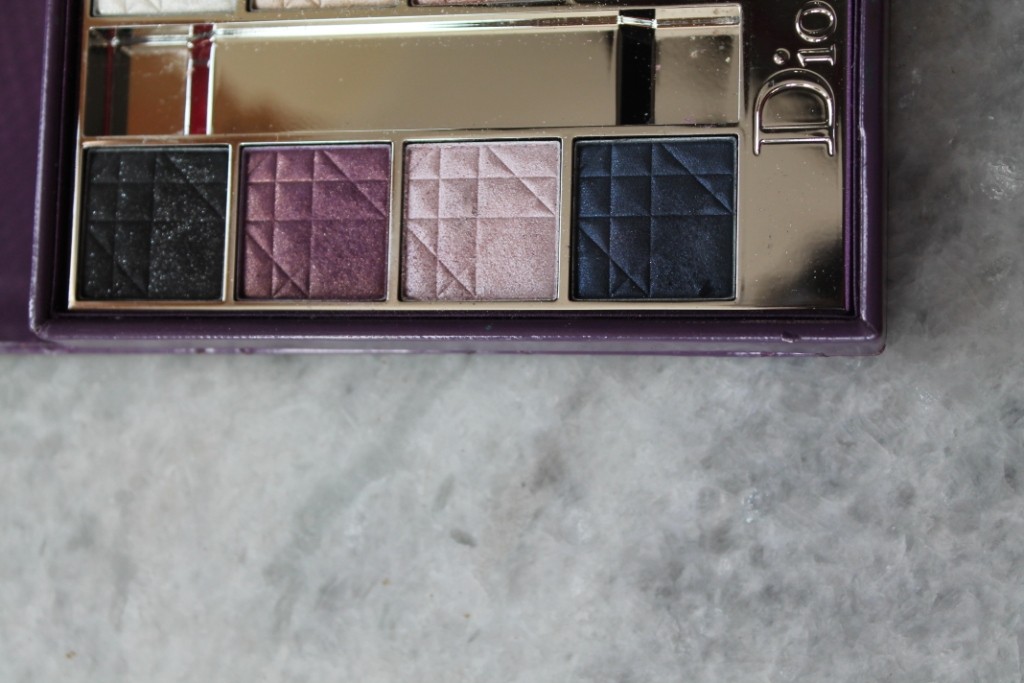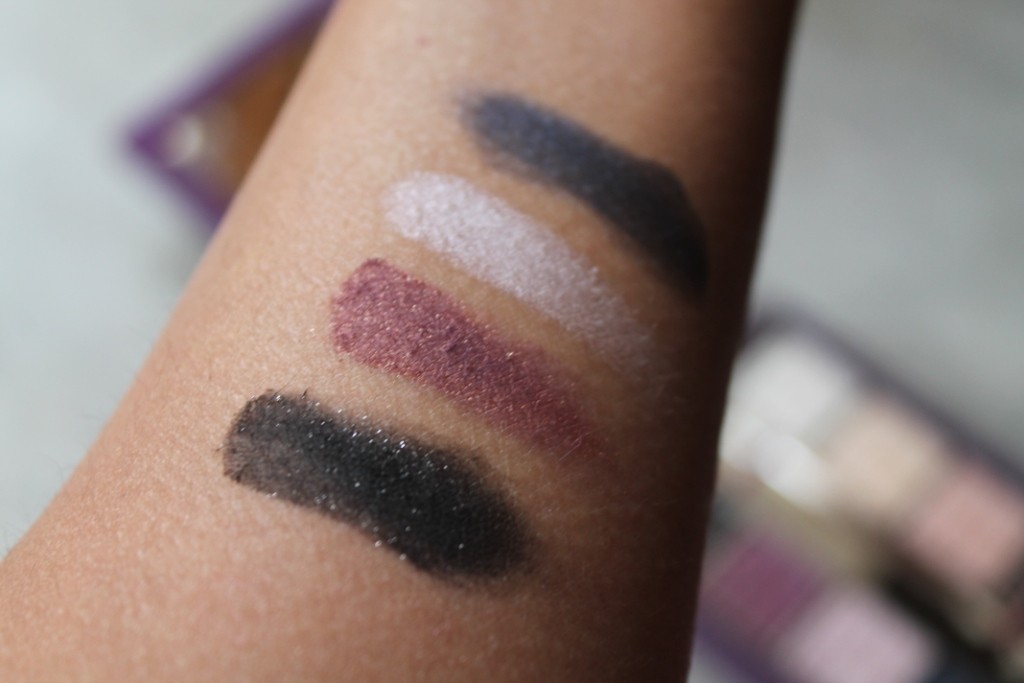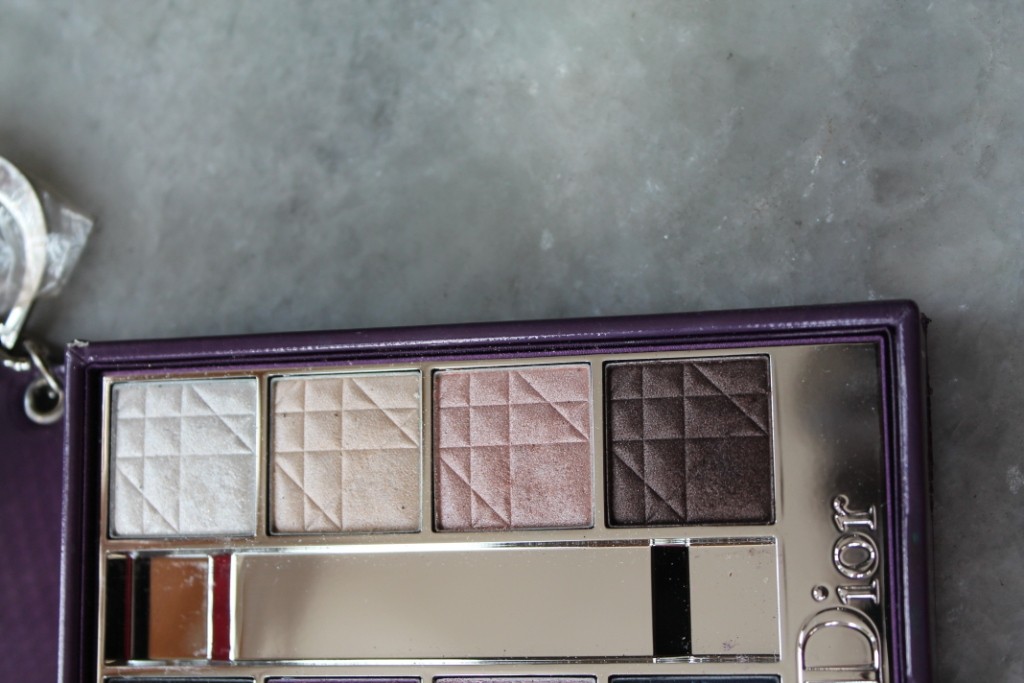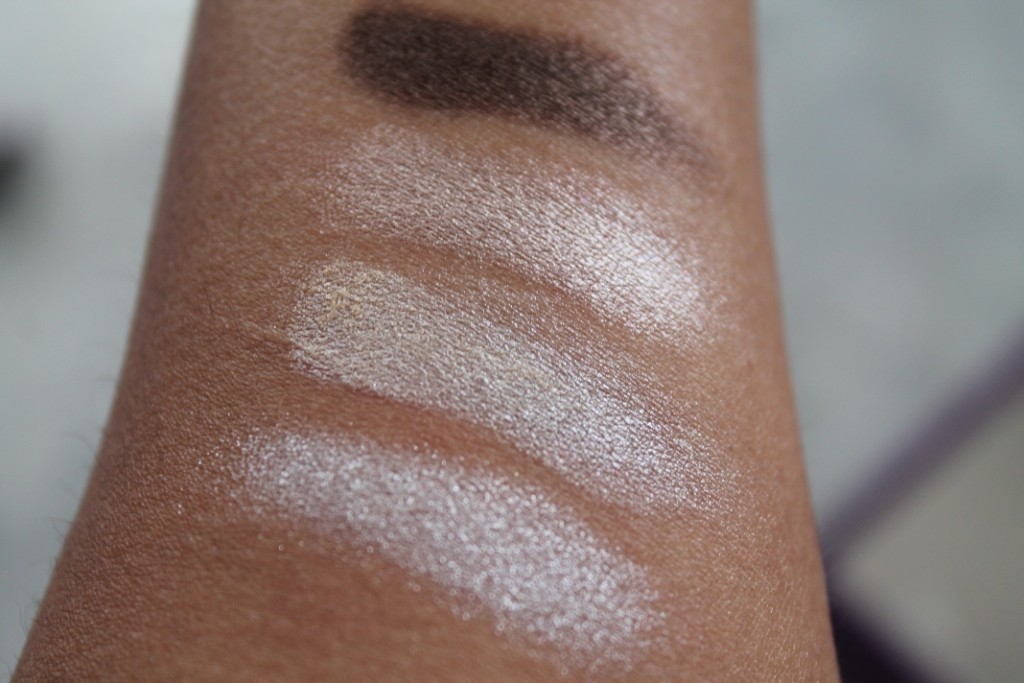 My Experience with the Dior Cannage Color Collection Eye Palette:
As you open the palette you are introduced to 8 shimmery Dior eyeshadows which are extremely wearable,highly pigmented,buttery smooth eyeshadows.The quality of these eyeshadows is far beyond excellence.All of them are so soft,they glide on easily on the eyes,they are nicely milled powders with no fall out problem.They are perfect to create easy day time looks to smokey eyes to that sexy glam night time look.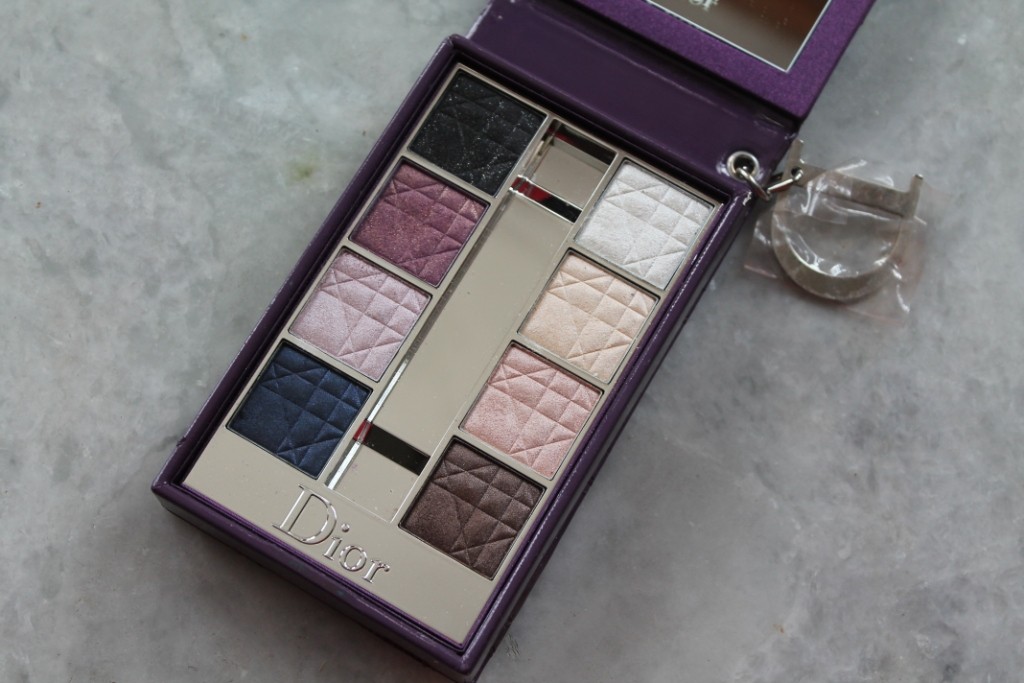 The quality of these colours are so good that I do not even need to wear a primer underneath them and still they last me all day long without fading away or creasing up.They blend so well together.The colour selection is great,you have a white,a gold,light pink,a purple,chocolate brown,dark navy to a jet black,basically it has got everything you need.Each pan of colour is generally sized.
I love this palette to bits.It is really soooo GOOD.The colours show up so beautifully on my eyes,they are so easy to work with,no fall outs,extremely pigmented and great colour selection.
Pros of the Dior Cannage Color Collection Eye Palette:
1.Nice collection of colours.
2.Ultra luxurious packaging.
3.Travel friendly.
4.Big mirror inside.
5.Highly Pigmented.
6.No fall outs.
7.Stay on my eyes all day long.
Cons of the Dior Cannage Color Collection Eye Palette:
1.No cons as such,just a bit expensive but when you are going for Dior product you can't really complain about the price.
Rating of the Dior Cannage Color Collection Eye Palette:I would give it a 10/10.