Mac Lipstick Candy Yum Yum Review and Swatches
Hello all you beautiful girls.I am a MAC Lipstick addict,I am just crazily in love with them.I live in a town called Dehra Dun and sadly there is no Mac store in my town so whenever I go to Delhi or whenever I am travelling abroad I make it sure to pick up Mac products.This time when I was in Delhi I rushed to the Mac store as I wanted to pick up Mac Ruby Woo and Mac Candy Yum Yum.I could not lay my hands on Ruby Woo as it was out of stock but I did get hold of this baby…Mac Candy Yum Yum.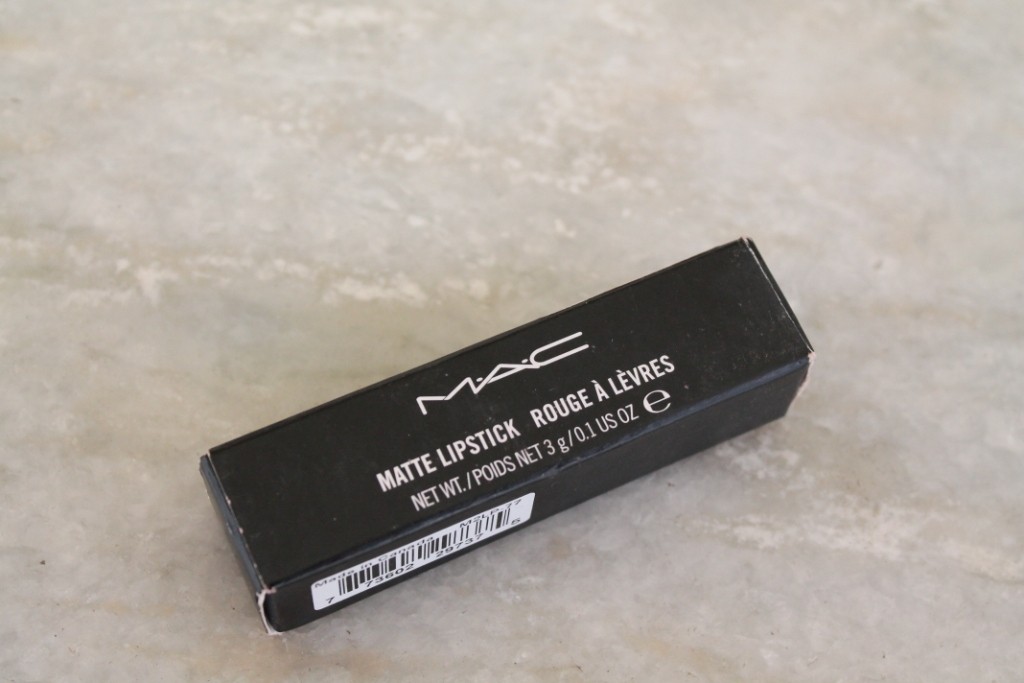 Candy Yum Yum was once launched as a limited edition lipstick and was discontinued thereafter but it made its way back to the permanent collection after lots and lots of customer votes.Mac conducted a poll and asked their customers to vote for the best selling lipstick and products that they wanted to add to the permanent collection and this neon pink baby won by loads of votes.It had been on top of my priority list since so long and whenever I went to their store they would say that it is out of stock but this time I was lucky enough to grab it.There are so many lipsticks and other products from Mac that I want to buy and I am so excited that I could get hold of Candy Yum Yum,Ruby Woo,you would have to wait for a while to come into my stash.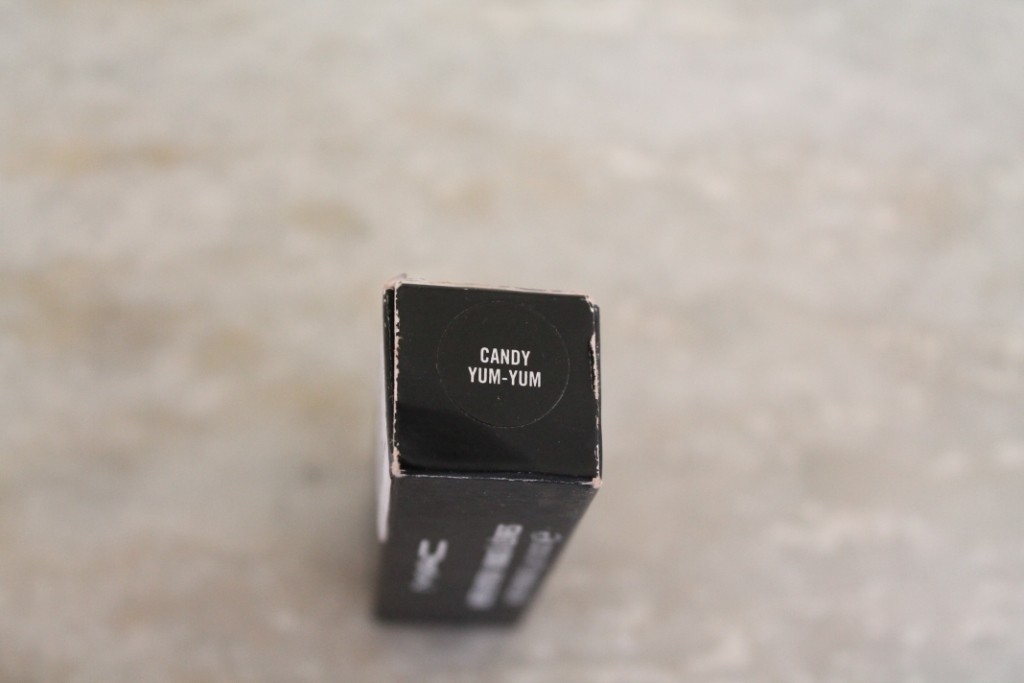 Product Claims:
"The lipstick dreams are made of" is back so you can get your fix of the vibrant matte pink of Candy Yum Yum.The colour most coveted by Mac makeup artists and enthusiasts alike in by Mac By Request is now available permanently.Enjoy.
Price of the Mac Lipstick Candy Yum Yum:Rs.1490 for 3 grams of product.Available at Mac stores worldwide.
Shelf Life of the Mac Lipstick Candy Yum Yum:3years from the date of manufacture.
Type:Matte
Swatch of the Mac Lipstick Candy Yum Yum:
Ingredients of the Mac Lipstick Candy Yum Yum: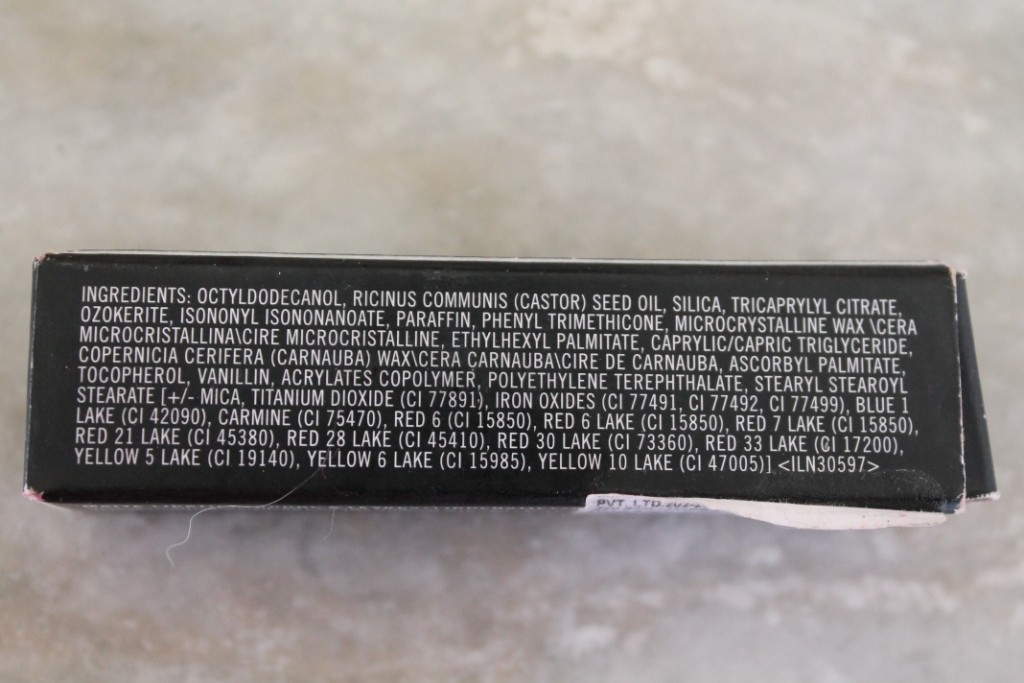 Mac describes Candy Yum Yum as a bright pink shade,I would say it is a neon pink shade.I love my pinks and I am totally a bright pink lippie girl.I love bright pinks and they rule my stash of lip colours but this one is certainly a show stealer.I am just in love with this colour.It is a bright pop of colour on the lips.It is definitely a show stopper shade for me and is bound to get attention.This colour is certainly not for shy people,it needs a lot of confidence to actually wear this colour and step out.It is a complete spring/summer shade.
My husband hates this colour like anything because it is so bold and bright,he refuses to go out with me when I apply this shade….HaHa…I love bright and bold shades like this but I was a little apprehensive of wearing this shade as I had read a lot of bloggers blog about how bright this shade is but with much hesitancy I wore this colour and I fell in love with it with the first swipe.This shade gives me a lot of confidence from within,I don't know how to express this feeling but but I feel so confident after I apply this shade.It surely makes you stand out in a crowd.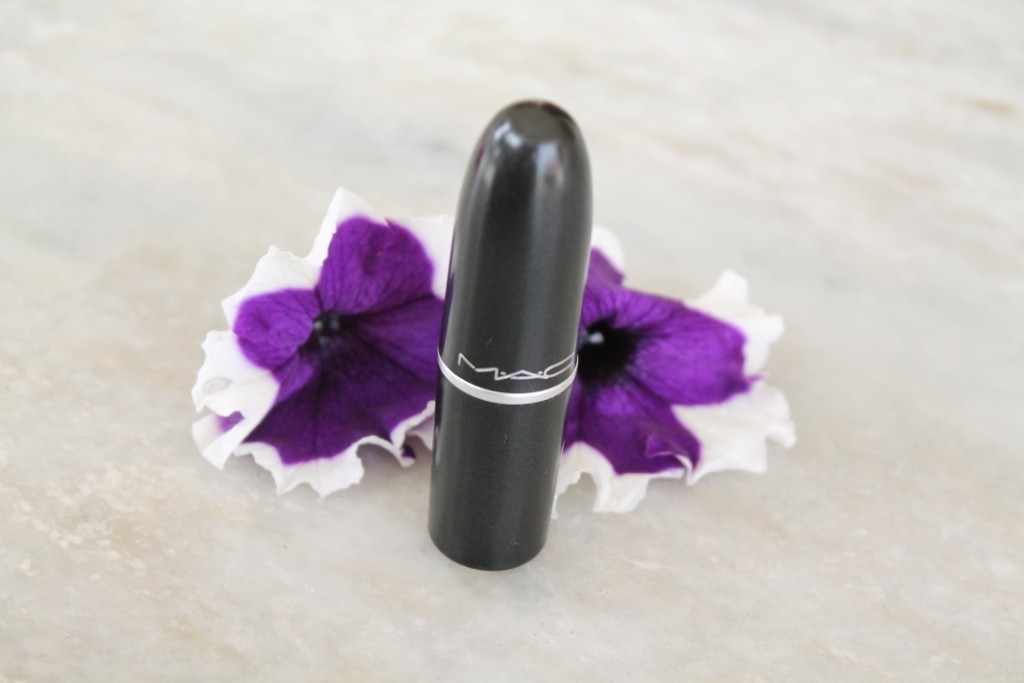 Shade of the Mac Lipstick Candy Yum Yum:
Candy Yum Yum is a bright,bold neon pink shade but with blue undertones to it.Goes well with fair skin tones.It surprisingly does not wash me out,on the contrary it gives an instant lift or boost to my complexion.If you love bright pink lipstick you should definitely have this in your collection.The shade looks a bit different in the bullet but once you apply it on your lips it goes BOOM…it is so damn bright neon pink.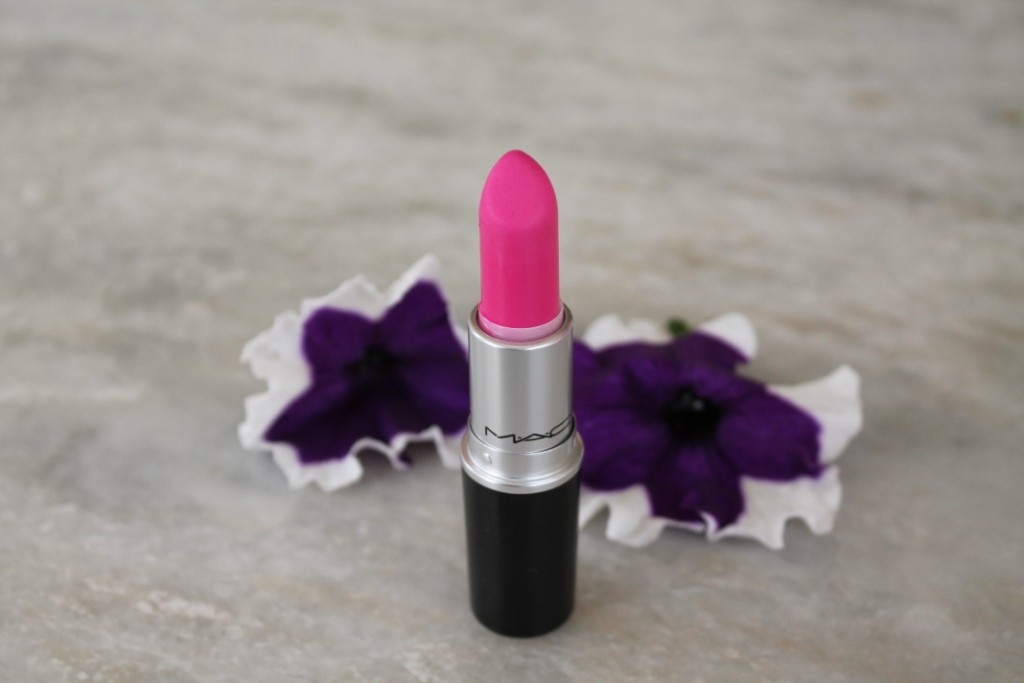 Packaging of the Mac Lipstick Candy Yum Yum:
Candy Yum Yum comes in a black cardboard signature Mac packaging with all the details about the product on the cardboard packaging,the ingredients and the price and all.The lipstick comes in the usual Mac bullet packaging with a conical cap.The shade details are on the bottom of the lipstick and as all Mac lipsticks there is no colour/shade indication on the bullet itself so if you have a lot of Mac lipsticks you will have a tough time locating your shade.I usually keep all my Mac lippies upside down in my lipstick tray so that I can see the shade names and pull out my shade.It is sleek and travel friendly.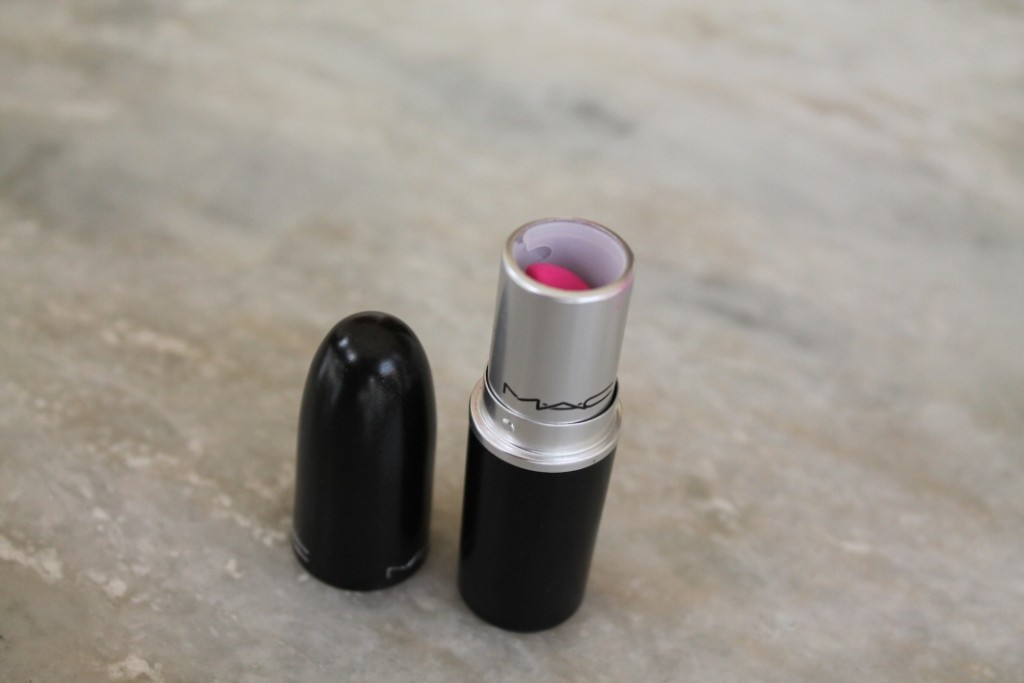 Texture of the Mac Lipstick Candy Yum Yum:
Inspite of being a matte shade it is not that drying on the lips.It is not extremely creamy but it is just the right texture and it glides on smoothly on the lips without any tugging or pulling.
Now let me tell you one thing about this lip colour that you need to take very good care of your lips if you want to go for this shade.This lip colour may look uneven and ugly on dry lips so it is very important for you to take care of your lips.Exfoliate the,keep them nourished and moisturized,if you have dark and pigmented lips,get rid of the pigmentation because this shade tends to become dark on pigmented lips as it does not hide any pigmentation infact it highlights the pigmentation.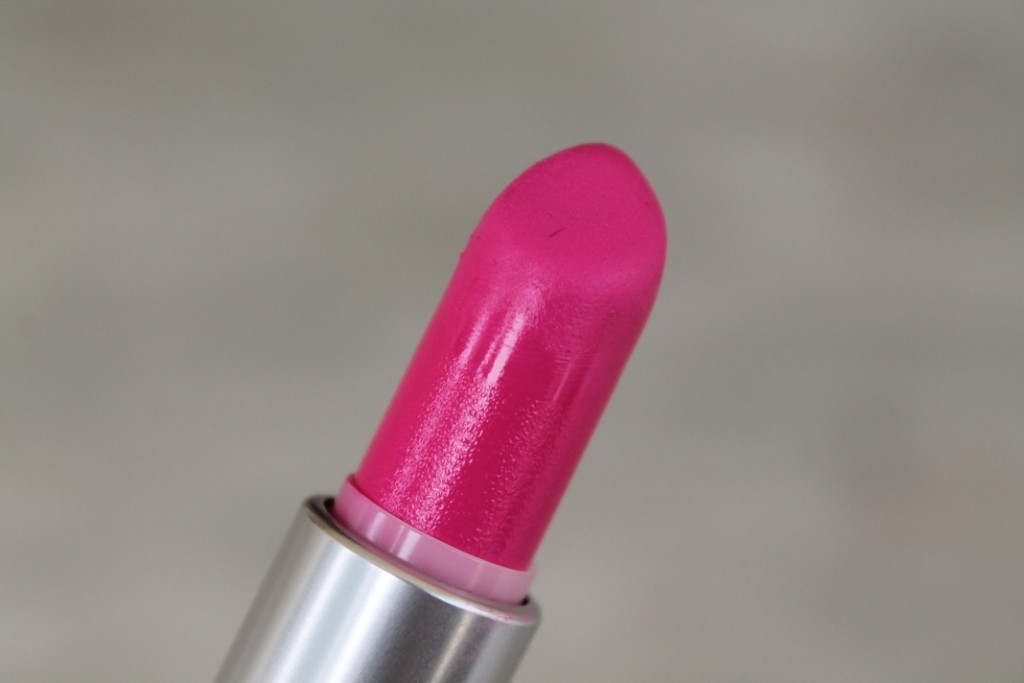 You can read my post on How to Get Rid of Dark Lips Naturally HERE.
So exfoliate your lips,apply a lip balm,line your lips with a nude liner or with a pink liner and then fill in your lips with a lip brush.This colour has a tendency to look flaky and uneven on dry lips and it looks very ugly if applied to dry lips so keep them moisturized.It does emphasize the imperfections of your lips.
Pigmentation of the Mac Lipstick Candy Yum Yum:
Mac Candy Yum Yum is insanely pigmented.It goes opaque in just one swipe.Personally I like to apply it once then I dab it with a tissue and then I go once again over it to get that bold look.It is creamy but it does not bleed out or smudge out.
Staying Power of the Mac Lipstick Candy Yum Yum:
Can we ever complain when it comes to the staying power of all Mac lipsticks.Candy Yum Yum is a long wearing lipstick and it lasts on my lips for a good 6-7 hours.If you have meals in between it does tend to transfer and it fades out a bit but it still leaves a strong pink stain on my lips which I totally love.Even after having meals it does not really fade altogether.You will need a good make up remover to take it off,the staying power is that good.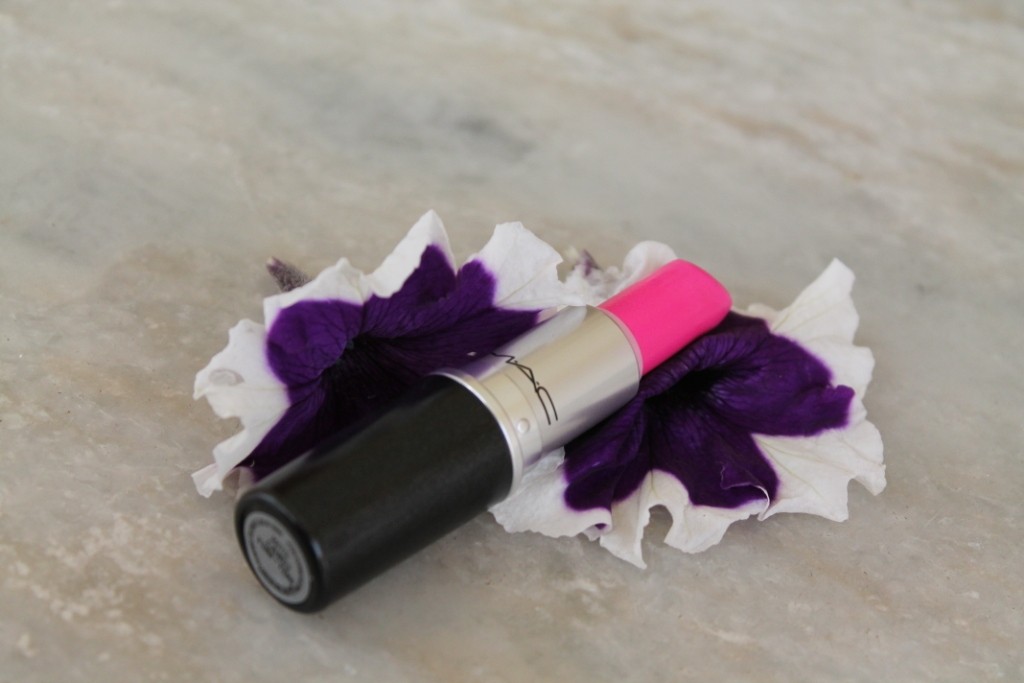 My Experience with the Mac Lipstick Candy Yum Yum:
Candy Yum Yum is a very bright neon pink lipstick.It has a matte finish but it does not dry out the lips as much as other mattes do.However the colour is to die for.I use Candy Yum Yum in two ways,firstly,I apply apply it thickly to my well prepped and exfoliated lips to get a bright,glowing neon pink colour which will certainly make you stand out in a crowd.It is quiet a task to pull off.It may end up making your face looking washed out so you need proper eye makeup and proper blush to balance everything out.It is a perfect colour for partying or a night out.
Secondly,it can also be applied lightly by dabbing it onto your lips to leave a slight stain making it just apt to be worn in the daytime too.I like to wear the colour both ways.Due to these two methods of application I can wear it for many ocassions.The application is smooth and easy no matter how you apply it.It is also very long lasting and survives through drinking and eating.
This is a bit of a cult favourite colour worldwide and after owning it I can very well understand why.It is my favourie lipstick and a definitely must have colour.Come on….Everyone needs a Candy Yum Yum in their lives.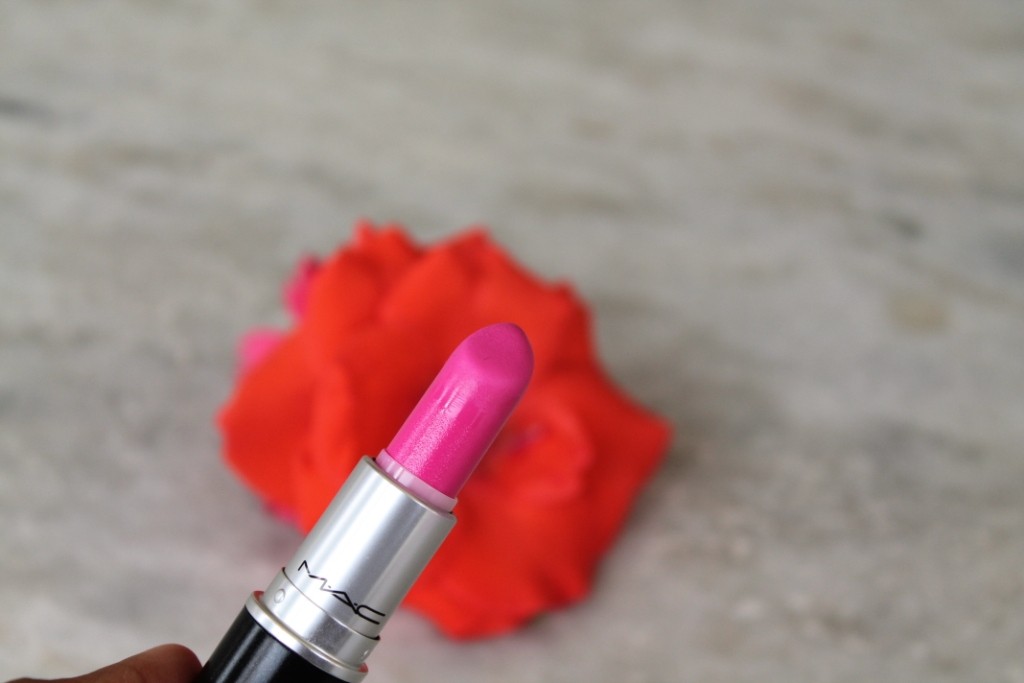 I am not too sure whether this shade will suit dusky or dark undertones but on my fair skin tone this lipstick looks like a BOMB!!!!To lighten the neon pink pop of colour you can apply this lipstick as a base on your lips,blot it and apply another bright pink colour over it to get a flattering colour combination and this way all girls will be able to pull it off.Not everyone will like this type of colour because it is so flashy but I specially love it,just a thick eyeliner and a coral blush does the trick for me.This lipstick is definitely daring,lively and not for faint hearts.
Pros of the Mac Lipstick Candy Yum Yum:
◦ Highly pigmented.
◦ Goes opaque in just one swipe.
◦ Not too drying on the lips.
◦ Glides on the lips smoothly.
◦ Awesome staying power.
◦ Addictive shade,you will fall in love with this one.
◦ Bright pop of colour.
Cons of the Mac Lipstick Candy Yum Yum:
◦ Shade is not for everyone.
◦ Accentuates fine lines.
◦ Since I do not like heavily scented products so its vanilla scent is a con for me.
◦ You really need to be bold to carry this lip colour.
Dupes of the Mac Lipstick Candy Yum Yum:
Maybelline Fuchsia Fever,NYX Shocking Pink Matte Lipstick and the Maybelline Pink Alert POW 1 Lipstick.
Rating of the Mac Lipstick Candy Yum Yum:Definitely a full 5/5.
Would I recommend Mac Lipstick Candy Yum Yum to anyone?
Definitely a big YES…I would totally recommend it to all of you who love bright pinks and corals.It is a perfect party shade.This colour looks awesome on phirangs but we Indians can also put it off.
I would recommend it to girls with fair complexion because I am not too sure how this shade will turn up on dusky beauties.Do drop in your comments if you have tried it out and please leave a note on how it turned up on dusky complexion girls.
Will be back soon with yet another Mac lipstick review.Untill then Bye…