How to Use Castor Oil for Eyelash Serum
Hello Everyone,
Today I  will be sharing a very effective diy eyelash serum that is going to give you long and voluminous eye lashes within a few days time. I love long fluttery lashes, first I used to apply lots and  lots of mascara to give that fluttery and voluminous effect to my lashes but recently I prepared a eyelash serum that helped me to thicken and voluminise my lashes naturally. So let's get started with the diy.
Products Required: Serum 1
 2 Tbsp of Castor Oil.
 1 Tbsp of Aloe Vera Gel.
 1 Tbsp of Olive Oil.
Procedure:
Take a roller bottle and pour in around 2 tbsp of 100% pure castor oil in it.
Next add in 1 tbsp of pure aloe vera gel to it.
Now add in 1 tbsp of extra virgin olive oil to it.
Mix all the ingredients well.
Apply this concoction on your upper eyelashes and on your lower lashline every night before going to bed.
If you do not have a roller bottle, mix all the ingredients in a small glass jar and apply this concoction on your lashes with the help of a cotton bud.
You will notice a difference a growth of your eyelashes within a month. Using this eyelash serum will make your lashes very dense, long and fluttery.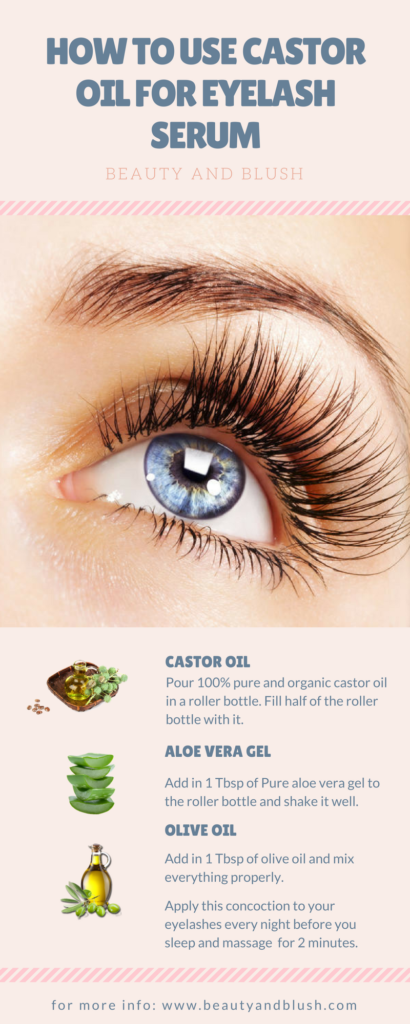 Products Required: Serum 2
1 Tbsp of Castor oil.
1 Tsp of Vaseline petroleum jelly.
1 Vitamin E capsule.
Procedure:
Take 1 Tbsp of Castor Oil in a glass bowl.
Next add in 1 tsp of vaseline petroleum jelly and 1 Vitamin E capsule to it.
Mix everything properly and apply this to your eyelashes every night.
You will notice that you eyelashes have become long and voluminous within a month's time.
You can try out either of the eyelash serums. Both of them are very effective and as they are 100% natural you can use them without worrying about the ingredients. I have tried both of them and I am sure you will really love them…Do try them out and share your experience with me.