Try first, Buy later – How Home Trials Help You Get Jewellery You Want
Hello Everyone,
In the age where you can order a pin to a piano to your home with a few clicks, it is not a surprise that you can totally depend on online jewellery stores to buy what you see. It is easy to go through the online catalogue and get your things delivered home. No matter how much we depend on online shopping, there is a downside to it, especially while buying luxury goods like gold and diamond jewellery. It is difficult to gauge the jewellery in terms of quality, size and design when you buy jewellery online. So, to fix this dilemma once and for all, Rockrush has introduced a home trial option on selected jewellery. And this comes with a lot of benefits! Firstly, the sample jewellery is brought to your home. Secondly, you get to see the design in detail along with the quality of the jewellery. And last but not the least, you buy what you see!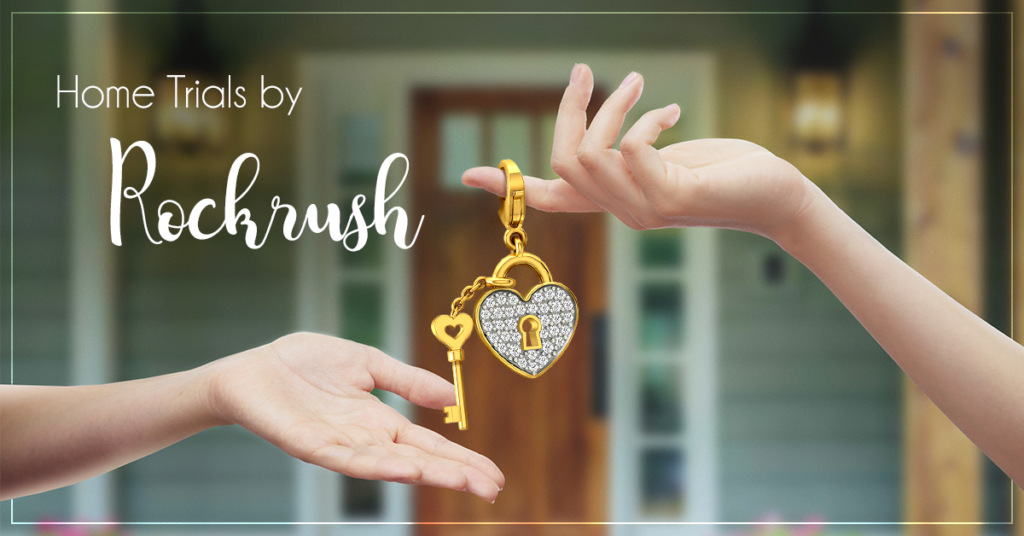 Here are the simple steps to follow in order to avail the home trial experience from Rockrush:
1)    Go to the Home Trial tab on the website and browse through all the jewellery listed in this section.
2)    Add those which you like to the cart.
3)    To proceed, log in to your account. If you don't have an account, sign up at Rockrush to simplify the home trial process.
4)    We have Customer Delight Officer stationed to help you out with the home trials. The officer will get in touch with you and get the selected jewellery at your designated address.
5)    You have a look at the designs and make your decision. Once you decide to buy, all you have to do is visit the Rockrush website and purchase online. If you are unsure about the purchase, you can buy the jewellery at your convenience.
Rockrush does not charge you for this drill and is more than happy to serve you in the comfort of your home. You can take pictures and share them with your family and friends if you are unsure about the choice. The home trial service at Rockrush is sure to make all your suspicions about buying jewellery online evaporate. So, start browsing through gold and gemstone jewellery at Rockrush, the online store which takes care of your jewellery needs for all seasons!