Nature Sure Jonk Shampoo Review
Hello Everyone,
I love Nature Sure range of products because of the minimal and 100% pure ingredients that they use in all their products. Nature Sure were kind enough to send over their Jonk Shampoo. I have been using it for the last twenty days and I am really liking how soft and silky my hair feels post hair wash. So let's start reviewing the Nature Sure Jonk Shampoo in detail.
Product description:
Nature Sure Jonk Shampoo helps cleanse scalp, remove dandruff, prevent infections and deeply nourish hair roots to make hair stronger & healthier. Unlike chemical-based shampoos that can harm the skin, Nature Sure Jonk Shampoo is made from 100% natural ingredients that are tough on dirt, grime and fungus, yet powerfully keep your scalp and hair follicles healthy and nourished. For best results, it is recommended to massage Nature Sure Jonk Tail (Leech Oil) on your scalp & hair roots with fingertips for 10-15 minutes daily before sleep. Then wash your hair with Nature Sure Jonk Shampoo the next morning.
Nature Sure Jonk Shampoo helps prevent dandruff, restores shine and strengthens hair with regular use
100% natural ingredients including amla, aloe vera, shikakai, neem, aritha, baheda and other herbs
Nature Sure Jonk Shampoo is totally free from sulphates and parabens
Helps cleanse scalp from infections and deeply nourishes roots and hair follicles
Recommended for use the morning after applying Nature Sure Jonk Tail Leech Oil overnight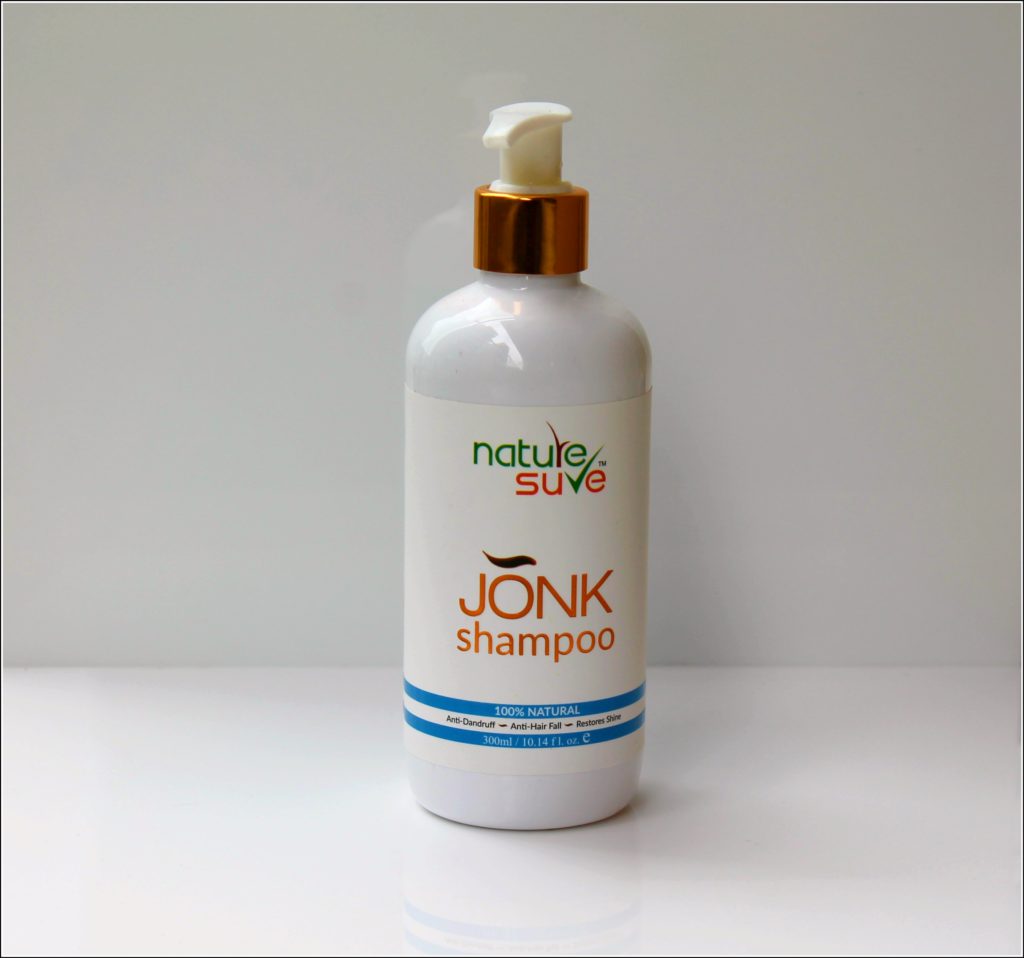 Directions:
Apply sufficient quantity of Nature Sure Jonk Shampoo onto wet hair. Massage and lather enough to cover the entire scalp and hair strands. Rinse with water.
Price of the Nature Sure Jonk Shampoo:
It retails for Rs.390.
Ingredients of the Nature Sure Jonk Shampoo:
Aloe Vera, Amla, Baheda, Shikakai, Aritha, Harad, Methi, Neem, Shampoo Base (Q.S.)
Availability of Nature Sure Jonk Shampoo:
You can purchase this shampoo from Naturesure.com
My Experience with the Nature Sure Jonk Shampoo:
The Nature Sure Jonk Shampoo comes in a big sturdy white plastic bottle with a pump dispenser. I love shampoos that come with pump dispensers because you can actually control the amount of product that you need. The Jonk Shampoo has a very thick creamy texture and thankfully it does not smell weird like the Jonk hair oil did.When the brand mailed me that they will be sending over their Jonk Shampoo I was really worried because if this shampoo would have smelled like their hair oil I seriously would not have been able to use it but this shampoo does not have any pungent smell. It smells pretty good and the smell of the shampoo lingers on my hair for a few hours before fading off.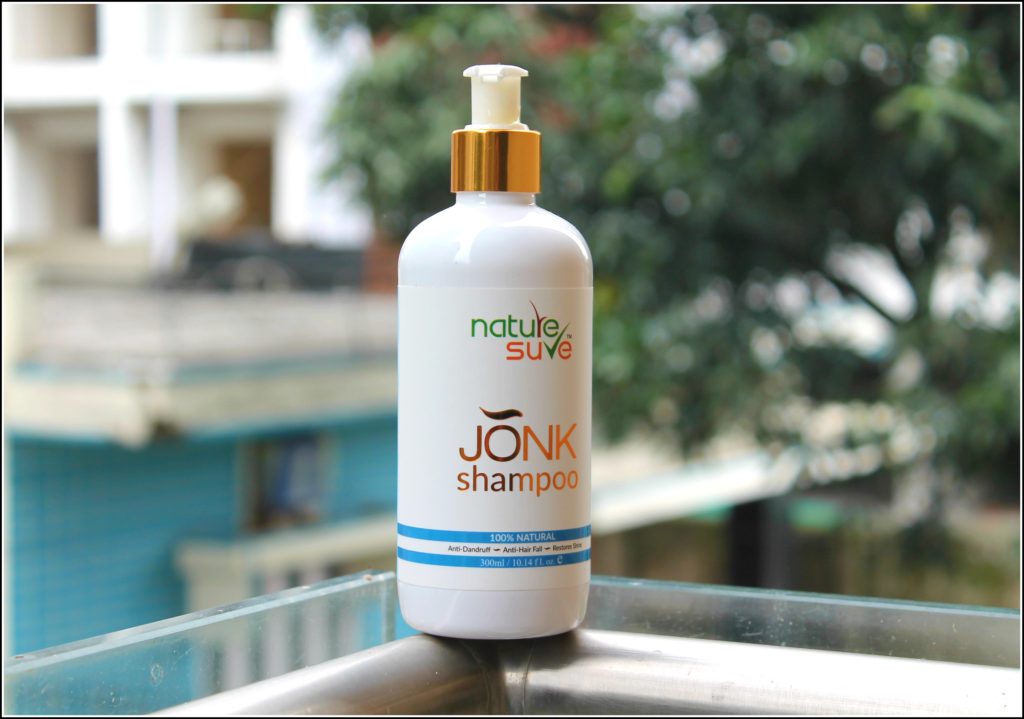 I take around 2 pumps of the shampoo, mix in a few drops of water in my palm and then work it through my scalp. I massage my scalp for 2-3 minutes in circular motions and whatever shampoo is left I apply it on my hair length and hair ends. After 2 minutes I rinse my hair with plain tap water. The Jonk shampoo cleanses my scalp and my hair very gently and removes all the dirt and impurities in just one go. The day I oil my hair I go in twice with the shampoo to remove all the oil from my hair and scalp. The Nature Sure Jonk Shampoo removes all the oil from my hair leaving my scalp and hair squeaky clean. The Jonk shampoo also helps to control hair fall to some extent. I was experiencing a slight hair fall before I started using this shampoo so I was really skeptical about this one because a lot of times when I changed my shampoo I started experiencing even more hair fall. But to my surprise after using it for around 15 days my hair fall reduced gradually and this shampoo has also tamed down my frizzy hair a lot. The Nature Sure Jonk Shampoo is certainly one of the best shampoos that I have used so far. It makes my hair very soft, silky and manageable, it has also reduced my hair fall and it makes my hair squeaky clean post hair wash.
The Nature Sure Jonk Shampoo claims to be anti dandruff shampoo, I myself do not have dandruff issues so I  really can't comment on that aspect but after looking at the ingredient list I can definitely say that this shampoo will work on reducing dandruff also.
Pros of the Nature Sure Jonk Shampoo

:
Paraben free.
Sulfate free.
A very soothing smell.
Made up of all natural ingredients.
Cleans my scalp and hair very gently.
Reduces hair fall.
Anti-dandruff.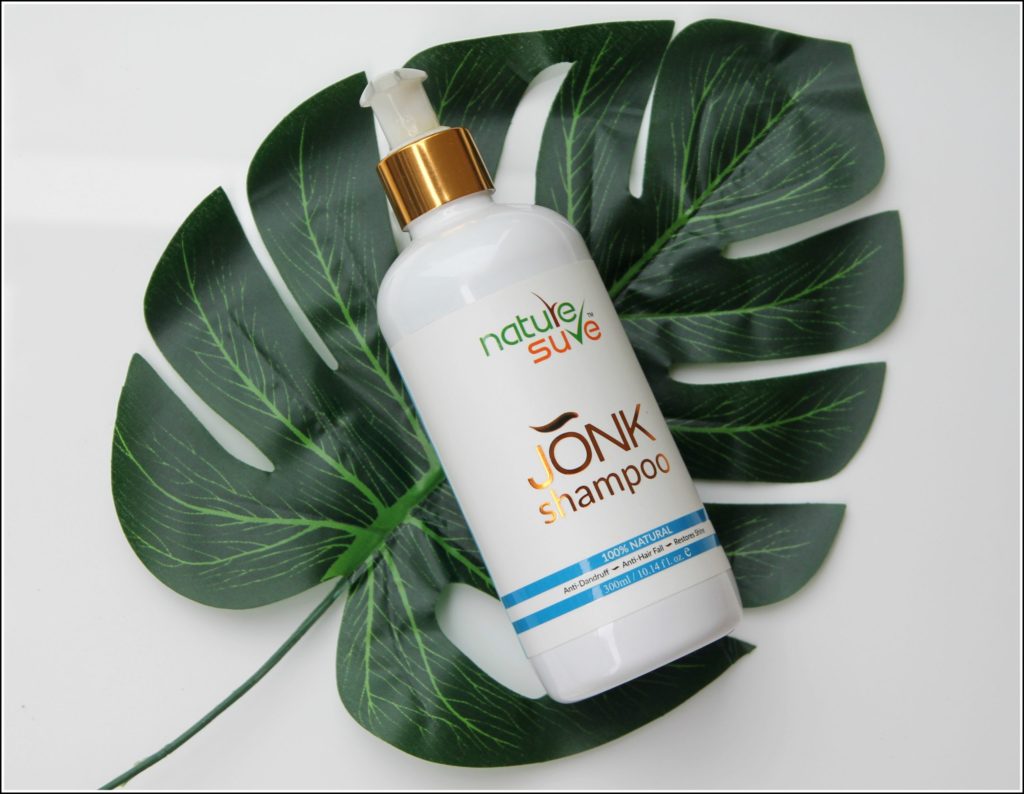 Cons of the Nature Sure Jonk Shampoo:
Can't find any con in this shampoo.
Rating of the Nature Sure Jonk Shampoo:
I would give it a 5/5.
Would I recommend the Nature Sure Jonk Shampoo to anyone?
If you are looking for a sulfate & paraben free shampoo that mildly cleans your scalp and hair, then you should definitely give this one a try.
Will I repurchase the Nature Sure Jonk Shampoo?
I being a blogger have to try out different products from different brands so I don't think so I will be repurchasing it but if I wouldn't have been a blogger I would have repurchased it over and over again.