How to Get Rid of Dark Circles in 15 Days-DIY
Hello Guys,
Dark Discoloration of the skin under the eyes is referred to as dark circles. Some of the major causes of dark circles are hereditary, aging, dry skin, working for long hours on the computer, lack of sleep, mental stress and an unhealthy diet. You can get rid of dark circles with some easy home remedies and today I will be sharing an amazing diy that is so effective and it will help you to get rid of dark circles completely.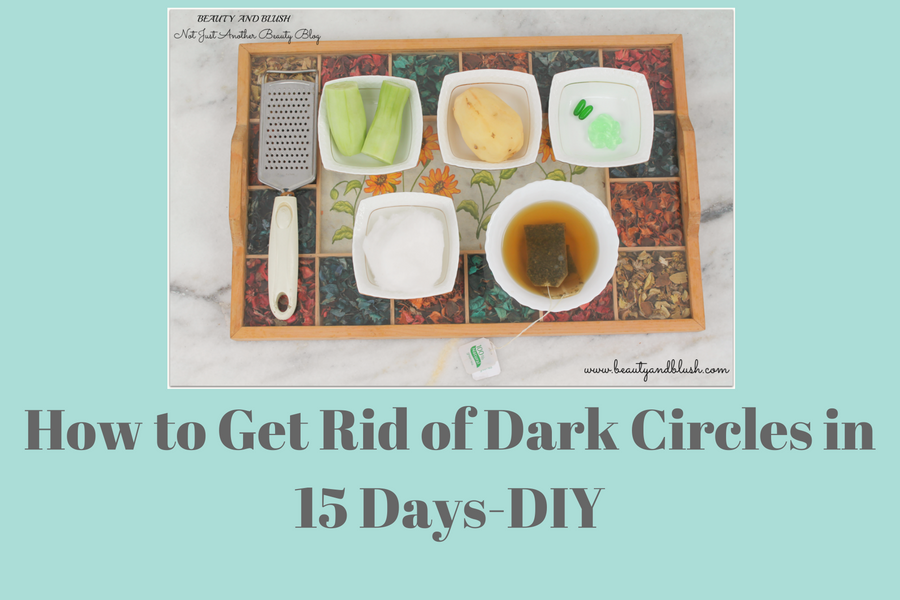 Dark Circles is a major problem that I have faced for almost a decade now and over the years my dark circles have only worsened. I  had tried so many under eye creams over the years but nothing helped. Then few days back my mom read this remedy somewhere in a magazine, I tried it out and within a span of 10 days my dark circles actually became much lighter. They haven't disappeared entirely but I am sure with continuous usage I will be able to get rid of them totally. It is sure an easy Diy and it so damn effective. If you also suffer from dark circles do try out this one and I am sure you are going to  love it.
Products Required: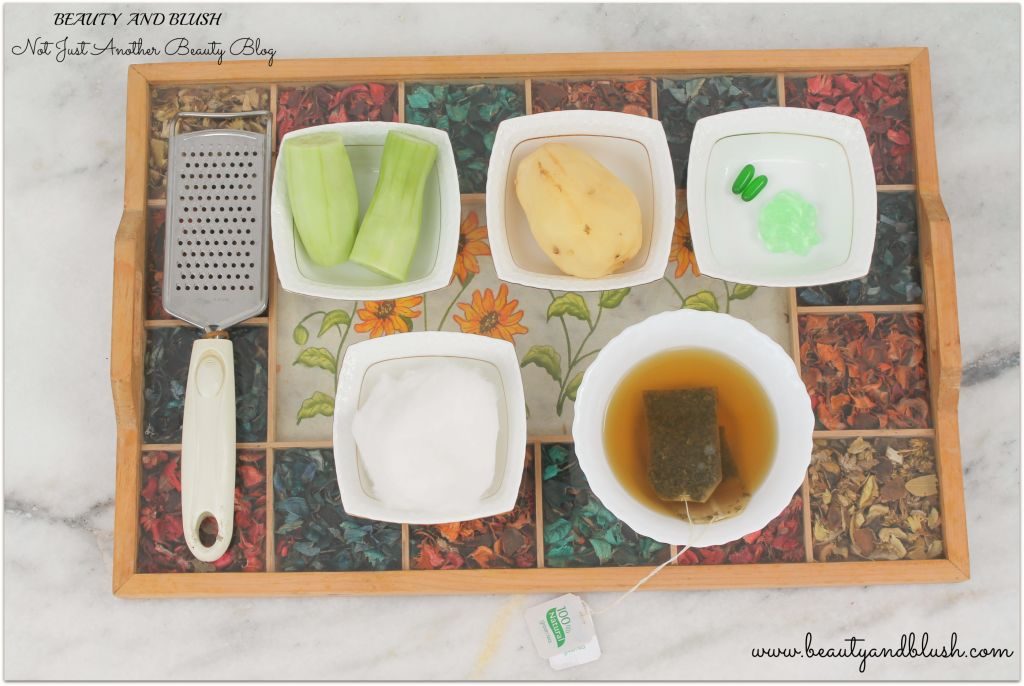 1 medium size Cucumber.
1 medium size Potato.
2 Vitamin E Capsules.
1 Tbsp of Aloe Vera Gel.
1 cup of brewed Green Tea-2 Tea Bags.
2 Round Cotton Pads.
1 Grater.
Procedure:
Peel off the potato and cucumber and grate them seperately. After grating them extract the juice of cucumber and potato by squeezing them.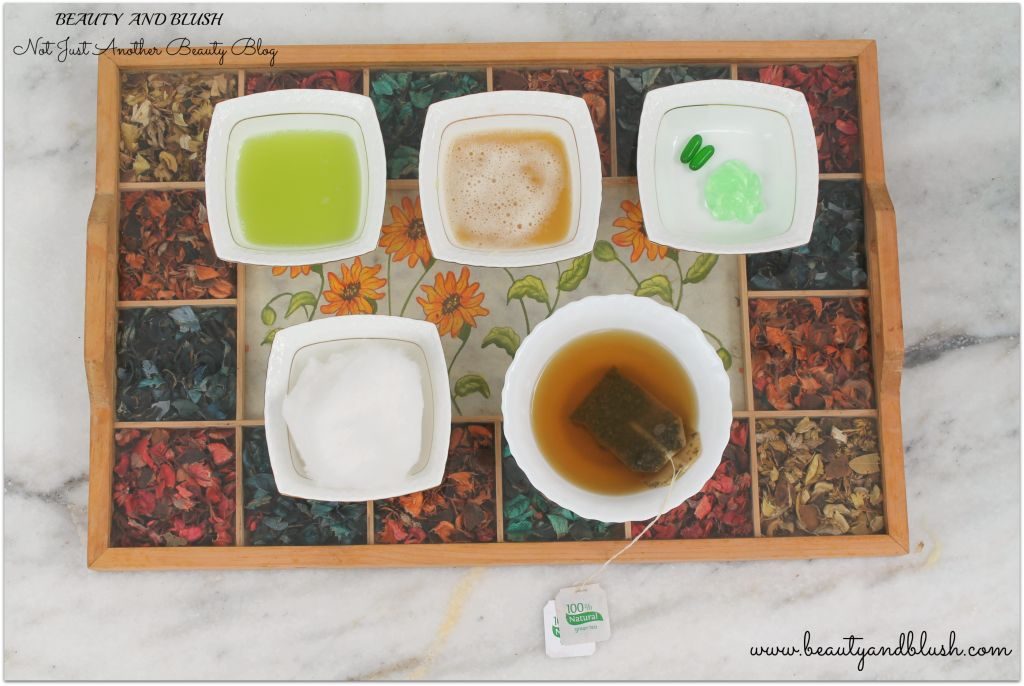 Mix in all the ingredients together. Take the green tea, add in the cucumber and potato juice, aloe vera gel and prick 2 Vitamin E capsules and squeeze out the oil.
Mix all the ingredients properly. You can store this concoction in the refrigerator for 5-6 days.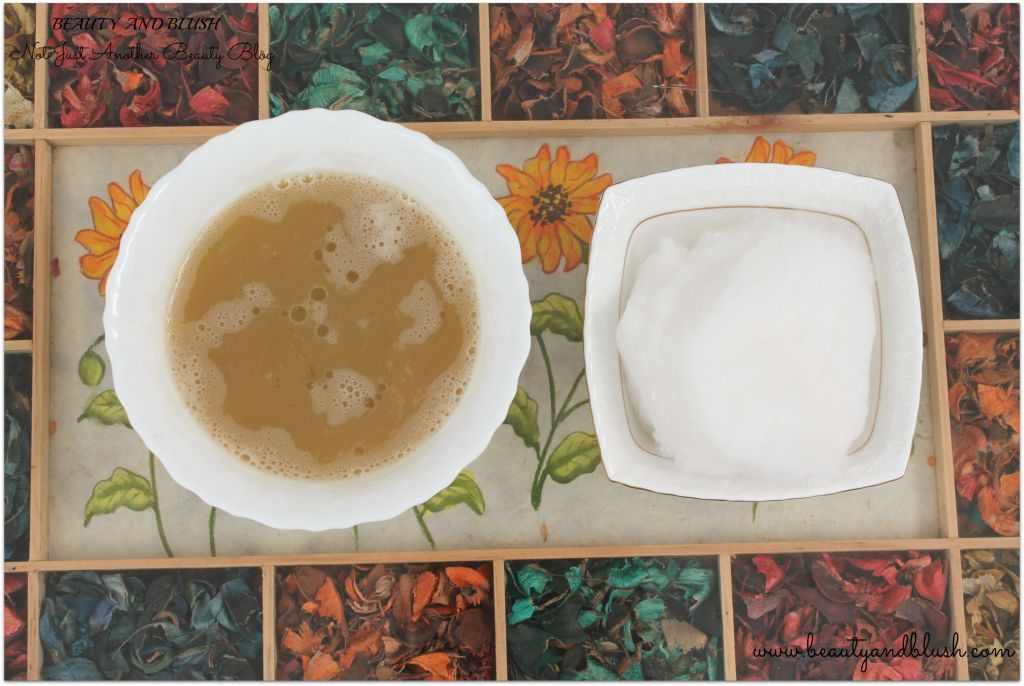 Take 2 round cotton pads and dip them in this mixture, squeeze out the excess juice and keep the pads in the freezer for 2-3 minutes. After taking out from the freezer place the chilled cotton pads on your eyes for 20 minutes. Repeat this process twice a day and you will soon seen your dark circles lightening with continuous usage.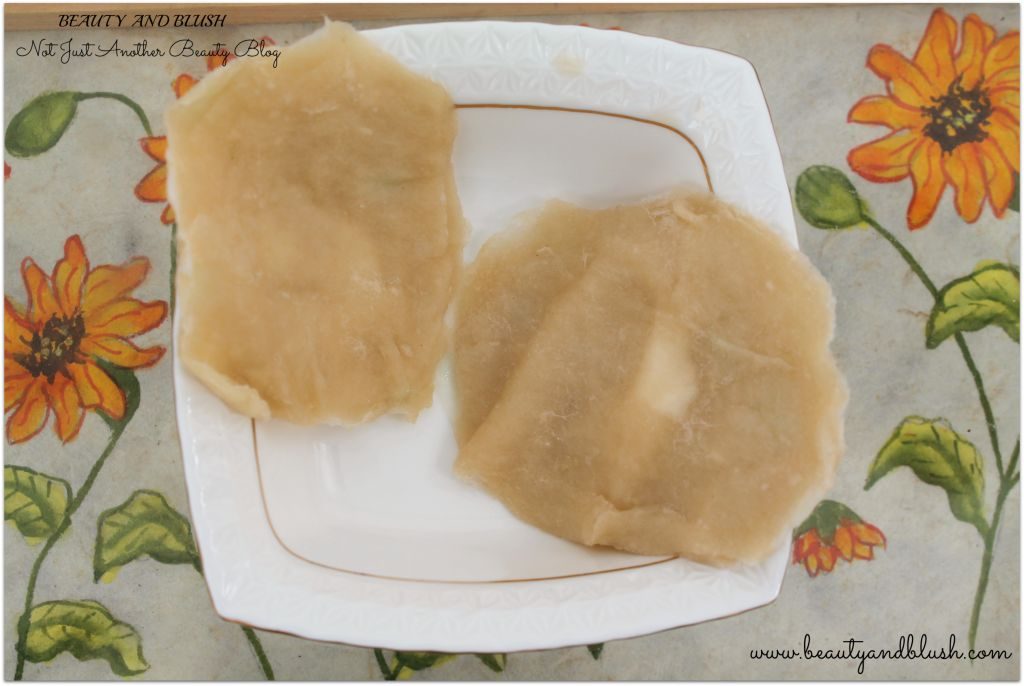 This Diy helps you to get rid of dark circles within a short span of time. It also helps you if you have puffy eyes, the chilled cotton pads feel so soothing and relaxing on the eyes and it is all I want at the end of a tiring day.
Benefits:
Compounds in the cucumbers and their temperature may explain their effectiveness. There are a lot of antioxidants present in cucumber including cucurbitacins, vitexin, orientin and isoscoparin, along with Vitamin C and K. Antioxidants may help reduce the inflammation that causes puffiness and dark circles. Cucumbers work best to reduce puffiness of eyes and dark circles when chilled. The cool temperature eases puffiness and discourages the accumulation of fluid under your eyes. Vitamin K helps reduce the discoloration that causes dark circles. Cucumbers also have skin-lightening and mild astringent properties that can help you to fix those dark circles naturally.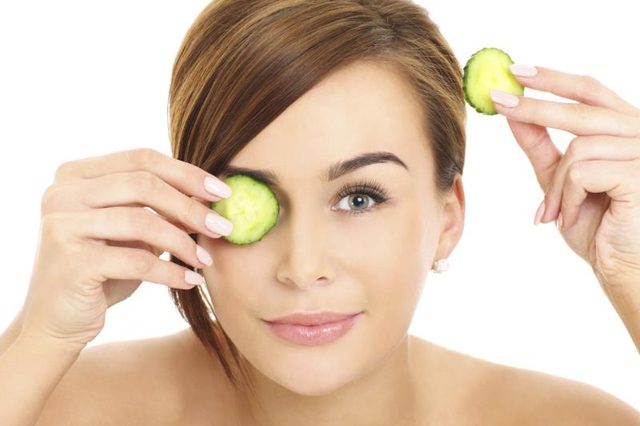 Potatoes contain natural bleaching agents that lighten skin when used regularly over time. Potatoes contain catecholase that helps you to reduce puffiness under the eyes. Potatoes also contain the nutrients antioxidants skin needs to stay firm, smooth and bright. The Vitamin C, starch, and enzymes in potato also nourish our skin. The Vitamin A in potatoes keeps the skin firm.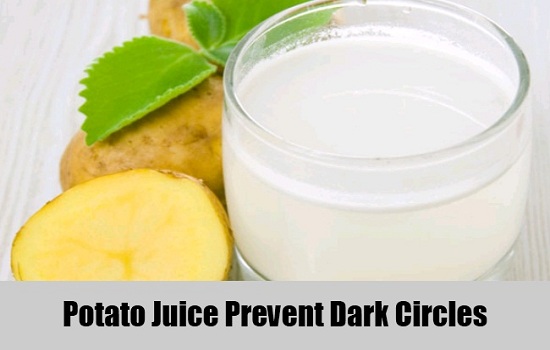 Aloe Vera Gel contains ingredients such as Vitamin C, A and E. It also contains minerals such as zinc, calcium, magnesium, proteins and amino acids. All these help the under eye area to restore its youthful looks. The anti-aging properties also help maintain the collagen of the skin. The gel also helps stimulate collagen formation to help restore the suppleness of the skin around the eyes. It also helps lessen inflammation and helps increase blood circulation to the under eye area.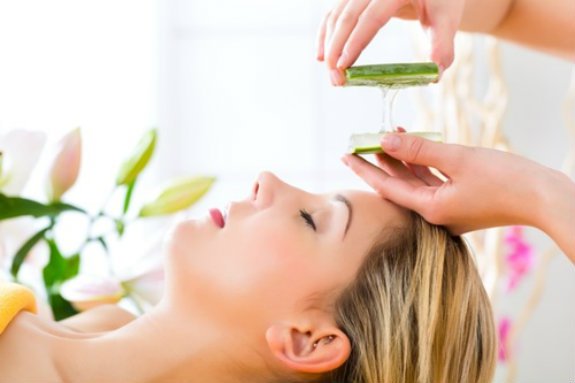 Another important vitamin for the treatment of dark circles is Vitamin E. This is a fat soluble vitamin and at the same time , a powerful source of antioxidants. The antioxidant properties serves to protect cells and tissues from free radical damage and from the ultraviolet rays of the sun. Vitamin E is capable of treating dark circles  completely.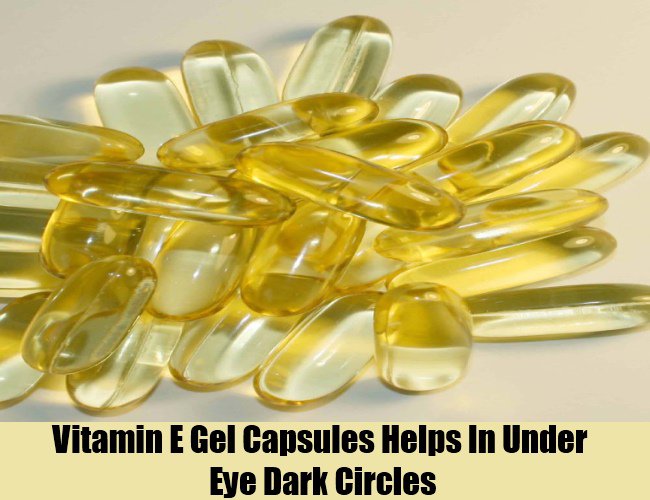 Green Tea:
The antioxidants in green tea bags is a great remedy for treating dark circles. The caffeine present in green tea shrinks blood vessels and reduces the fluid retention in the tissues under the eyes. Green tea also contains tannins which stimulate blood circulation under the eyes. Green tea have anti-inflammatory and soothing properties. It also contains theophylline which penetrates deep into the ksin to decrease the subcutaneous fat by dehydrating the skin cells and reducing the inflammation. It does contain alkaloids that promote healthy skin around the eyes. It contains EGCS, an anti-inflammatory that removes under eye fluid build-up.
Before and After Pic: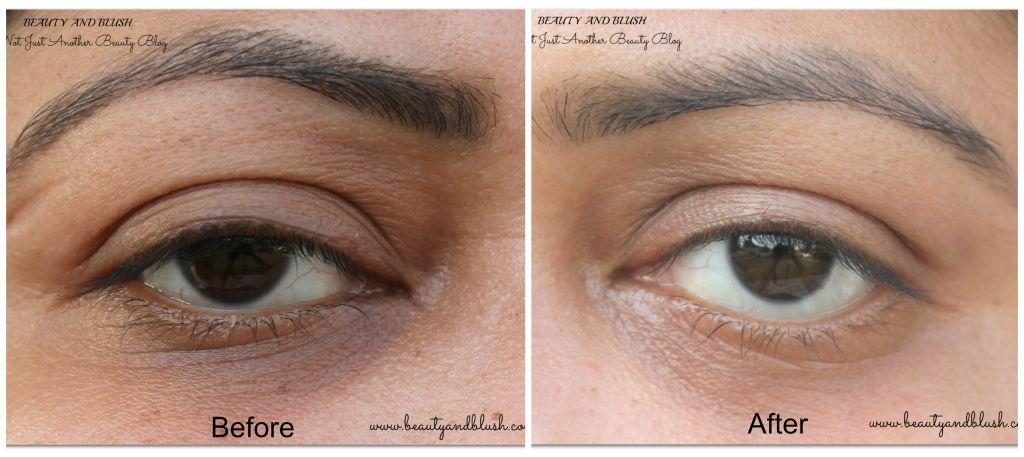 So guys do try out this amazing and super effective Diy and I am sure all of you will be able to get rid of dark circles with this Diy. Do try it out and please share it with your friends and relatives if you like it.
Until Next Time,
Take care of Yourself.