12 Cute and Easy Hairstyles that Can Be Done in a Few Minutes
Hello Everyone,
Do you love finding new ways to style your hair? How about easy ones? We've all seen the super cool hair tutorials on Pinterest, but come on people, some of these take forever! (if you can actually even pull it off) Who has time like that? Not me, at least not for every day wear and for other impromptu outings. How about some hair styles for real life? I have found some of the easiest and the most classy looking hairstyles, just for you guys. Complete tutorial with pictures and easy to follow step by step, these are some of the most creative looks around, perfect for teens to be able to easily do themselves. Cool, right? We love these awesomely easy hairstyles and know you will, too! Check them out. I am really bad at doing my hair and if I can do them, all of you can surely do them as well. Do try them out and I bet you are going  to love them.

Steps:
1. Begin with a loose, low ponytail.
2. Part hair above the hair-tie.
3. Pull pony up and through into a topsy.
4. Repeat previous step into another topsy.
5. Use your index finger and wrap another topsy to create the roll.
6. Continue to roll until you run out of ponytail.
7. Fasten under the roll with bobby pins until it feels secure.

Oh we just looovvvee messy buns don't we? But how do we really whip up a perfect messy bun and rock it? Check out the pictures above and you can rock a messy bun any time now!

Twist back a small section of hair from one side of your head, and secure it with a pin in the middle of your head.
Twist back a small section of hair from the other side of your head, tuck it behind the first twisted section, and pin it in the middle of your head.

Steps:
1. Divide hair at the crown of the head into two even sections, then tie into a simple knot.
2. Add hair to each side of the knot (as you would doing a french braid) then tie into another knot below the first.
3. Repeat previous step for a third section, pulling hair from each side.
4. Use the remaining amount of hair for the fourth and final knot.
5. Fasten the bottom with an elastic band. You can either leave the style as a low ponytail, or tuck the hair up and underneath the knots with bobby pins to create a cute updo instead!
Steps:
Pull your hair back into a high ponytail and secure it with a hair tie.
To give your ponytail extra oomph, split the tail in half and place a small clip (one that matches your hair color) into the base. Then hide the clip with the top half of hair.

Steps:
Gather a section of hair from both sides of your head in line with your temples, and put the sections into a small pony in the back. Then, braid the pony down to the ends.
Tug at sections of the braid to loosen it to make it look more voluminous. The exaggerated edges also help create that flower-petal finish.
Spin the braid around into a bun, and pin it securely against your head.

Not into the idea of your bun being directly on top of your head? Try this lower option that has a similar look to it.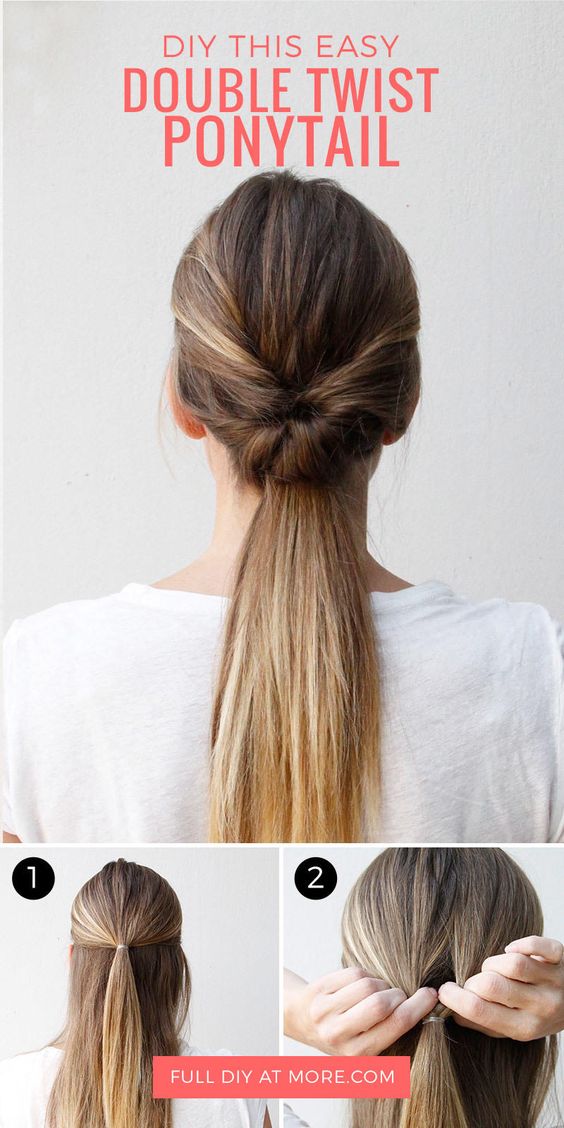 Steps:
1. Comb through your hair, then take the top half of your hair and put in a half-updo with a small elastic.
2. Now make a hole just above the elastic.
3. Flip the half-up ponytail through the hole.
4. Now combine the top and bottom sections of hair and secure your hair into another ponytail at the nape of your neck.
5. Now take the new ponytail you just made, make a hole above the first half up ponytail just like you did before and flip also the new ponytail through the same hole like the first time. Pull it the whole way through so it comes out underneath the two elastics.
6. Pull on the ponytail a bit to tighten it and then take some bobby pins to pull the twist together in the middle and secure it in place.
And you have a beautiful, easy update on the classic pony!

Tie a low ponytail leaving 2 sections of hair from both the sides in the front. Now roll the ponytail into a bun and just criss cross and wrap both the sections of the hair around the bun. This bun looks so elegant and is so simple.

Leave a small section of your tied hair in the left side. Roll hair into a bun and pin in place. Braid the remaining hair and wrap the braid under the bun and pin.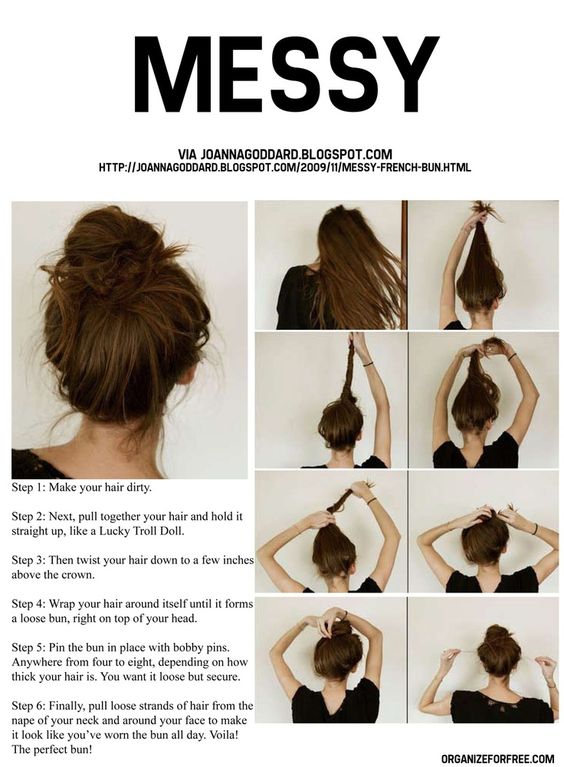 So these were 12 super easy and very chic looking hairstyles that you can do within a few minutes.Do try them out.