Vaunt Daisy Extract + Vit B Face Wash Review
Hello Everyone,
Face cleansing is the first and the most important step in a skin care routine. A face cleanser helps us to remove dirt and impurities from our skin and it also helps our skin to breathe properly. I had been using homemade powder cleansers for quite some time now so I decided to try out a few newly launched face cleansers in the market. The Indian beauty skincare has gone through a vast shift in the last couple of years. So many new homegrown brands have emerged in the Indian market which has changed the face of skin care products in India. The focus has shifted from chemicals to more plant derived ingredients which are much more mild on the skin. One such brand that I have come across in the past few days is Vaunt. I came to know about this brand from a fellow blogger, researched about them and everyone had all the good things to say about the brand. As I was looking for a mild face cleanser for my extra dry skin I decided to order the Vaunt Daisy Extract + Vit B Face Wash. I have been using this face cleanser for a couple of days now so I thought I should share the review of this amazing face cleanser on my blog.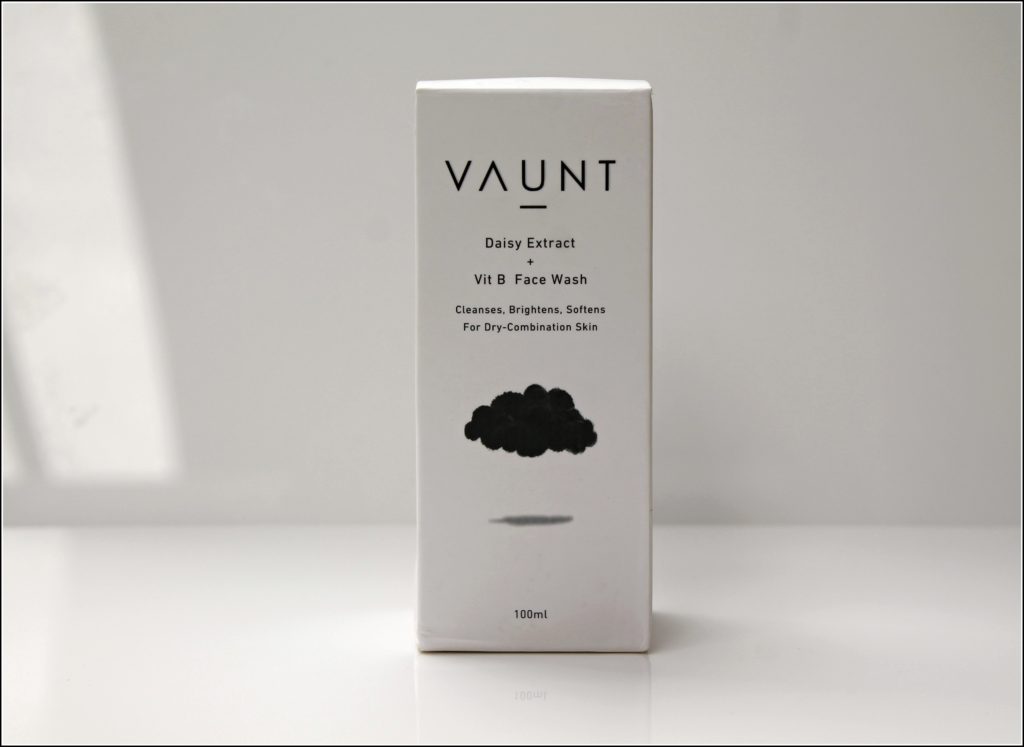 About the Brand:
VAUNT is a contemporary Indian beauty brand delivering effective, everyday basics in an easy to follow AM-PM routine. Scientifically backed products with a combination of super seed oils, botanical derivatives and natural extracts creating a powerful and effective blend of active ingredients.
We believe in skin that's groomed with minimal effort in a daily regime carefully curated to nurture your skin with specific solutions. For the busy folks today, juggling work routines and chores, skin care takes a backseat sometimes because of the lack of time and unpredictable schedules. Which is why, at VAUNT we've come up with no-fuss 'Daily Skin Solutions'for women and men, that are simple to work into your schedule. They are formulated to target and solve day-to-day problems while uncluttering your beauty cabinet to leave you with just the bare essentials.
Vaunt routine ensures that your skin is pampered everyday with ingredients sourced directly from nature and put together in clean, simple formulations. In fact, our skin type specific AM-PM routine along with our ingredients are devised to care, replenish, rejuvenate and protect your skin and give it the attention it deserves. Because we believe that when you treat your skin with love, it shows.
We are Vegan & Cruelty Free
Our products are for everybody
Hypo-allergenic & Non comedogenic
Strive to address every skin concern
Effective, Efficient & Safe
Super Hero & Clean Ingredients
Reparative, Preventive & Barrier Strengthening
Moisturizing, Hydrating & Priming
Developed & Formulated in India
Our formulations are clean, safe and free from
–        Synthetic Fragrances
–       Alcohol, Mineral Oil, Petrolatum
–       Phalates, Sls, Parabens & Silicones
–      Formalaldehyde
–       Nano particles
–       DNA mutating ingredients
–       Carcinogenic ingredients
–       Hormone disruptors
–       Unnecessary chemical fillers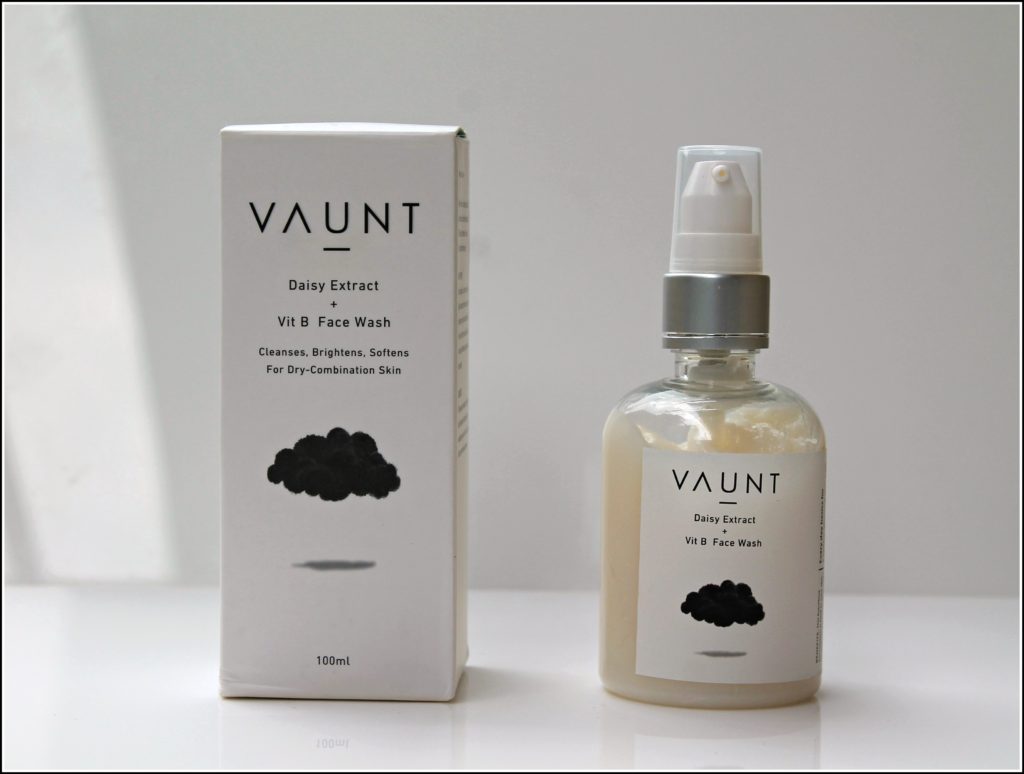 About the product:
Recommended For Sensitive/Dry/Combination Skin
This luxurious, sulphate free, non- foaming face wash is perfect to cleanse your skin, leaving it fresher and also visibly soft. Pure Daisy Flower Extracts work with B Vitamins to nourish your skin and keep it protected from the harsh elements of the day. You know you want this balancing face wash!
Use any time of the day.
Gently Massage to break down and remove make- up.
For tough eye products, massage and wipe off with cotton pad.
Great for skin that is sensitive from peels, retinoids and other harsh skin treatments.
Note: Products with natural extracts may change colour over time. The efficacy remains unchanged.
Quantity:-
100ml
Dispenser:-
Pump
Use product within 3 months of opening
Directions for Usage:
Gently massage 2-3 pumps, daily onto damp skin to maintain and protect your skin's natural barrier and for fresh, Vitamin B nourished skin. Great for make-up removal.
Benefits:
This formulation is kind to your skin by cleansing it thoroughly while maintaining your skin's natural oil balance.
The Coco Glucosideis an active natural cleansing ingredient derived from coconuts, that gently rids skin of dirt, grime and excess oils, while the Vitamin C in the natural orange extract brightens your skin.
Enhanced with Vitamin B, the face wash with its anti-oxidant & anti-inflammatory properties rejuvenates the skin from the daily stresses that cause dullness and rapid ageing.
The Daisy Flower & Calendula Extractsfurther work to soften skin and keep it supple and youthful.
With an effective blend of D-Panthenol & Allantointo nourish, moisten and hydrate.
Vaunt is made with Natural, *Eco Certified/ COSMOS ingredients and is free from Parabens/SLS/PEG/Silicones/Petrolatum, Phalates, DEA & Synthetic Fragrances & Colours.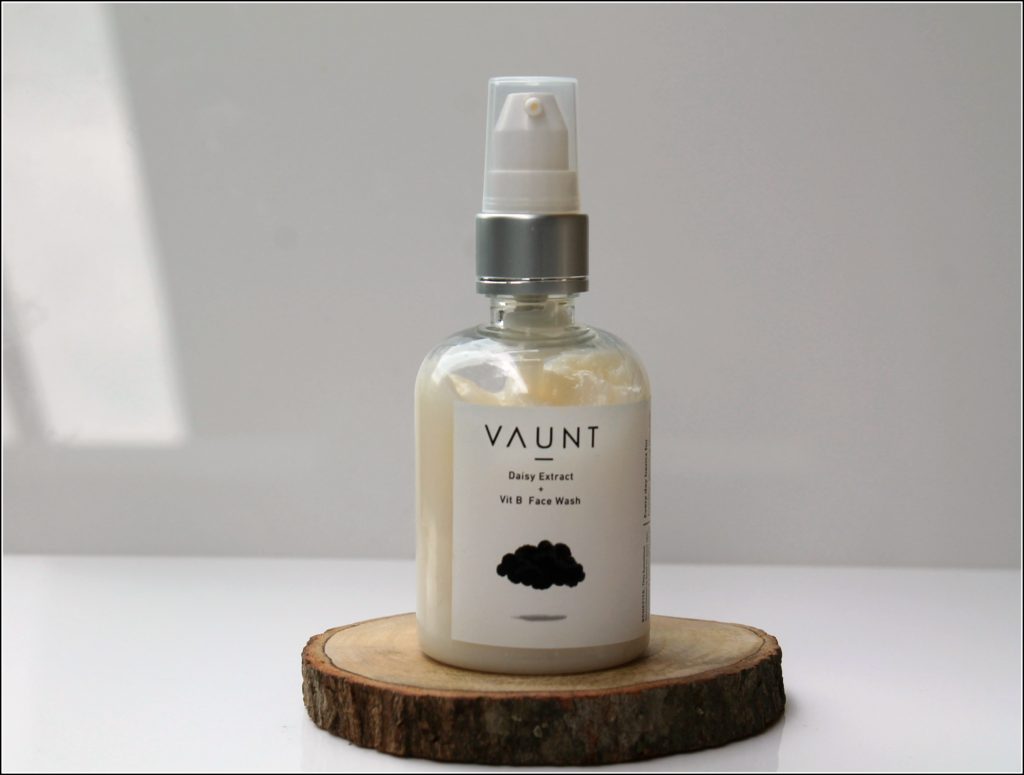 Ingredients of the Vaunt Daisy Extract + Vit B Face Wash:
Aqua, *Coco Glucoside, Glycerine, *CetearylOlivate, *SorbitanOlivate, Sodium Polyacrylate Starch, Calendula Officinalis Extract, Orange Extract, Potassium Sorbate, Sodium Benzoate, *Betaine, Citrus Sinensis (Sweet Orange) Oil, *Xylitylglucoside, *Anhydroxylitol, *Xylitol, *Bellis Perennis (Daisy) Flower Extract, Allantoin, *D-Panthenol, Sodium Gluconate
Price of the Vaunt Daisy Extract + Vit B Face Wash:
Rs.545 for 100ml.
Availability of the Vaunt Daisy Extract + Vit B Face Wash:
You can buy it from Nykaa, Amazon or from  Vaunt's official webiste.
My Experience with the Vaunt Daisy Extract + Vit B Face Wash
The Vaunt Daisy Extract + Vit B Face Wash comes in a white coloured outer cardboard packaging with all the details about the product mentioned on the box itself. The face wash comes in a very sturdy plastic packaging with a pump dispenser. I love the pump dispenser packaging because you can actually control the amount of product you want to dispense in one go which leads to less wastage of the product.
The Vaunt Daisy Extract + Vit B Face Wash is a white coloured thick creamy non foaming face wash which has a very mild citrusy smell to it. This is the first time that I am trying a non foaming face wash and believe me this has been the most gentle and the most hydrating face wash that I have ever tried. The Vaunt Daisy Extract + Vit B Face Wash cleanses your skin perfectly, removes all dirt and impurities from your skin in one go and does not dry out your skin at all. I have extra dry skin and the major issue that I used to face with all the face cleansers was that they used to dry out my skin but that is not the case with the Vaunt Daisy Extract + Vit B Face Wash. This face wash is extremely mild on the skin, it removes all the excess oil from your skin, removes traces of makeup without stripping the skin of its natural oils.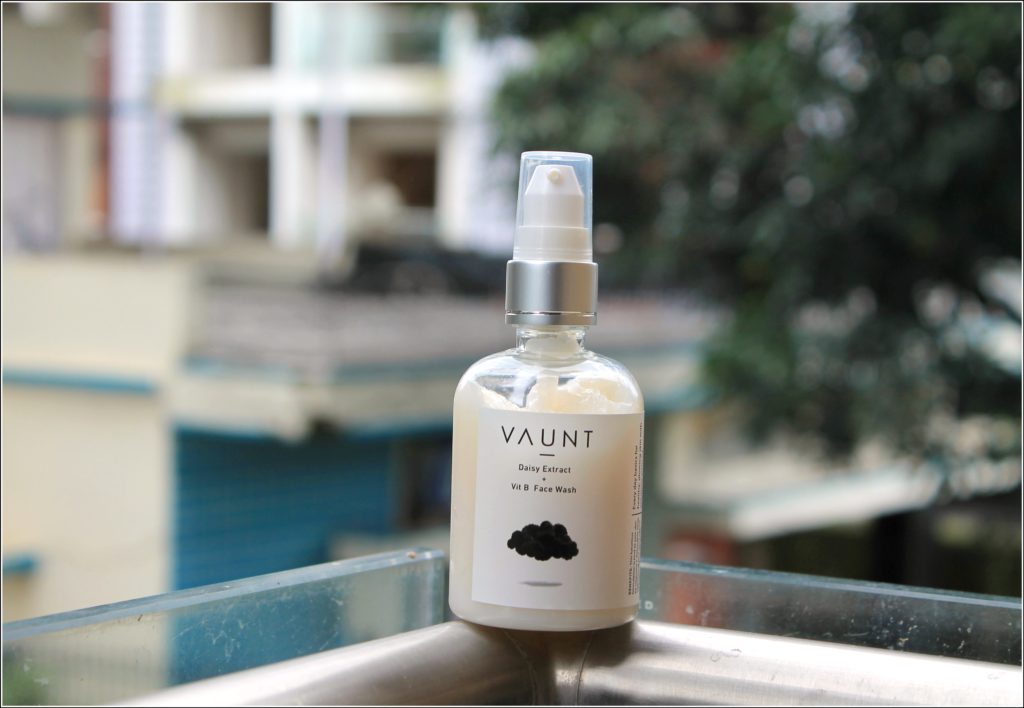 I use the Vaunt Daisy Extract + Vit B Face Wash twice daily both in my AM and PM routine and I am extremely satisfied with it. It contains coco glucoside which is a natural mild surfactant derived from coconuts which is why this face wash is extremely mild on the skin. I take about 2 pumps of the face wash and apply it on my damp skin, massage it in for about a minute and then I wash it off with lukewarm water. The face wash deeply cleanses my skin and instantly brightens it up due to the presence of Vitamin B in it. It does everything that a good quality face wash ought to do. It does not contain any harmful chemicals or synthetic fragrance which is why I have fallen in love with it.
I am thoroughly enjoying using the Vaunt Daisy Extract + Vit B Face Wash in my skin care routine these days. I am highly impressed with the brand and their simple and clean ingredient list. I will definitely be trying out a few more products from Vaunt. So if you are looking for a good quality face wash which deeply cleans your skin without stripping it of its natural oils, do give this one a shot. I am sure you are going to love it.
Pros of the Vaunt Daisy Extract + Vit B Face Wash:
Made with natural eco certified ingredients.
Free from parabens/SLS/Silicones and synthetic fragrances.
Love the mild citrusy smell.
It is a non-foaming cleanser.
Gently cleanses the skin.
Suitable for all skin types.
Does not dry out the skin.
Pump dispenser packaging.
Gives the skin a very healthy glow.
Cons of the Vaunt Daisy Extract + Vit B Face Wash: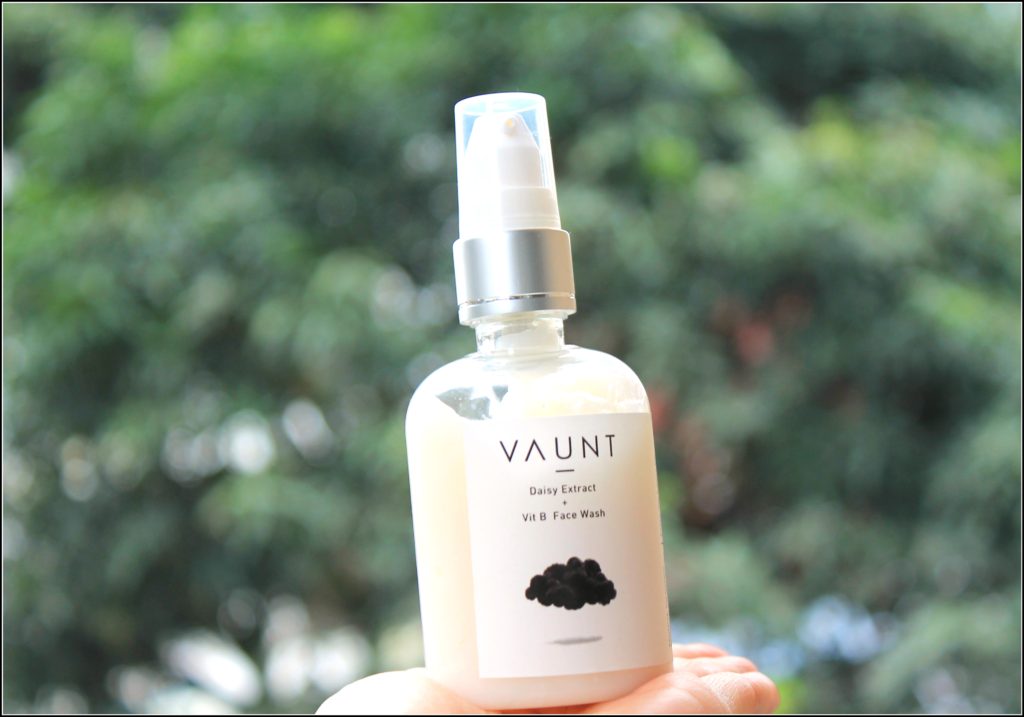 Rating of the Vaunt Daisy Extract + Vit B Face Wash?
I would give it a full 5/5.
Will I repurchase the Vaunt Daisy Extract + Vit B Face Wash?
I will definitely repurchase the Vaunt Daisy Extract + Vit B Face Wash once this bottle gets over.
Will I recommend the Vaunt Daisy Extract + Vit B Face Wash to anyone?
I would highly recommend the Vaunt Daisy Extract + Vit B Face Wash to all of my readers, go and grab this asap irrespective of your skin type.