The Best Bra Styles for Wide-Set Breasts
Hello Everyone,
It's hard enough to find proper bra size. But to look for bra styles for wide-set breasts? Well, that's got to be frustrating when you don't know what to look for. It's not easy you know – to shop for lingerie. Though most bras are made based on a universal size, there are varied breast shapes.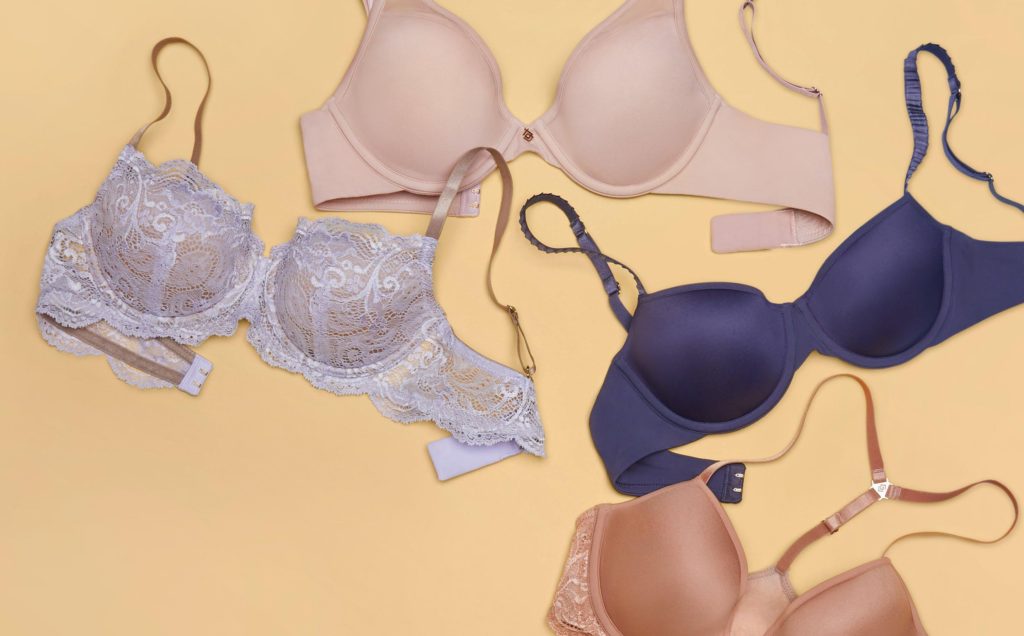 Photo credit: blog.thirdlove.com
Some have an hour-glass shape, some round and heavy, some bell-shaped and close-set, etc. So if you're trying to find a new bra style supporting splayed or wide-set breasts. This is your ultimate guide to finding the good bras for wide-set breasts.
Better to have a bra that supports wide-set breasts than an uncomfortable and shifty bra. Even if you want to keep separate your breasts to avoid showing cleavage, you can rely on these styles.
[YouTube video: https://www.youtube.com/watch?v=X8tKXwGez5c]
New and Stylish Bra Styles for Wide-Set Breasts
#1 Bra with Side Panels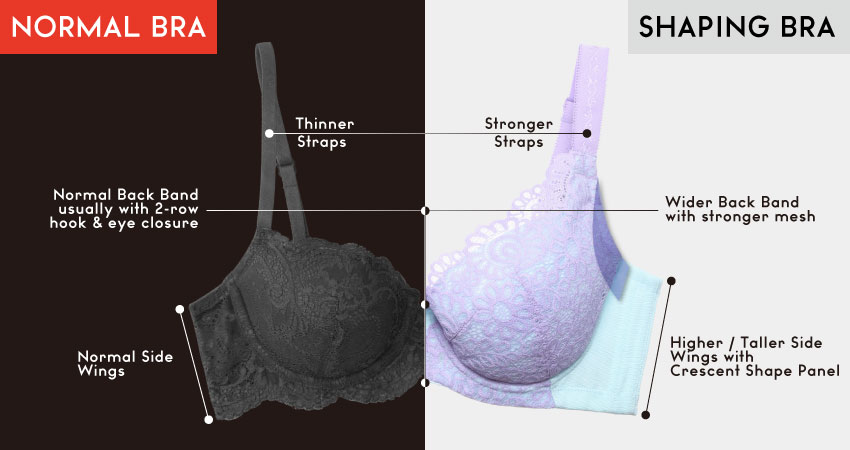 Photo credit: www.online-satami.com
Side support bras have special and customized cups. The cup panel on each side contains 2-4 sections including the sides. Usually, bras with side panels prevent side spillage. But for wide-set breasts, it can also provide support and stability.
They shape and contour the breasts from both sides. To make them look fuller and smoother. This is not possible with a bra like a push-up bra with no side support.
Another popular name for this bra style is "side boning." It provides a firm structure for wide-set breasts to prevent any unwanted bulges or overflowing.
#2 T-Shirt Bra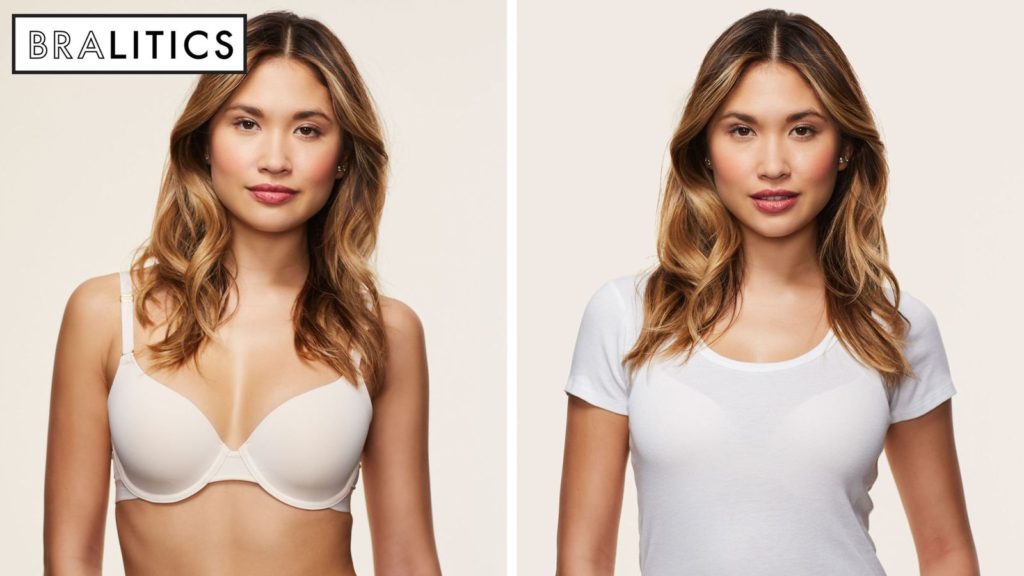 Photo credit: www.elle.com
A t-shirt bra is the most basic and supportive bra there is. It shapes your bust but in the most minimalist manner. So you can wear plain tees to fancy dresses, and your breasts look round and subtle.
The fabric of a T-shirt bra is adaptable and contouring. It doesn't crowd your breasts or push your breasts up and center. For women with wide-set breasts, a T-shirt bra can be less invasive and more comforting.
The cups and back prevent overflowing or bulges. The center of the gore is broad enough to support splayed breasts. And it also positions itself right in the middle of both breasts. So there's no space between the skin and the band. This is an important criterion for choosing bra styles for wide-set breasts.
#3 Plunge Bra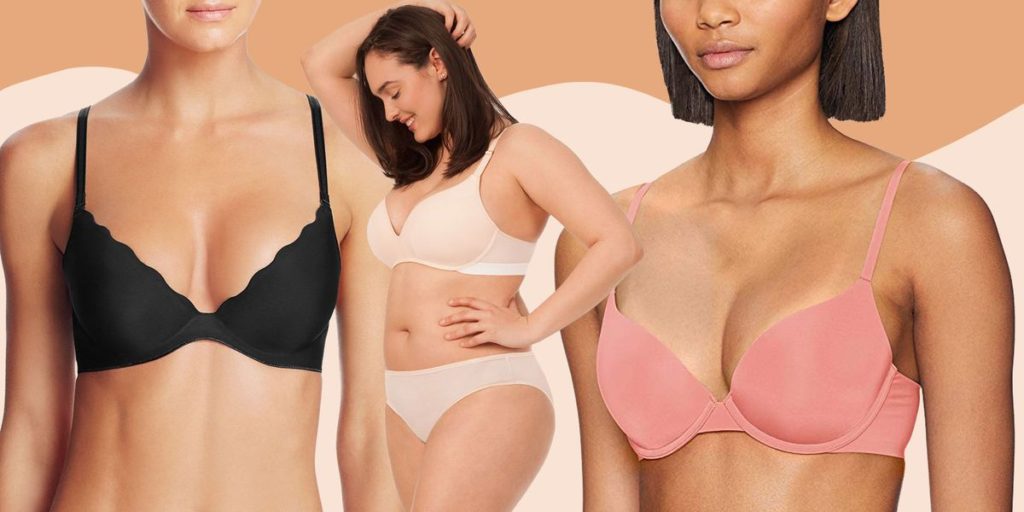 Photo credit: www.cosmopolitan.com
A plunge bra mimics the lift and support qualities of a push-up bra. But it's not uncomfortable or stuffy. It may not offer maximum bust coverage but its structure is so good. It gently pushes your breasts from the side and bottom to form a good cleavage line.
Plunge bras look good under low-neck outfits. When you want to show a little cleavage without giving too much away. The straps are wider-set to support splayed breasts. What it really does is pulls your breasts up and together. But leaving enough space in between for a natural bust shape.
#4 Bralette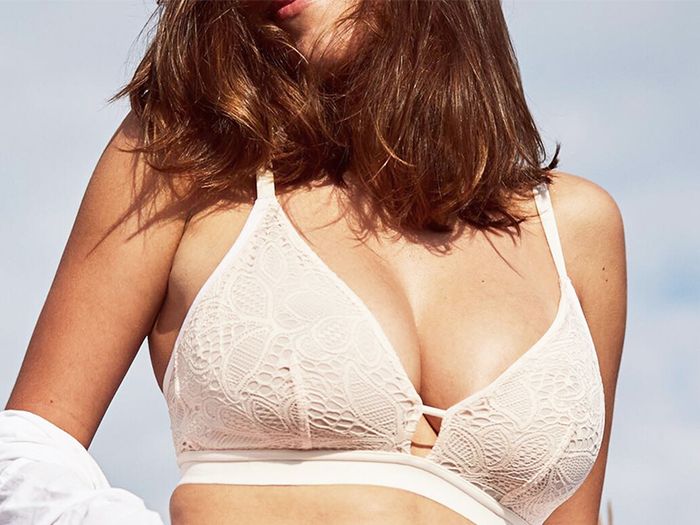 Photo credit: www.whowhatwear.com
A bralette bra is something special and flattering. It's stylish and practical to wear. Especially when you're sick of wearing padded underwire bras. Some women call this a "lazy day" bra. It's not as rigid or structured as a plunge bra. It is often made up of a silky or lacy or soft material.
It looks good under everything. Low-neck tops, petite dresses, blazers, shirts, etc. They may not provide exceptional support but they feel comfortable. If you're experiencing numbness or pain from wearing padded bras for too long. You can take a break with a Bralette bra for wide-set breasts.
They are available in so many aesthetically-pleasing styles, prints, and patterns. Some have unique strap structures that don't only look good. But it offers extra back support for wide-set breasts. So it's like hitting two birds with one stone!
Final Thoughts
These bra styles for wide-set breasts will make your life much easier. You can wear to try on different outfits without feeling insecure. Comfortable and sexy bra styles are pretty much what most women look for. You want to look good but you don't want the bra to pinch you all day!
It's simple to measure your own bra size because it helps you find the best bra styles for wide-set breasts. And any other bra style that you think you'd be comfortable wearing. Be it a push-up bra for fancy occasions, a sports bra for fitness, etc.
Finding the best bra styles for wide-set breasts has never been this easy! What do you think?.
About the Author:
Angela Douglas likes to think of herself as the bra expert. After all, the founder of What Wear Fit has worked with many lingerie and clothing brands. Her expertise comes from not only theoretical knowledge but also practical, real-life situations. And it's her enthusiasm and dedication for encouraging women to care more about the health of their breasts that draws attention.