WOW Skin Science Sunscreen Matte Finish – SPF 55 PA+++ Review
Hello Everyone,
Sunscreen is one skin care product that I can never skip, even if I don't apply any skin care product, even if I am practicing skin fasting then also I ALWAYS ALWAYS apply a sunscreen because sun damage is real. You should never skip sunscreen in your skin care routine because the harmful Uv rays can wreck havoc on your skin. I was thoroughly enjoying using the Regaliz Truderma Sunscreen Gel but then there was a total lockdown and I ran out of my favourite sunscreen. I searched my skin care stash and found out the WOW Skin Science Sunscreen SPF 55 that had been lying around for a few months but as I was fully satisfied with the results so I didn't use it back then. I have been using the Wow Sunscreen for the past one month so I thought of sharing the full detailed review of this sunscreen here on my blog.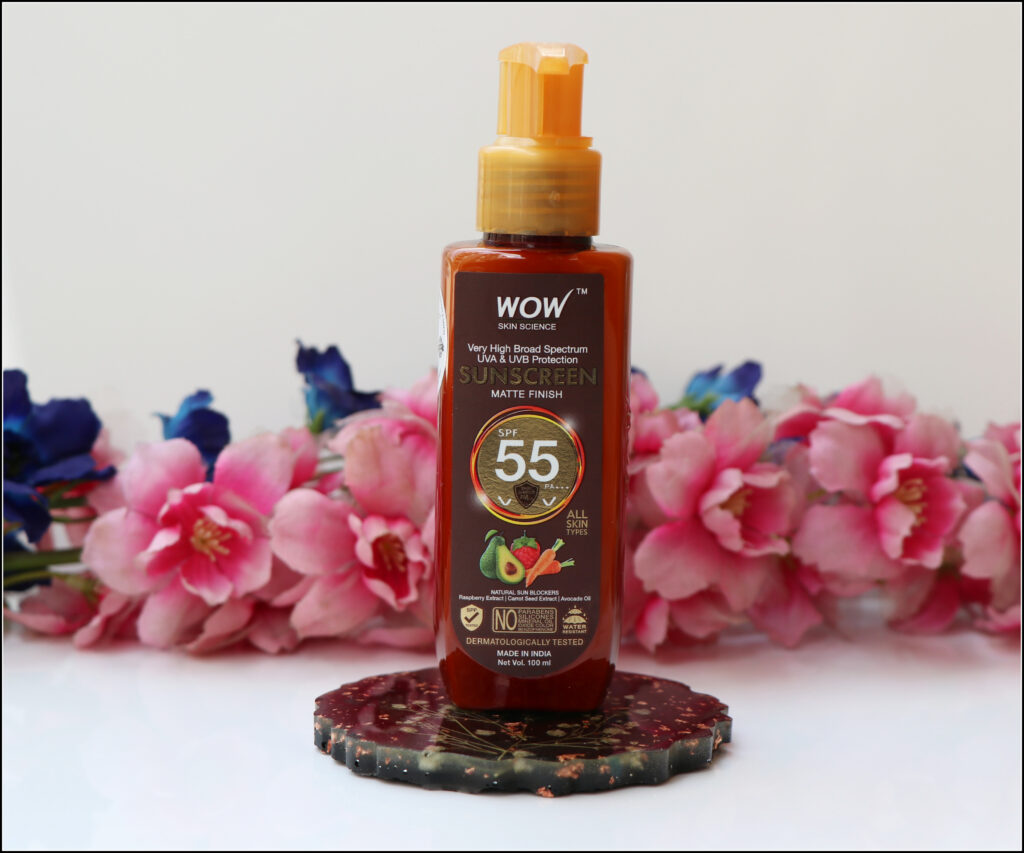 Company Description of the WOW Skin Science Sunscreen SPF 55 PA+++:
Shield your skin from the UV radiation damage and environmental pollutants with WOW Skin Science Sunscreen SPF 55. It offers broad-spectrum protection from harmful UVA & UVB rays and photo damage. Infused with the goodness of raspberry extract, avocado oil, carrot seed extract and vitamin E. The active ingredients rich in vitamins A, C and E prevent skin damage by neutralizing the free radicals and UV rays. It helps to protect skin from UV radiation, inhibit signs of aging, neutralize photo damage, soothe redness and prevent dryness due to sun exposure. Protects skin from dehydration and diminishes wrinkles and brown spots. This sunscreen helps to protect your skin not just from sun-damage, but also keeps it safe from harmful chemicals as it is without any benzophenone, and oxide color. It is a lightweight formulation that is non-greasy and you don't have to worry about whitish, chalky skin because it has a non-streaky and non-chalky texture that does not weigh down your skin. It spreads evenly and dries quickly without clogging your pores to form a transparent film that shields your skin.
KEY INGREDIENTS of the WOW Skin Science Sunscreen SPF 55 PA+++:
Raspberry Extract – Loaded with antioxidants and vitamin C; with natural sun blockers that help to prevent photodamage of skin.
Carrot Seed Extract – Rich in vitamins A & E; it keeps photo damage in check and diminishes signs of aging.
Avocado Oil – Contains mono-unsaturated fats and vitamin E that nourish the skin, offers natural sunscreen benefits that prevent skin tanning.
Vitamin E – It is a strong antioxidant that moisturizes skin and reverses skin damage due to sun exposure.
HOW TO USE WOW SKIN SCIENCE SUNSCREEN SPF 55 PA++
Pump adequate amount sunscreen and apply liberally. Massage it in to allow the skin to absorb the product. Avoid contact with eyes. Apply on all the exposed parts of your body. Apply at least 15-20 minutes before stepping out in the sun. Reapply every two hours if you are outdoors. Repeat application every 30-40 minutes if you have been swimming, perspiring or towel drying exposed skin.

Price of the WOW Skin Science Sunscreen SPF 55 PA+++:
Rs.499 for 100ml. You can easily get it for around Rs.299 as it is mostly on discount.
Availability of the WOW Skin Science Sunscreen SPF 55 PA+++:
You can get if from Nykaa or from Wow Skin Science official website.
Ingredients of the WOW Skin Science Sunscreen SPF 55 PA+++:

Swatch of the WOW Skin Science Sunscreen SPF 55 PA+++: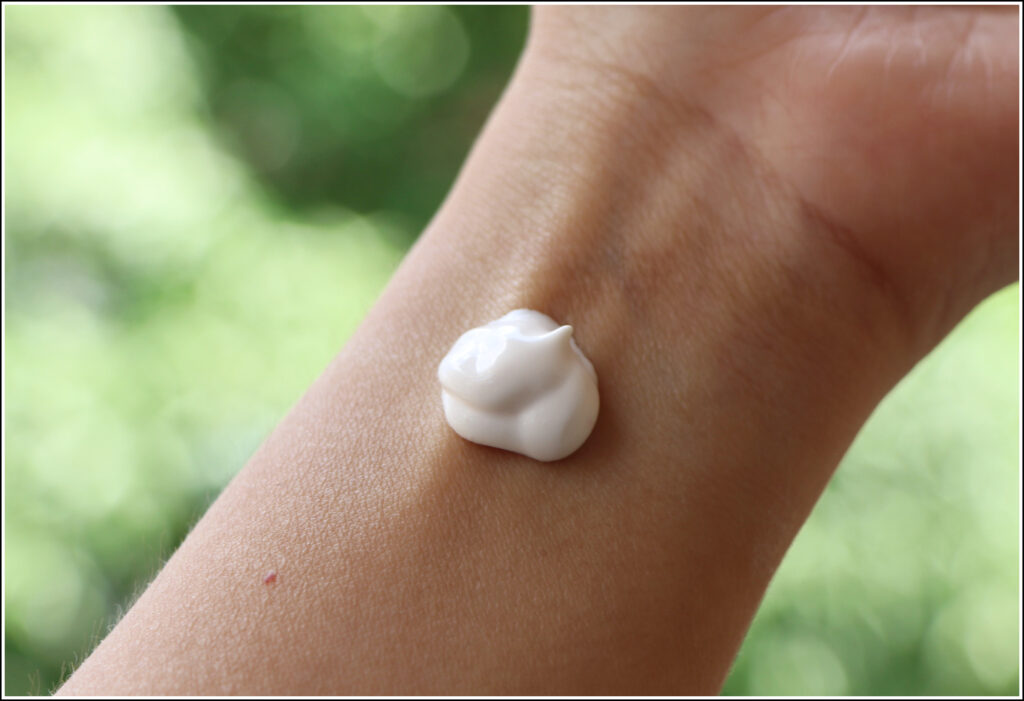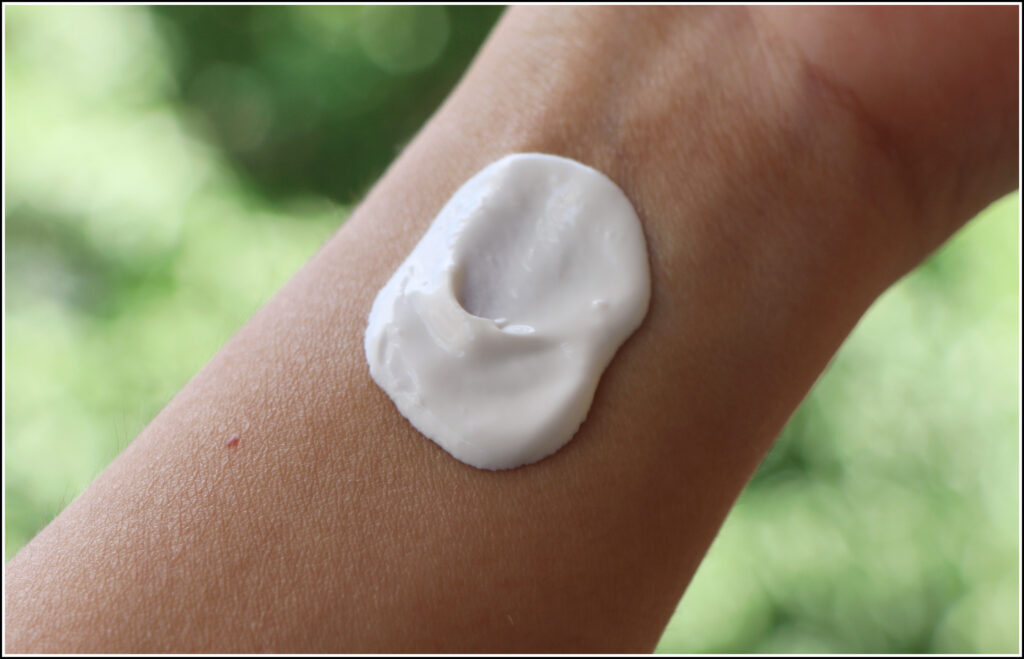 My Experience with the WOW Skin Science Sunscreen SPF 55 PA+++:
The WOW Skin Science Sunscreen SPF 55 comes in the classic brown plastic pump dispenser bottle. The bottle is very sleek so it is very travel friendly as you can easily slip it into your handbag and carry it around with you. The pump dispenser comes in very handy as it helps you to dispense the right amount of product. The product is white in colour and has a very light consistency. It is very lightweight in texture and sinks into the skin within a few seconds of application. The first time I sniffed this sunscreen I almost hated it because it had a very strong fragrance but surprisingly the smell vanishes the moment you apply it on your face. I have a sensitive nose so any product with a strong fragrance is a total no for me but this sunscreen inspite of having a strong fragrance does not irritate my eyes or my over sensitive nose.
I take around a big dollop of the sunscreen and apply it all over my face and on my neck. The sunscreen spreads evenly and does not leave a white cast and does not make my face sweat. This is a broad spectrum sunscreen and has a SPF of 55 which is great for the summers. A broad spectrum sunscreen provides protection against both UVA & UVB rays and with an SPF of 55 this is a really effective one.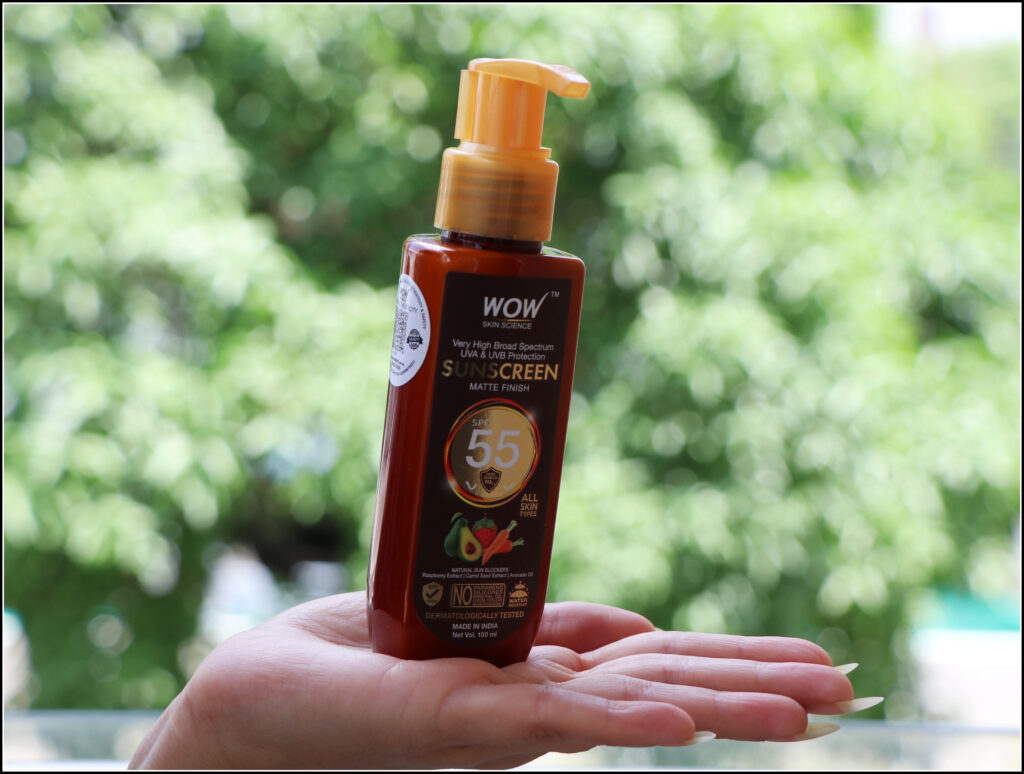 It is advisable to re-apply a sunscreen after every 2 hours but I rarely re-apply my sunscreen, if I am out in a beach location I do apply it two times in a day but re-appying after every two hours is not my cup of tea. I just dab a good amount on my face in the morning and I am good to go. I am a dry skin type and this sunscreen gives a very healthy sheen to my face, it is not at all oily and does not feel heavy on the skin so it is perfect for girls with oily skin too. It has raspberry extract, carrot seed extract and avocado oil all of which are considered to be natural sun blockers and offer some protection to the skin against sun damage. It is also water resistant so it is also good for hot, humid and rainy weather.
All in all I pretty much like this sunscreen, it might not be the best one that I have tried out but it is certainly a decent one. You can definitely give it a try, it is definitely worth trying once. As a blogger we need to try out different products and different formulations and we rarely repurchase any product until and unless we love it to bits, this one is definitely not on my repurchase list but if you want to try a good quality sunscreen you can go ahead with this one. It will definitely not disappoint you.

Pros of the WOW Skin Science Sunscreen SPF 55 PA+++:
Very sleek travel friendly packaging.
Very lightweight in texture.
Does not leave a white cast.
Blends easily into the skin.
Has a broad spectrum formulation with an SPF 55.
Is water resistant.
Does not have parabens, silicones or mineral oils.
Suits all skin types.
Dermatologically tested.
Cons of the WOW Skin Science Sunscreen SPF 55 PA+++:
Can't find any con in this product as such. It does everything a good quality sunscreen ought to do.
Rating of the WOW Skin Science Sunscreen SPF 55 PA+++:
I would give it a 4/5.
Will I repurchase the WOW Skin Science Sunscreen SPF 55 PA+++:
No, I don't think so I will repurchase this one as I have a lot of other brands to try out.
Will I recommend the WOW Skin Science Sunscreen SPF 55 PA+++:
I would definitely recommend this to everyone. This is a really nice formulation so you can definitely give it a try.