The Body Shop Pinita Colada Body Scrub Review
Hello friends,
Today I will be reviewing The Body Shop Pinita Colada Body Scrub. I love using body scrubs for removing dead and dull skin from my body and in summers body scrubs are a necessity for me. I literally can't do without body scrubs in summers. Scrubbing my body with a scrub helps me to get rid of dead skin and it also helps in removing all the tan. So today I will be reviewing my current favourite body scrub i.e. The Body Shop Pinita Colada Body Scrub.
Company Description of the The Body Shop Pinita Colada Body Scrub:
Turn your shower into a beach party with our Special Edition Piñita Colada Body Scrub. Blended with real shredded coconut this exotic exfoliator features a deliciously tropical summer scent that helps to reveal smoother, summer-ready skin.
Delicious tropical summer scent fragrance
A lightweight and refreshing treat to get skin holiday ready
This exfoliating scrub lifts away dead skin cells to rejuvenate the appearance of skin
Leaves skin feeling softer and smoother
Prepares skin for moisture
This body exfoliator has a creamy texture with real shredded coconut
Our body scrub features pineapple and coconut extracts from the Caribbean
100% Vegan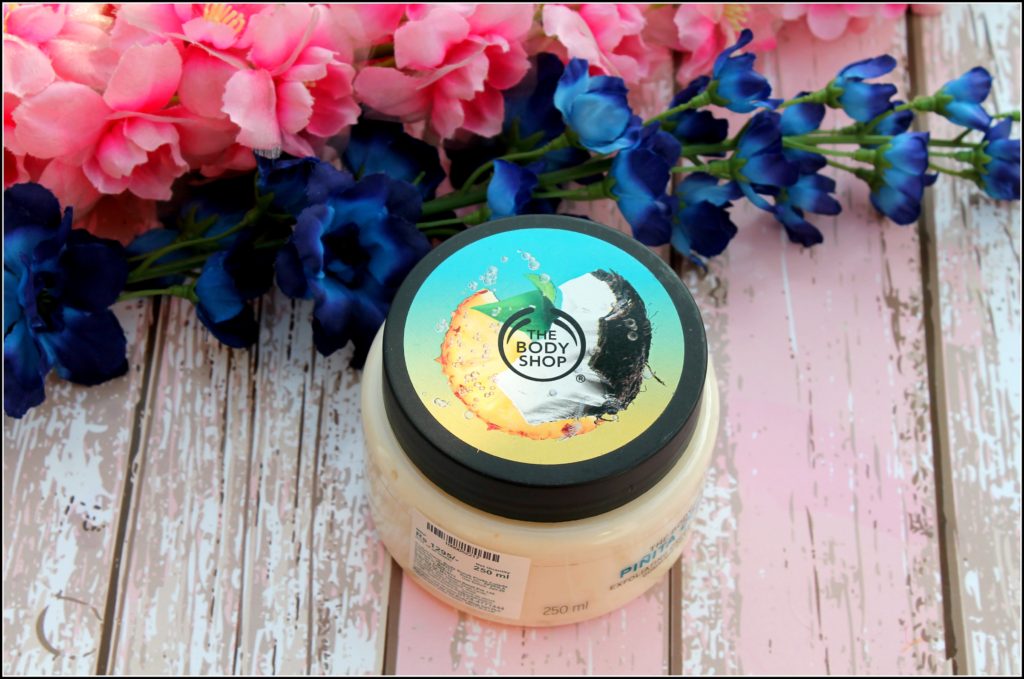 Ingredients of The Body Shop Pinita Colada Body Scrub:
Aqua/Water/Eau, Glycerin, Butylene Glycol, Cellulose Acetate, Glycine Soja Oil/Glycine Soja (Soybean) Oil, Cetearyl Alcohol, Cocos Nucifera Oil/Cocos Nucifera (Coconut) Oil, Decyl Glucoside, Prunus Amygdalus Dulcis Oil/Prunus Amygdalus Dulcis (Sweet Almond) Oil, Parfum/Fragrance, Luffa Cylindrica Fruit, Orbignya Oleifera Seed Oil, Sorbitan Stearate, Glyceryl Stearate, PEG-100 Stearate, Caprylyl Glycol, Cocos Nucifera Fruit/Cocos Nucifera (Coconut) Fruit, Phenoxyethanol, Sclerocarya Birrea Seed Oil, Helianthus Annuus Seed Oil/Helianthus Annuus (Sunflower) Seed Oil, Carbomer, Limonene, Acrylates/C10-30 Alkyl Acrylate Crosspolymer, Sodium Hydroxide, Tocopherol, Disodium EDTA, Linalool, Citronellol, Citric Acid, Cocos Nucifera Fruit Extract/Cocos Nucifera (Coconut) Fruit Extract, Ananas Sativus Fruit Extract/Ananas Sativus (Pineapple) Fruit Extract, Denatonium Benzoate, Sodium Benzoate, Potassium Sorbate, Caramel.
How to Use the
The Body Shop Pinita Colada Body Scrub:
Apply this exfoliating scrub to damp skin in a circular motion, then rinse thoroughly for refreshingly smooth skin. For best results, use two to three times a week.
Availability of
The Body Shop Pinita Colada Body Scrub:
It is available on Amazon and Nykaa.
You can buy it from HERE.
Swatch of the The Body Shop Pinita Colada Body Scrub: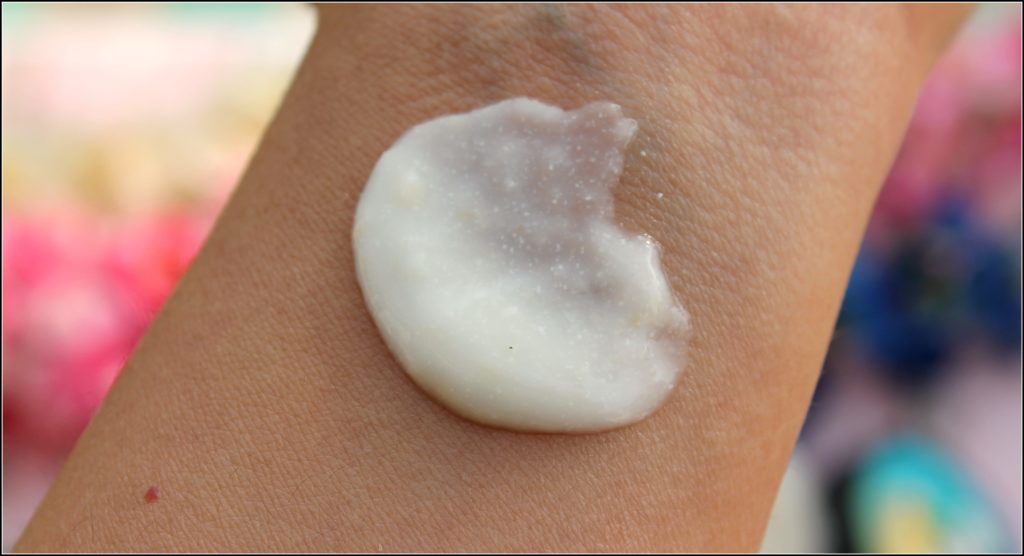 My Experience with The Body Shop Pinita Colada Body Scrub:
The Body Shop Pinita Colada Body Scrub or I would say the entire Pinita Colada range is inspired by my favourite and the iconic Pina Colada- A Cocktail which is made of pineapple, coconut and white rum.  The packaging and the ingredients of the scrub screams summer with the green and yellow shades on the packaging and with the tropical fruits combination. The most distinguishing feature of The Body Shop Pinita Colada Body Scrub is the smell, it is literally a tropical holiday in a pot. The smell of the scrub hits you as soon as you open the lid. It smells divine and I cannot help but smell it again and again. The refreshing and citrusy smell of pineapple mixed with the aromatic coconut is something you can't ignore and the best part of the scrub is that the smell lingers for a pretty long time.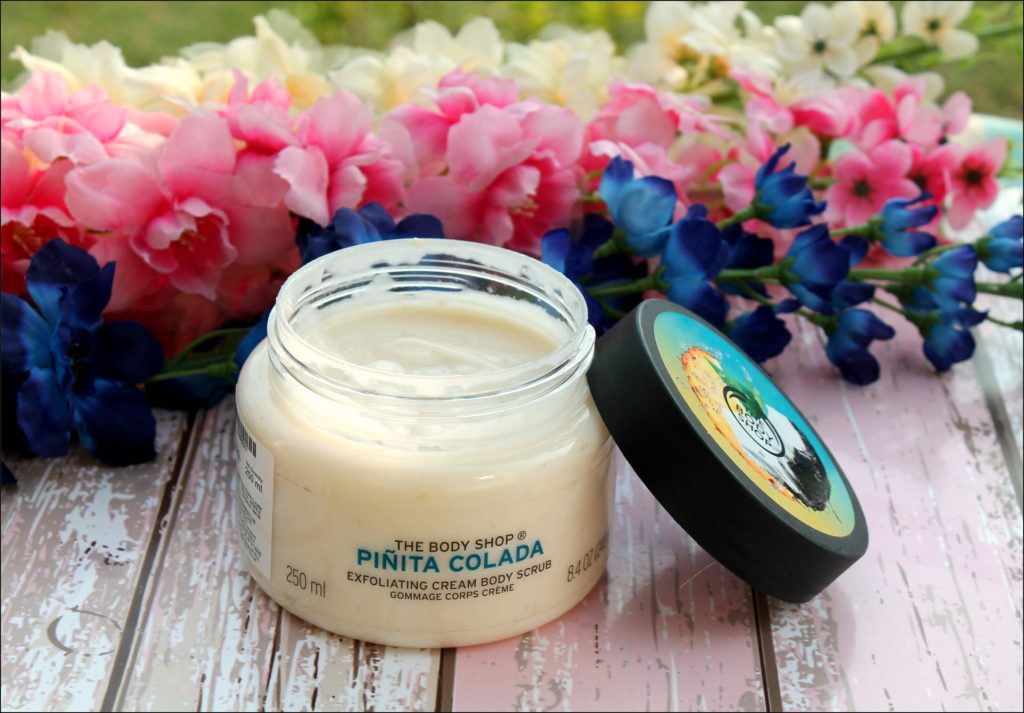 I like using scrubs in summers on my skin to slough off the dead skin so I try and pick up scrubs that are not very harsh on the skin. The Body Shop Pinita Colada Body Scrub is a very creamy and very fine textured scrub. This product contains real shredded coconut, in fact, the shreded coconut is the "scrub" in the scrub. The exfoliating particles are made up of shredded coconut which is extra mild on the skin and it gently sloughs off the dead skin. Guys if you are looking for some serious scrubbing then this one is surely not for you, this scrub is very gentle on the skin and it exfoliates the skin very mildly. I would say that using this scrub is more of a pampering session that a mere scrubbing session. This product doesn't have a huge scrubbing action because you are scrubbing with real shredded coconut, so for those who have very dry and flaky skin and if you are looking for a body scrub with superior scrubbing action, then this scrub ain't for you.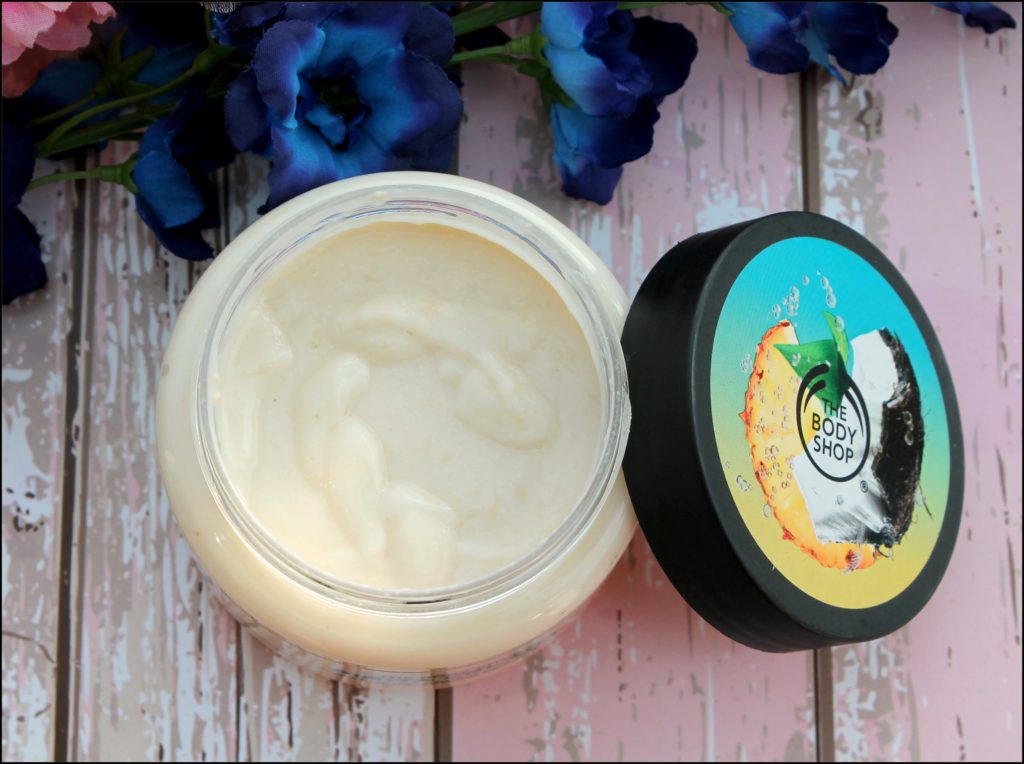 The Body Shop Pinita Colada Body Scrub has a medium scrubbing power, the texture of the scrub is very fine and is very smooth on the skin. I personally like gentle scrubs because even if you go over board with the scrubbing it doesn't give you rashes and redness on your skin. I know you should not use body scrubs on your face but this one is so mild and gentle on the sin that I even scrub my face with it when I am badly tanned and when my skin needs a good exfoliation, I always turn to this scrub for scrubbing my tan off and it does its job perfectly.
It is super moisturizing and it deeply nourishes and hydrates the skin. I sometimes don't even apply moisturizer on my whole body after the shower because this scrub does the job of hydrating and moisturizing my skin.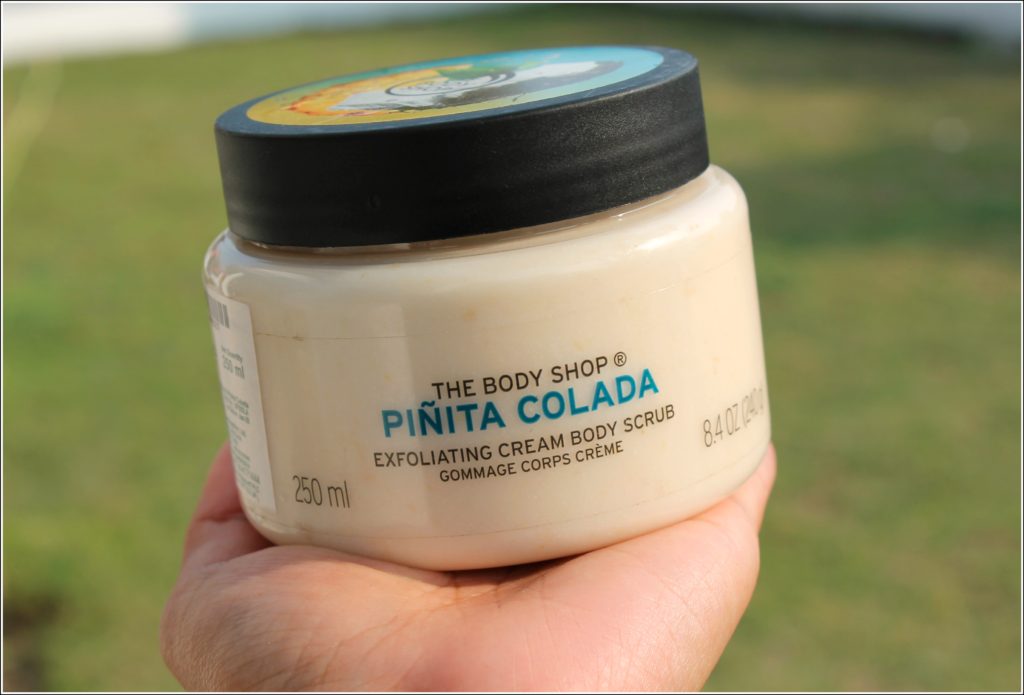 The best part about this scrub is that when you use it in the bathroom, it transforms your bathroom into a tropical beach paradise and the smell lingers on for quite some time. The smell is soo good, so if you are someone who loves peachy and citrusy products then you should definitely pick this up. I use this scrub every alternate day in summers and the tub is good enough to last you for 3 months.
I am a Body Shop addict, all the products that I have tried so far have lived upto their expectations and have always occupied a special place in my vanity. The Body Shop Pinita Colada Body Scrub is another such product that I will always have in my stash specially in summers. So guys, go grab this scrub, you will definitely fall in love with this.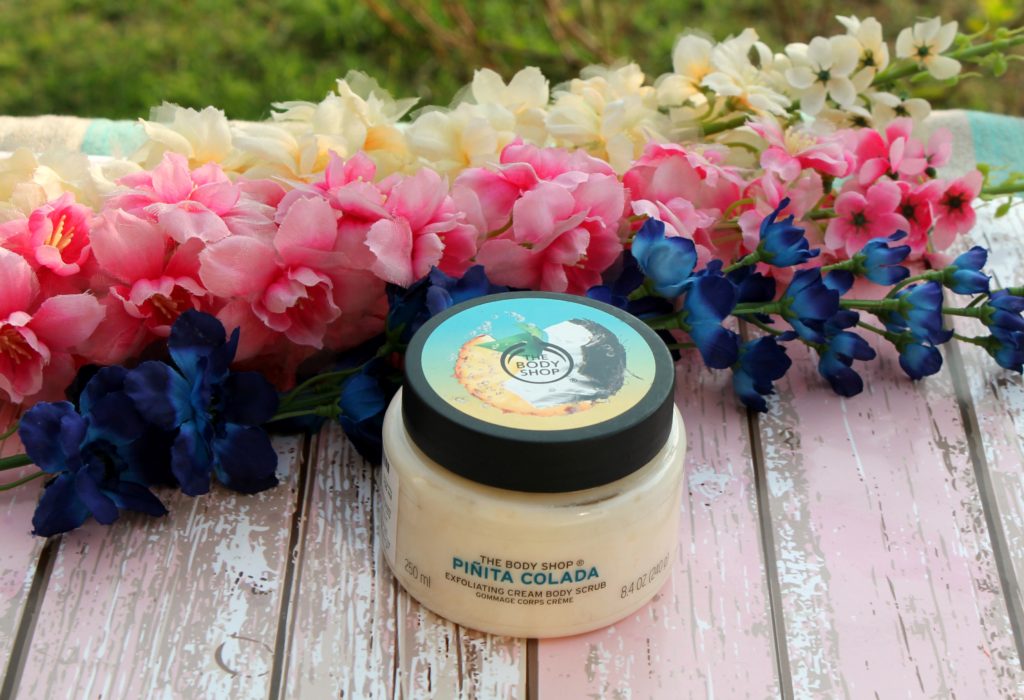 Pros of the The Body Shop Pinita Colada Body Scrub:
Smells absolutely divine.
Very gentle on the skin.
Mildly exfoliates the skin.
Quantity good enough to last you for 3 months.
Contains real shredded coconut and pineapple.
Hydrates and nourishes the skin.
Cons of The Body Shop Pinita Colada Body Scrub:
When it comes to The Body Shop products I can't think of any con.
Will I recommend The Body Shop Pinita Colada Body Scrub?
Definitely, I would recommend this scrub to each and every girl who loves pampering herself. Go grab this girls.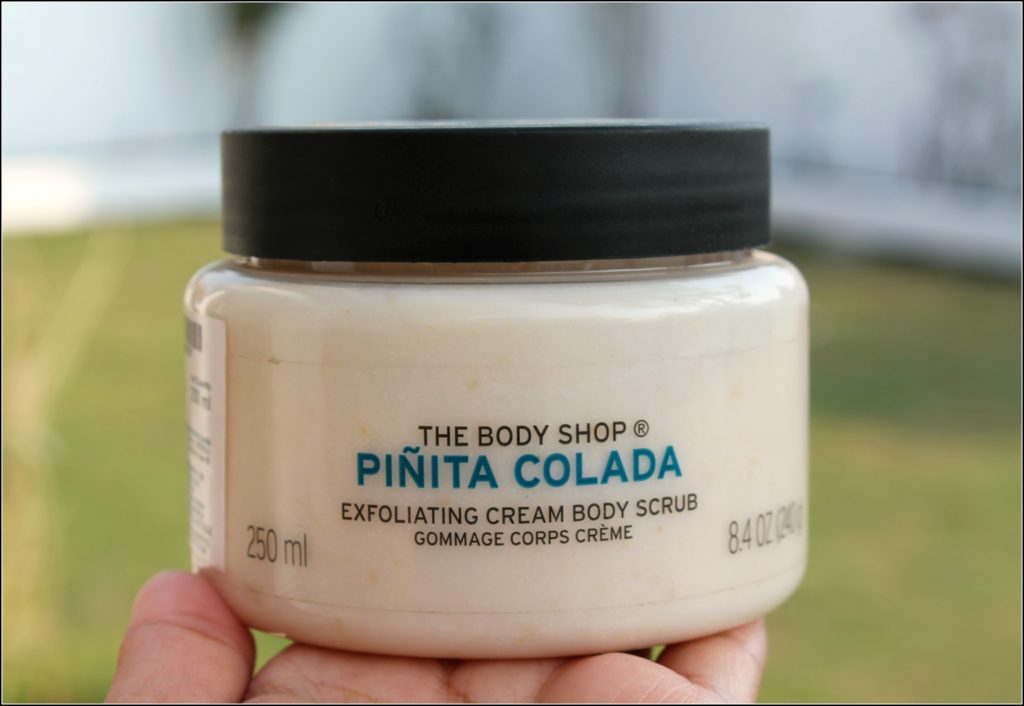 Will I repurchase The Body Shop Pinita Colada Body Scrub?
Absolutely, I would repurchase this product over and over again.