Secrets From India: Homemade Ayurvedic DIY Indian Hair Oil
A ritual which we all Indian girls follow all through our lives is Oiling our hair. This is something very common in India. I as a kid remember that I was forced by my mum every weekend to oil my hair, she would apply a small quantity of coconut or mustard oil to my hair. Sometimes my mum used to prepare a concoction of different oils and other ingredients to make a homemade ayurvedic hair oil that would be very effective for all hair related problems. In India our mothers make it a point for all girls to oil their hair atleast twice a week, they would put a particular oil on our scalp and massage it properly so that all the oil seeps into the scalp.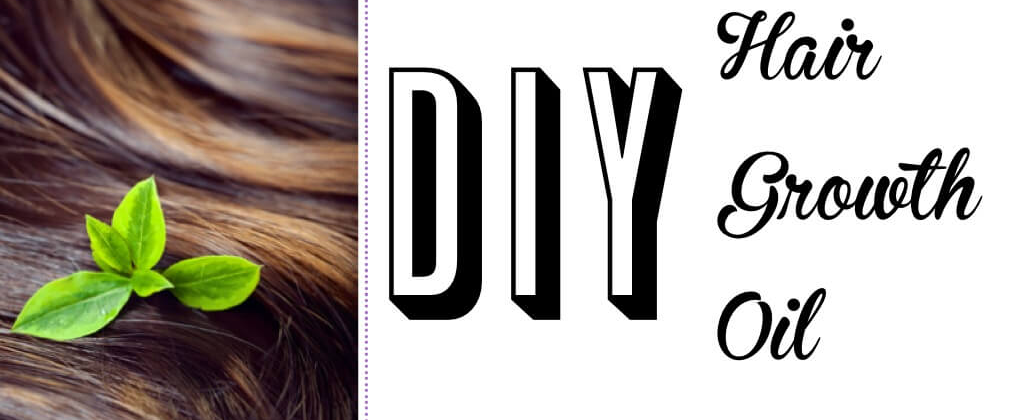 I used to love hair oil massages by my mum and I enjoy them till date. After getting married I didn't stop the ritual of oiling my hair, I oil my hair twice a week and then give myself a good massage for 5-6 minutes. I really miss the massages my mum used to give me so whenever I visit my mum's house I make it a point to get myself pampered with a good head massage from her. So in Today's post I will share Secrets From India: Homemade Ayurvedic DIY Indian Hair Oil.
A good hot oil massage is so comforting and relaxing in such a stressful environment. I really thank my mom for taking such good care of my hair, it is all because of her that I have pretty healthy and long hair. Oiling your hair is really important for the health of your hair and today I realize how important it was to oil my hair regularly when I was a kid. I usually oil my hair at night or in the evening and let it sit on my scalp overnight. I wash my hair in the morning with a mild shampoo.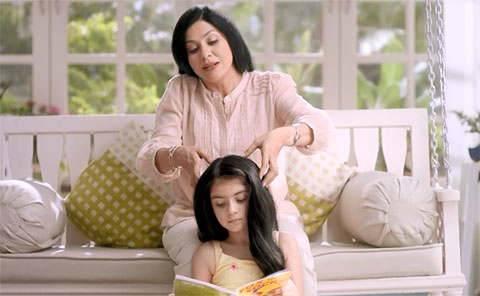 After my marriage I started buying commercial hair oils available in the market and after using then for a while I started noticing a lot of hair fall and also noticed that my hair was thinning. Be careful when you buy pre-packed hair oil, especially from the big companies  because they usually add in some dangerous ingredients such as "Parfum" or fragrance which is rated as High Hazard by EWG's database. They also add Mineral Oil to their oils which is a very dangerous ingredient for our health. So have a close look at all the ingredients before you pick up any oil.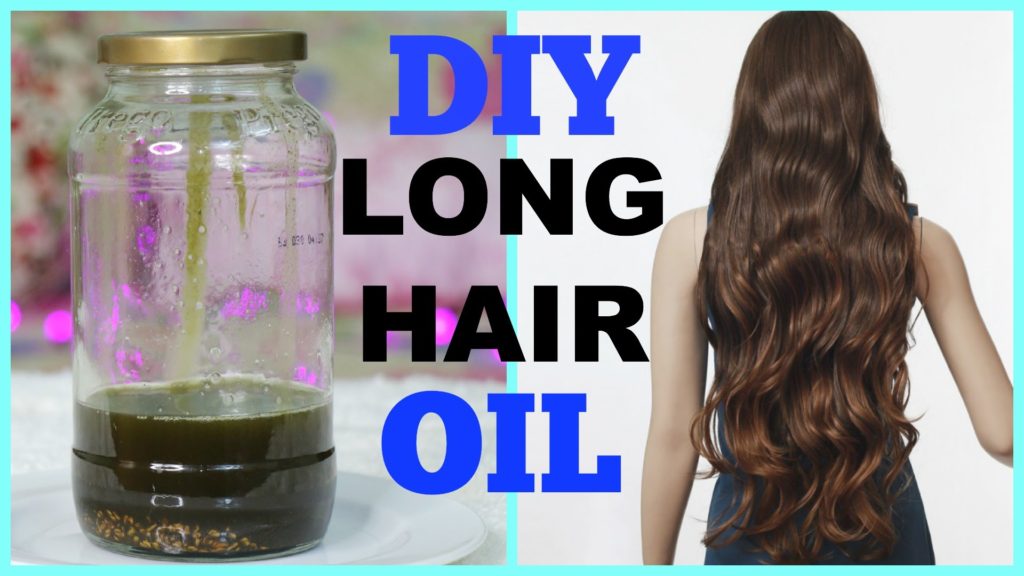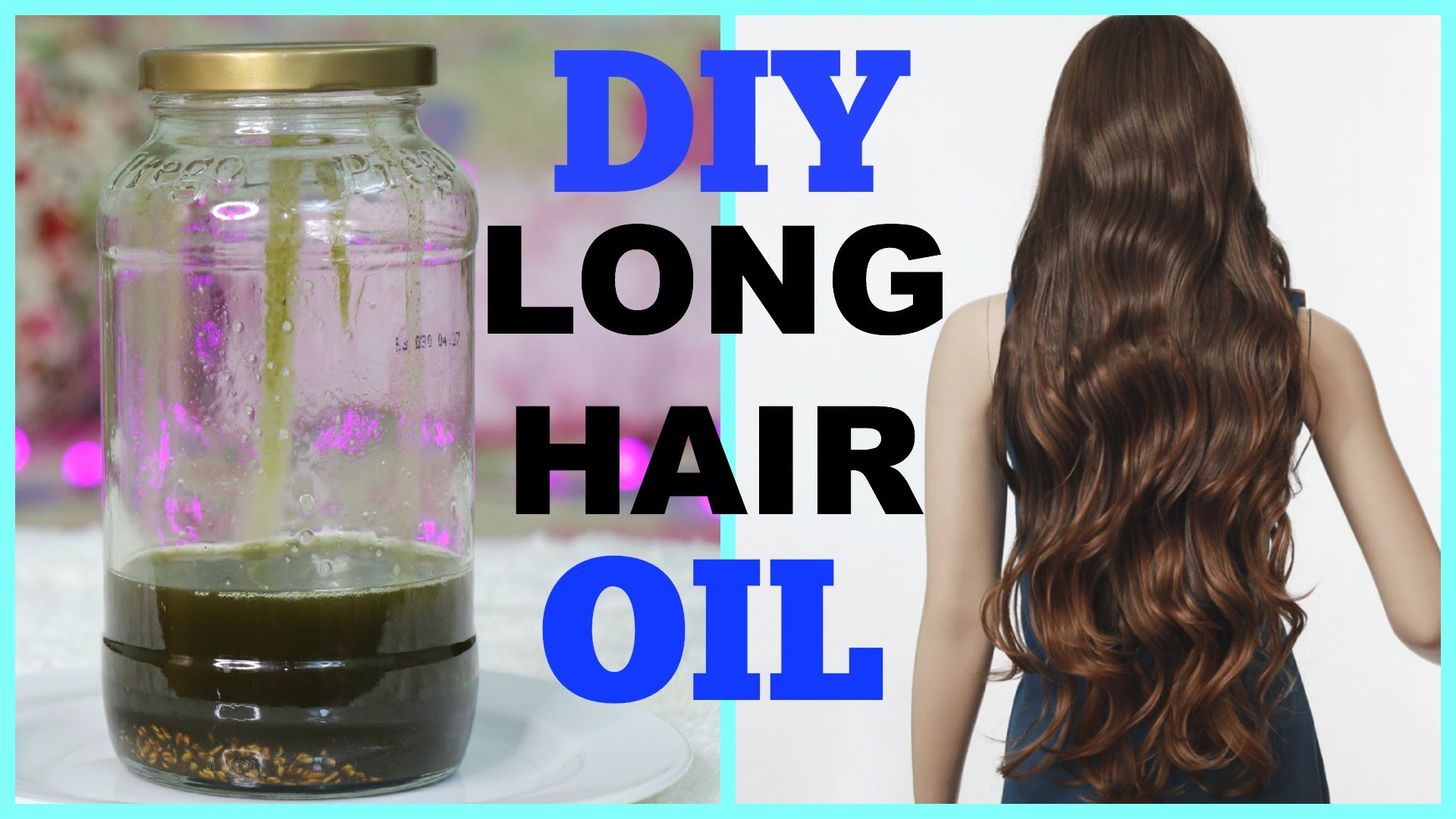 That is why I have been preparing my own hair oils these days as what I prepare at home is 100% safe to use and I can also choose what ingredients I want in my hair oil. I have been preparing a lot of different types of hair oils these days and I am so happy with the results. My hair fall has stopped completely, my hair is growing at a very fast pace and my hair has become a lot thicker. I am so thankful for making this switch. So today I will be sharing one of my recent hair oil recipe that I have prepared and it is really amazing.
So let's start with this DIY:
Ingredients Required:
500 ml of Coconut Oil as a base.
15 Fresh Hibiscus Flowers and a handful of leaves.
3 Tbsp Fenugreek Seeds.
8-10 pieces of Fresh Indian Gooseberry. If you do not get the fresh ones you can add 3 Tbsp of Amla powder or Indian Gooseberry powder.
2 Tbsp of Henna Powder.
Handful of Curry Leaves.
3 Tbsp of Bringraj Powder or a handful of fresh bringraj leaves.
Procedure:
Heat the coconut oil in a pot.
When it becomes hot add all the ingredients to the oil one by all.
Let all the ingredients cook and sizzle in the oil for 20 minutes on low flame.
Turn off the gas and let all the ingredients stay in the oil overnight.
Strain the oil in the morning and store in a glass jar.
Leave the glass jar in direct sunlight for atleast 2 days.
After 2 days the oil is ready to use.
How to Apply the Magical Hair Oil: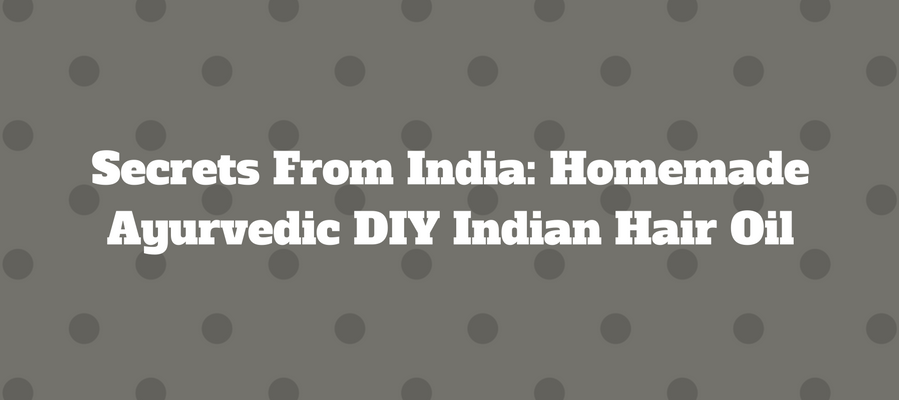 Detangle your hair and divide your hair in sections.
Take the oil in a bowl and keep it in a pot of hot water for a few minutes.
Take a cotton ball and start applying the hair oil on your scalp.
Cover the scalp properly and whatever is left you can apply it to your hair length and hair ends.
Now give yourself a good relaxing head massage for 5 minutes. Apply very little pressure while massaging.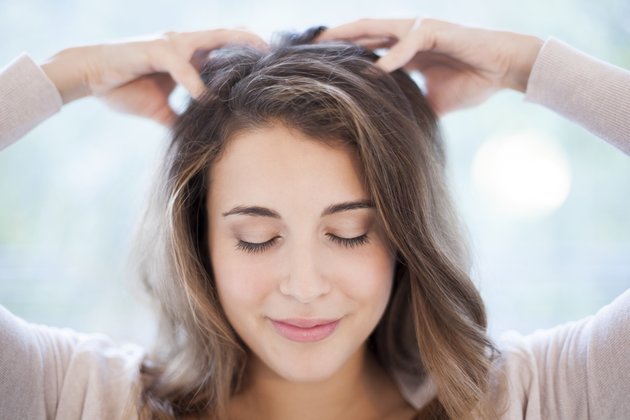 After the massage wrap your hair in a high bun and cover your hair with a shower cap.
Leave the oil on your scalp for 3 hours to overnight. Leaving the oil in your hair overnight is the best thing you can do for your hair. I always leave the oil in my hair overnight.
In the morning you can also apply a hot towel to open up the pores of your scalp. This is optional but do it atleast once a month.
Wash off with any paraben and sulfate free shampoo.
I do not feel the need to condition my hair after a hair massage, you can do so if you feel like.
Benefits of this Magical Hair Oil:
Healthy and luscious looking hair.
Natural conditioning of the hair and the scalp.
This oil also removes dandruff.
Helps to increase circulation to the scalp which results in healthy hair.
Increased hair growth.
Stops hair fall.
Stops greying of the hair with regular use.
Makes the hair very soft.
Benefits of all the Ingredients in this Magical Hair Oil:
Coconut Oil is mainly comprised of smaller medium-chain fatty acids, the coconut oil penetrates hair more deeply and faster than all other oils. Coconut oil is rich in antioxidants, has antiviral, antifungal and antibacterial properties. When used continuously it improves scalp condition, fights infection and fungus, supports hair growth, while adding volume and shine. Coconut Oil is rich in carbohydrates, vitamins and minerals which are good for the human body. It also works at it as a great carrier oil as it penetrates deep into the scalp much more faster than all other oils. Coconut oil has been used as a treatment for hair for thousands of years . It has antimicrobial properties and fatty acid which can help to eliminate dandruff from the scalp and also helps to retain moisture in the scalp. Vitamin E content of coconut oil is very beneficial to your scalp, the lauric acid protects the hair since it has a high affinity for the protein in the hair and can penetrate the hair shaft. Coconut oil is also rich in capric acid which together with the lauric acid helps in preventing hair loss.
Hibiscus is extremely beneficial for your hair. The flower along with with its leaves is used in so many ways to fight hair fall. It induces hair growth and also gives satisfactory results in curing bald patches. Hibiscus also prevents premature graying of the hair. All the properties are due to nutrition value of the Hibiscus flower and Hibiscus leaves. It is rich in amino acids, Vitamin A, Vitamin C and Alpha hydroxy acids along with other nutrients. Hibiscus flower has so many benefits for hair due to its Vitamin C and Amino acid rich composition. Hibiscus is known to combat hair loss and it makes the hair roots and strands stronger. Hibiscus also conditions the hair mildly and keeps them bouncier.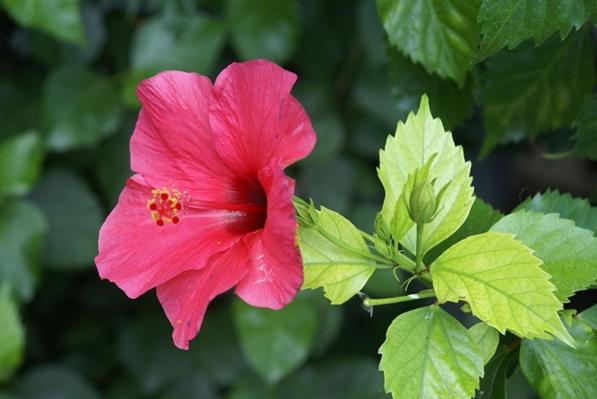 Fenugreek or Methi Seeds:
Methi or Fenugreek seeds are a natural solution to dandruff. It is also effective in controlling hair fall and strengthening the hair roots. It contains nicotinic acid as well as proteins that aid in hair growth. Lecithin present in methi seeds impart shine to your hair and also helps your hair to retain its natural color.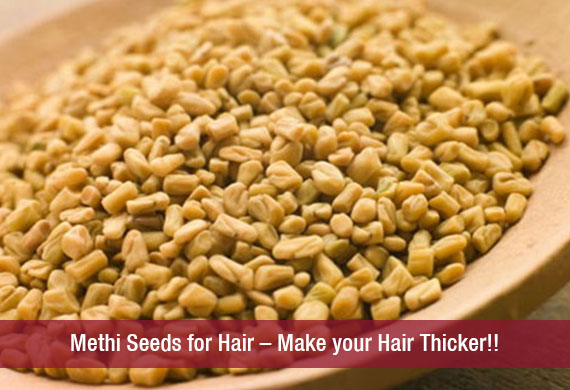 Indian Gooseberry or Amla:
It is also known as wonder berry, it is one of the most nourishing herb for your hair. Amla is a rich source of Vitamin C, there are a lot of nutrients present in amla. It contains a lot of antioxidants like embalicanin A and B, phyllantine, gallic acid, ellagic acid etc. It also contains a high level of minerals, amino acids, as well as strong immunity boosting properties. Amla is an excellent hair tonic for your hair, it acts as a natural conditioner, minimizes hair loss and with continuous use it also reverses grey hair to its original colour. It also makes hair healthy and strong.
Medicinal value of curry leaves have been known to people since centuries. Curry leaves are said to stimulate hair growth and is a great remedy for all hair related problems. Curry leaves constitutes combination of essential nutrients required for the growth of hair. They are rich in antioxidants and amino acid which are capable of reducing hair fall and stimulate hair growth, they also help in preventing the hair stands from thinning and strengthens the hair follicle. Curry leaves are rich source of Beta carotene and proteins. Beta carotene limits hair loss while presence of proteins prevent hair thinning.
Curry leaves can be used as a great stimulant for hair growth due to the ingredients present in curry leaves. Curry leaves contain Iron, Calcium, Vitamin C, Phosphorus, Proteins, Carbohydrates and fibers. Curry leaves is a miracle herb for curing a ton of hair related problems. It prevents premature graying of the hair, stimulate hair growth, repair damaged roots, reduces hair fall rejuvenate hair follicles and strengthens the hair. Curry leaves help the hair follicle by helping in the scalp restoration process.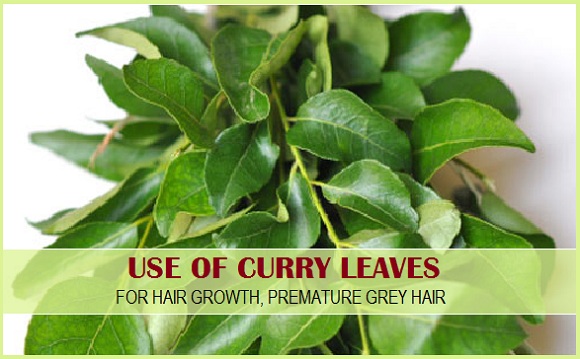 Henna is a natural herbal powder which is not only used for hair colouring but also helps to prevent dandruff and scalp itching. It also acts as a very good natural conditioner for your hair and it also helps to grow your hair. Henna is also a natural strengthener for the hair. It balances the pH level of the scalp and thus prevents hair fall. Henna also helps in curing the dryness of the hair by restoring the lost moisture of the hair.
Bringraj Powder acts as a rejuvenator for the hair. It is also a natural conditioner for the hair. Indians use bringraj powder for healthy hair growth and for improving the overall health of the hair. Bringraj powder is an ancient remedy for hair loss and premature greying of the hair.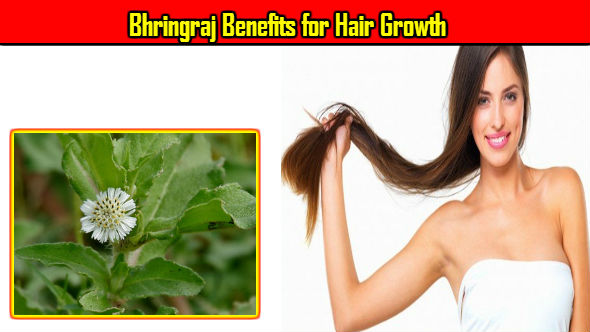 I have been using this hair oil for the last few weeks and it is really a very effective hair oil. It will really help anyone who has been suffering from severe hair fall. This hair oil will not only stop your hair fall but it will also improve your hair growth rate. With regular usage of this hair oil it will add bounce and thickness to your hair. Do prepare this hair oil as it will solve a ton of your hair problems.