MYGLAMM Total Makeover FF Cream – Light Skin Tone
5 in 1 Primer-Concealer-Foundation-Compact with SPF 30 & Skin Tone Corrector Palette
Hello Everyone,
A few months back MyGlamm sent me three of their makeup products for review, I have reviewed the ALL EYE NEED – DARE TO WEAR and the CHISEL IT palette in SHOW STOPPER on my blog and I loved these two products to bits. I have been using both of these palettes on a regular basis ever since I received them. Today I will be reviewing the third product that I received – MYGLAMM Total Makeover FF Cream – Light Skin Tone.
Product Description of the MYGLAMM Total Makeover FF Cream – Light Skin Tone:
A 24-hour wear, oil-free foundation and concealer in one that achieves a flawless look that lasts all day.
Our Light shade palette is suitable for women with a fair, beige or light complexion. For Cool Skin Tones : It has hints of pink undertones.
Our dual color correctors make it easy to personalize your correction solution.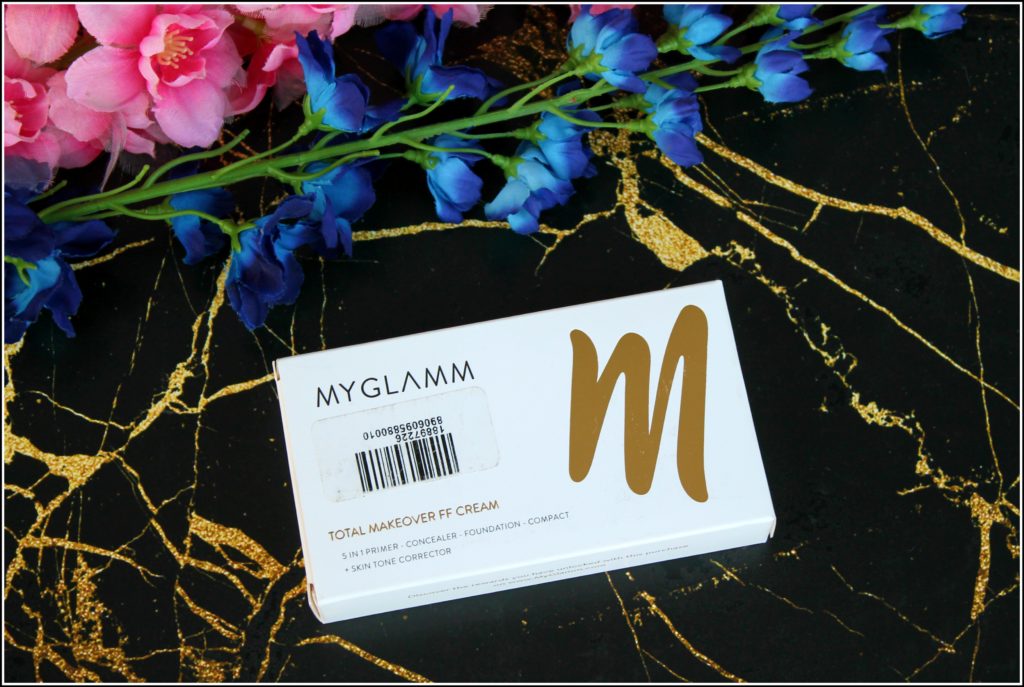 Yellow Color Corrector:
Neutralize mild redness, rosacea, and blemishes for light and medium skin tones.
Visibly even your skin tone by neutralizing the appearance of discoloration.
Can be added to the foundation cream to match a lighter skin tone base.
Orange Color Corrector:
Neutralize (or cancel) dark spots and under-eye circles for medium to deeper skin tones; also neutralizes veins.
Can be added to the foundation cream to match a slighter darker skin tone.
An all-in-one foundation with a long-lasting formula that fuses primer and foundation in one easy step! An amazing combination product for a flawless base that provides sheer to full buildable coverage. It includes a primer that prolongs wear for impeccable results. Also in the palette are two color correctors, yellow and orange, to smooth away small imperfections, uneven skin tone, discolorations and dark circles. Our precisely calibrated advanced European formula allows the product to melt into your skin while highlighting and correcting the complexion all at the same time.
Foundation & Primer
High coverage concealer and easy to apply.
Enhanced Highlighting & Smoothing Effects.
Light Satin Finish with Creamy Texture.
Minimizes pores.
Suitable for all skin types.
Color Correctors: Yellow + Orange
Doesn't crack, crease or cake.
Sebum Control – absorbs excess oil.
Two universally flattering shades to meet any correction need.
Covers redness, discoloration + imperfections.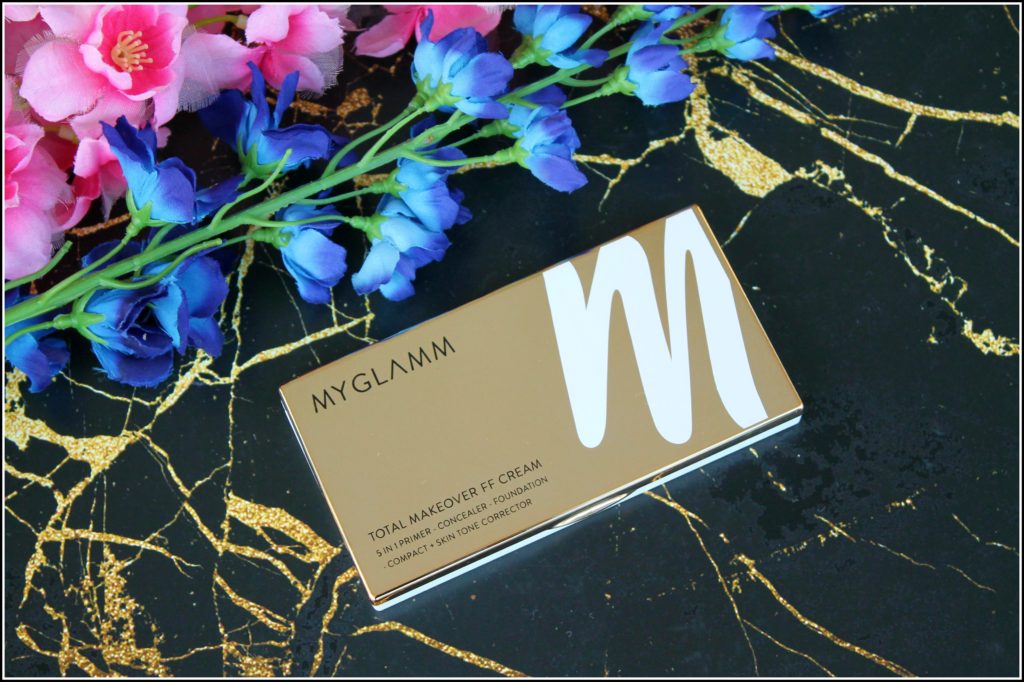 Enhanced Properties:
Biological Antioxidant Pockets which keep recharging the skin with powerful antioxidants.
Color Correctors enriched with Tropical Oils.
Special Polymers which provide soft focus properties and high oil absorption for sebum control.
Cruelty free, not tested on animals.
Free of nano-ingredients, oil, mineral oil, preservatives and fragrance.
How to Use the MYGLAMM Total Makeover FF Cream – Light Skin Tone:
After cleansing and moisturizing your face and neck, use the color correctors to conceal blemishes, pigmentation and redness. Simply dab the correctors in with your fingertips, or use MyGlamm's Concealer Brush for Total Makeover FF Cream.
Use it sparingly (especially under the eyes, around the mouth, the forehead areas) Go over any areas where you apply the Orange corrector with the Yellow corrector. Use a blending sponge in a patting/stipling motion and blend well.
Use the Yellow corrector to add highlight and contour your complexion. Avoid excess application around eyes or contours of the face. Too much formula accentuates lines and imperfections.
Grab a flat foundation brush, like MyGlamm's Total Makeover Foundation brush, and apply the FF cream in dabbing motions onto face and neck, starting at the center of the face and blend it out well. Focus on one area at a time. Start where more coverage is needed (typically in the center of the face) and work out toward the edge of the face.
Using a damp makeup blending sponge, similar to MyGlamm's Beauty Blender, blend the foundation and spread it out evenly onto your face. Blend in a rolling motion and gently press it onto the skin for a weightless and light finish.
Apply a loose translucent powder, try MyGlamm's Glow to Glamour Fixing Powder, to set your makeup. Focus on areas that tend to get oily, use it on the T-zone, under the eyes and on the chin.
Tap the fixing powder onto your brush and pat the powder onto the skin. Wait a few seconds then lightly brush your face to remove any excess build up.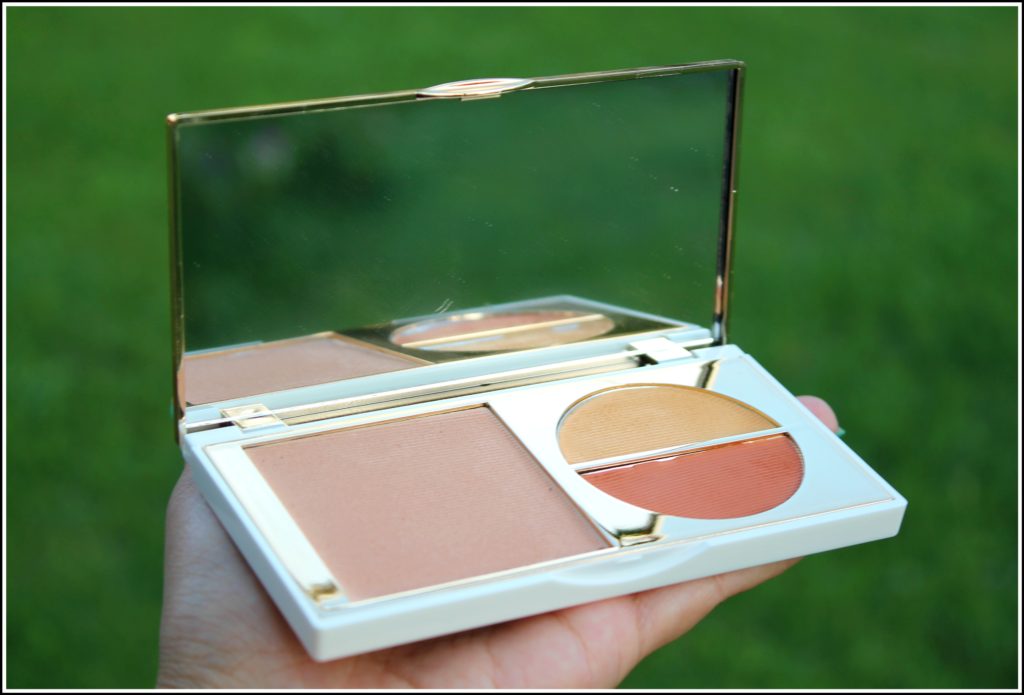 Ingredients of the MYGLAMM Total Makeover FF Cream – Light Skin Tone:
Caprylic / capric Triglyceride, Hydrogenated Polyisobutene, Ethylhexyl Methoxycinnamate, Candelilla Cera, Titanium Dioxide, Nylon – 12, Polymethyl Methacrylate, Synthetic Bees Wax, Cera Microcristallina, Talc, Disteardimonium Hectorite, Disodium Edta, Stearic Acid, Alumina,
Polyhydroxystearic Acid, Ethylene / methacrylate Copolymer, Propylene Carbonate, Ascorbyl Palmitate, Thioctic Acid, Tocopheryl Acetate, Ubiquinone, Dimethicone, Retinyl Palmitate, Dimethicone / vinyl Dimethicone Crosspolymer, Isopropyl Titanium Triisostearate, Bht, Tocopherol, Ricinus Communis Seed Oil, Ethylhexyl Palmitate, Octyldodecanol, Bis – diglyceryl Polyacyladipate – 2, Copernicia Cerifera Cera, Benzyl Alcohol, [+ / – ] May Contain, CI 77891,
CI 77491, CI 77492, CI 77499
Net weight of the MYGLAMM Total Makeover FF Cream – Light Skin Tone:
6.5g + 2.0g + 2.0g = 10.5g
Price of the MYGLAMM Total Makeover FF Cream – Light Skin Tone:
Rs.1450.
Availablility of the MYGLAMM Total Makeover FF Cream – Light Skin Tone:
You can buy this palette from MyGlamm.com.
My Take on the MYGLAMM Total Makeover FF Cream – Light Skin Tone:
The MYGLAMM Total Makeover FF Cream comes in a white cardboard box with all the details about the product mentioned on it. Once you open the cardboard packaging the palette comes in with a foam packaging which protects the product from breaking. I haven't seen any brand put so much effort in the packaging of its products. Last week I received a blush palette that was all broken, two of the blush pans were shattered because the packaging was not that great but with a packaging like this your palette is 100% safe and it will reach you in perfect condition. It is great for travelling too as the palette comes in a foam layered cardboard box so you need not worry about your product breaking or anything of that sort. The actual palette comes in a metallic golden sleek packaging with the product name and the company logo printed on it.  The palette comes with a big mirror inside which is great to do your full face makeup. The packaging of MyGlamm products is top notch, it feels so high end and luxurious. Full marks to MyGlamm for putting so much effort in the packaging and coming up with such beautiful looking palettes.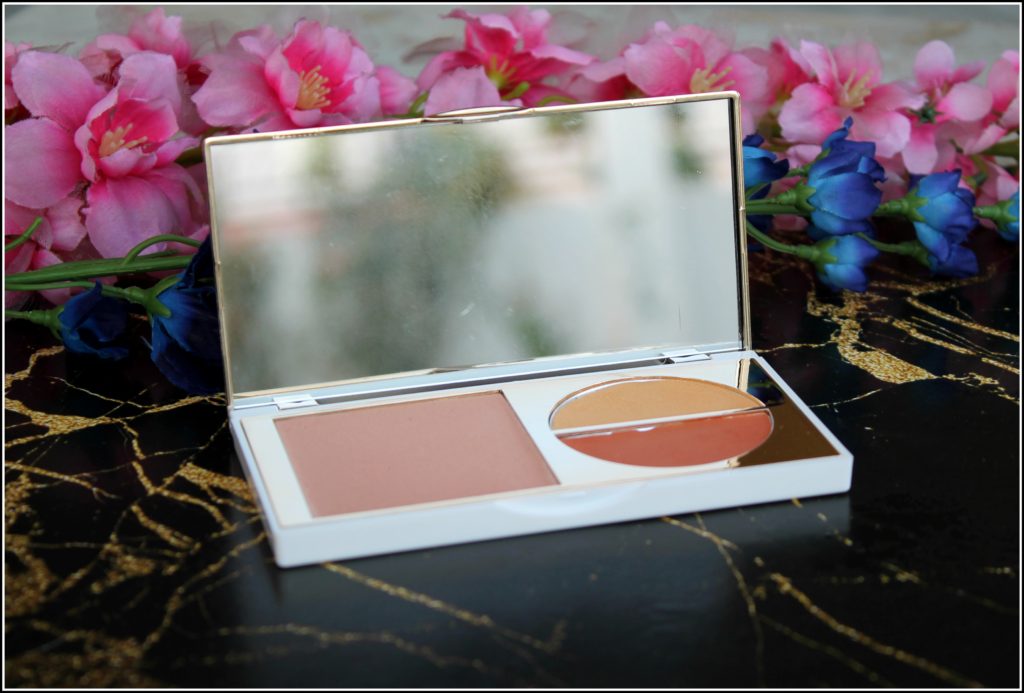 As the company claims this is a 5-in-1 product, it contains 3 pans, one is a square pan which has the foundation, the other two pans are semi circle pans which have one orange corrector and one yellow corrector. They are all cream products which settle down to give a very matte finish. They come in three shades- one for light skin tone, second is for medium skin tone and the third one is for dusky skin tone. Since I am fair I was sent the palette for light skin tone. The texture of the foundation is very smooth and creamy and it spreads evenly on the face with a brush and with your fingers. The problem with the foundation shade is that it is too light for my skin tone, it makes me look ashy and is a complete mis-match for my skin tone. Another con is that it settles down in the nooks and corners of the face like around the nose, around my mouth, on the laugh lines and gives a very unpleasant appearance. It crumbles up within a few minutes of application and clings onto the dry patches on  my face. I make sure to prep and prime my skin prior to the application of this product but then also it doesn't give me a flawless finish. It feels like a white cast on my face.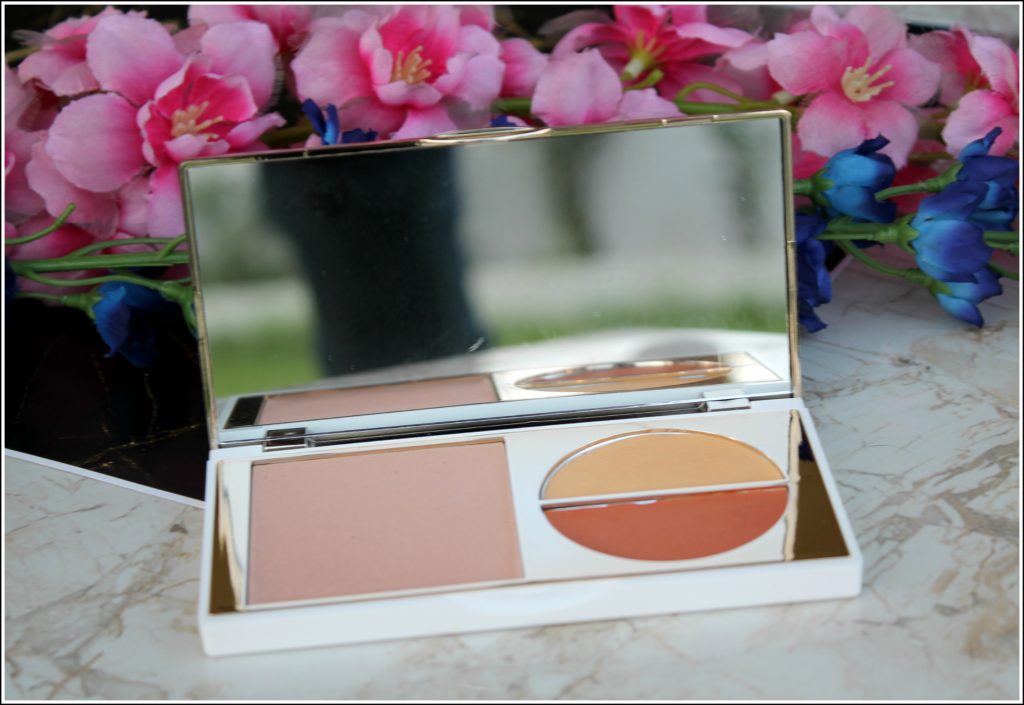 The orange and the yellow correctors are not as creamy as the foundation so they are a bit difficult to work with. I have fine lines under my eyes and both of them crease like hell under my eyes. I apply a highly hydrating eye cream before applying the correctors but they still crease within a few minutes of application. Applying a loose powder to set them makes them all the more cakey. I have applied these correctors with my fingers as well as with a brush and makeup sponge but the result is the same. I wish they were a little bit thin in consistency so they could spread evenly and easily under the eyes without creasing. I have really dark under eye dark circles so color correcting is a must for me but this orange color corrector doesn't hide my dark circles completely, may be that is because of the thick consistency of the product also.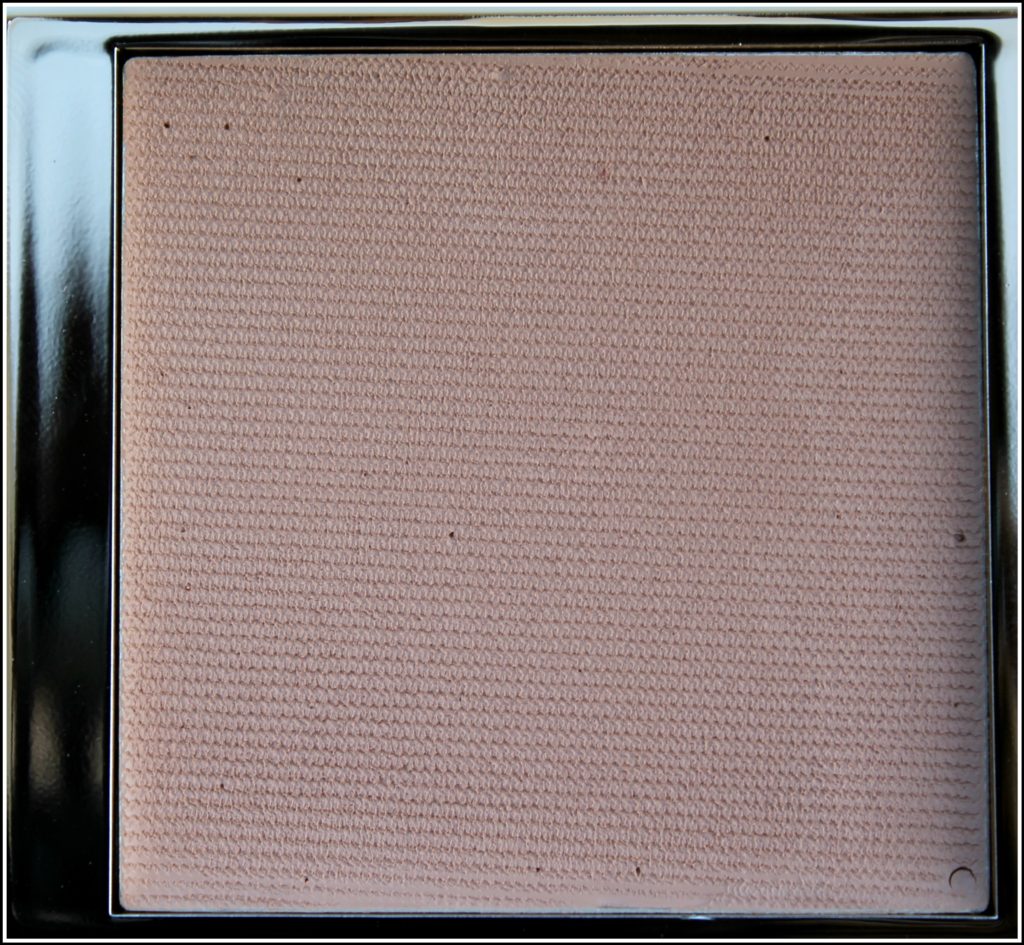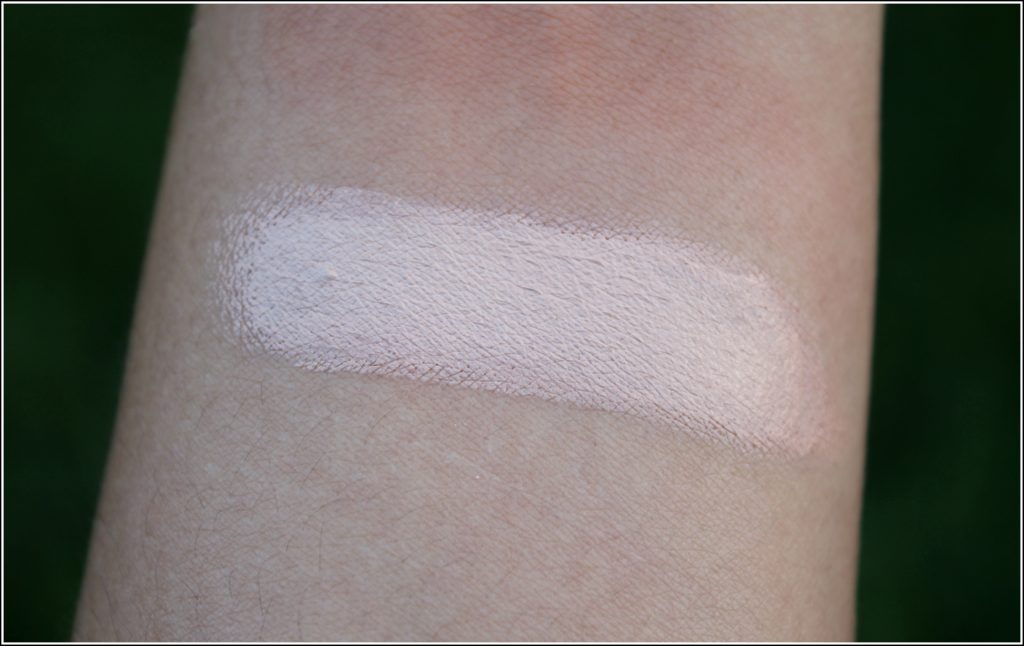 I reviewed two of the palettes months back but it took me a lot of time to finally put down my reviews about this one. Actually I was trying to figure out how this product would work for me but after a lot of efforts also I couldn't find a way to use this palette perfectly. I have sort of mixed reviews about this one and that is the reason I kept on delaying the review of this one. I totally loved the other two products from MyGlamm but this palette didn't work for me at all. The shade is too light for me, the texture of the correctors is too thick and they do not spread evenly under your eyes and they do not hide the imperfections completely, the foundation is a bit dry on my skin and crumbles up after application. All in all it's a dud for me. I had high expectations from this palette because the other two palettes were mind blowing but this one was a total disaster for me. Maybe someone with oily skin would love this palette but this is a total mismatch for someone with dry skin like me. I hope MyGlamm works on the formulation and on the color range of this palette because if they nail the colours and the consistency of the cream products it will be a bang on product.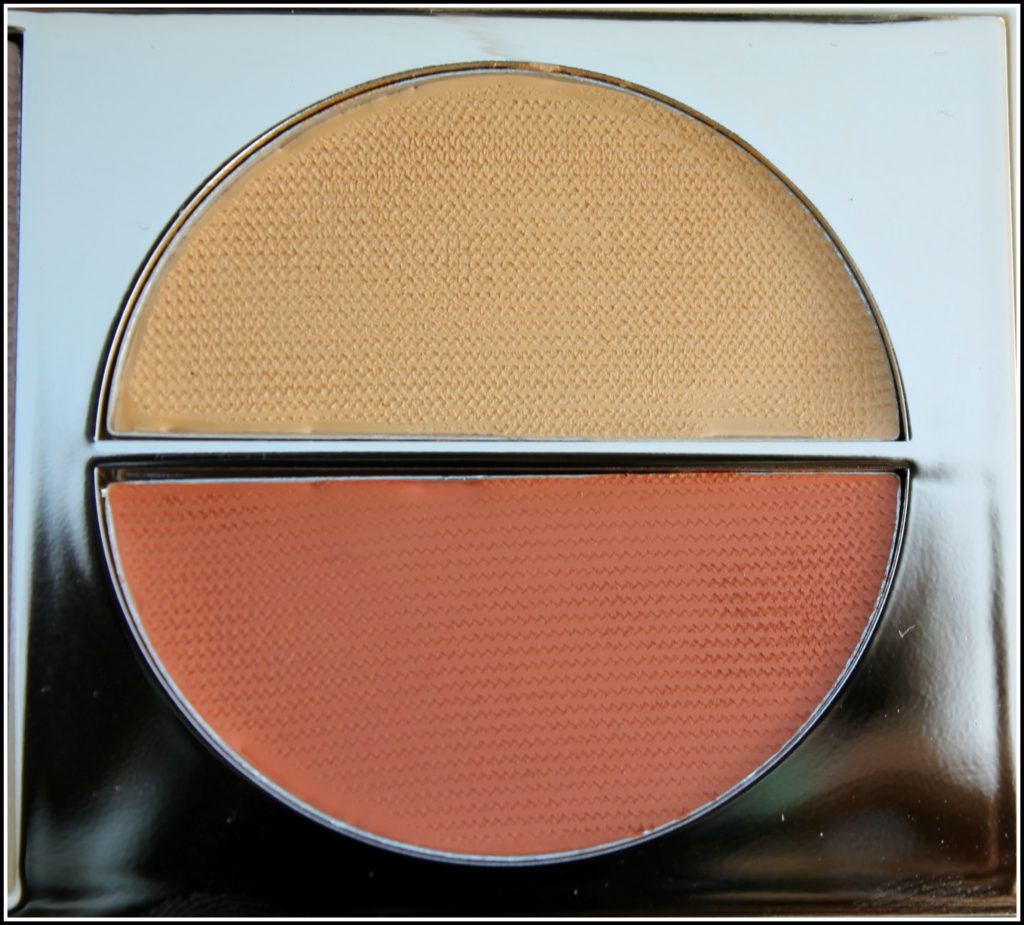 Pros of the MYGLAMM Total Makeover FF Cream – Light Skin Tone:
Lovely
Cruelty free.
No irritating fragrance in the product.
Nice concept of putting up foundation and correctors in a single palette.
Cons of the MYGLAMM Total Makeover FF Cream – Light Skin Tone:
Foundation shade doesn't match my complexion.
The consistency of the correctos is a bit thick so they do not apply evenly.
Doesn't blend into the skin.
The foundation crumbles after application.
Rating of the MYGLAMM Total Makeover FF Cream – Light Skin Tone :
I would give it a 2.5/5.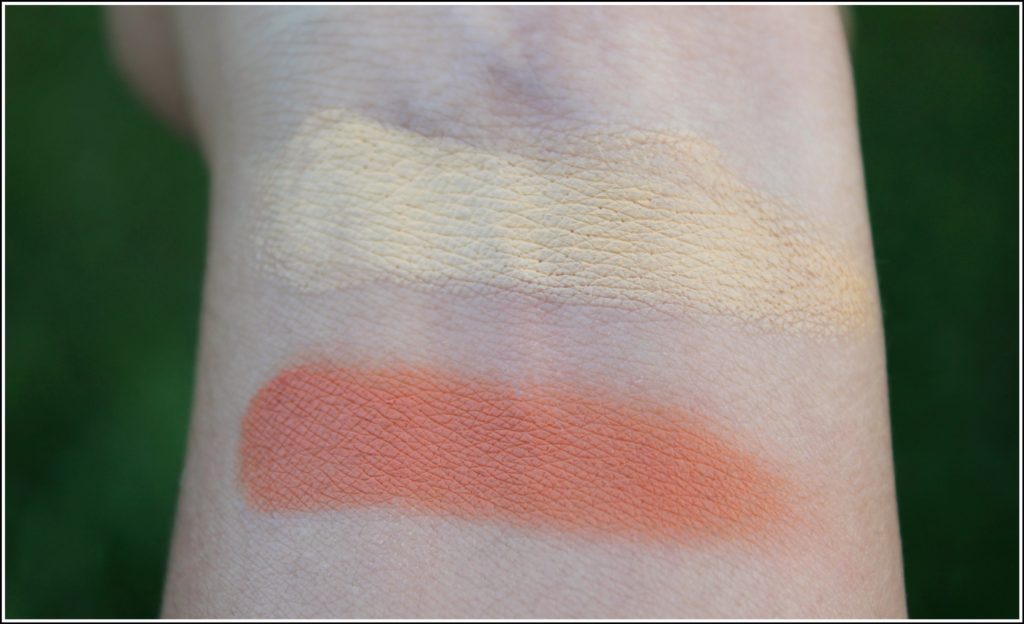 Will I repurchase the MYGLAMM Total Makeover FF Cream – Light Skin Tone?
Definitely not as this palette didn't work for me at all.