MyGlamm All Eye Need – Dare To Wear: Review and Swatches
3 in 1 Primer + Eyeshadow + Highlighter
Hello Everyone,
As I had told you guys in my last blog post that MyGlamm sent over few of their makeup products to me last month and I have been using them non-stop. All of their products are multi-tasking and all of the products that I chose are palettes, so you don't need separate products to create a look. Like the Chisel it palette has a bronzor, blush and highlighter in one palette so you don't need 3 separate products, you just have one palette and you are good to go. All of their products are great for travelling also as you don't need to carry separate products, you just need 2-3 of their palettes and you are done. So without wasting any time, let's get started with the review.
Today I will be reviewing the MyGlamm All Eye Need eyeshadow trio palette which has a 3 in 1 Primer + Eyeshadow + Highlighter.
All Eye Need DARE TO WEAR palette contains:
Primer – Filament is a creamy transparent primer
Eyeshadow – Ultramarine is an electric blue eye shadow
Highlighter – Creme Brulee is a soft beige highlighter
Gorgeous eyes, to go! An all-new, multi dimensional, multitasking eye shadow palette, designed to give eyes instant incandescence. This palette includes a soft mousse based eye primer to maximize color intensity and longevity, ultra-refined frost effect eyeshadow and highlighter for an upgraded frost finish. Weightless with intense color release. glides on silky, blends effortlessly.
Benefits:
Finish is buildable, from Satin to Demi to High frost
Non-smudging. Non-flaking. Color true.
Each Palette contains: 1 mousse primer. 1 refined eyeshadow, 1 frost highlighter
Primer: Ultra-light, creamy texture. Smoothing, hydrating and fixing agent for optimal hold.
Eyeshadow/Highlighter: Highly-concentrated pigments deliver color-true, deeply saturated shade intensity and clarity for dramatic payoff.
Crease-resistant: Multifunction product, suitable as a base to apply under-eye before the concealer to prevent creasing
Flattering on all skin tones
Enhanced Properties
HIGH % OF LIGHTWEIGHT SILICONES provide an ideal drying time for optimal blendability
INNOVATIVE ELASTOMERIC SILICONE for a velvety cushiony soft touch
MULTIMINERAL COMPLEX PRIMER: mineralizing, enlightening, unifying and smoothing properties
SPECIAL INGREDIENTs EXTRACTED FROM RARE SEA PLANT: improves skin appearance & reduces dull complexion.
Cruelty free and free of parabens, Volatiles, Oil, D5, Solvents, nano-ingredients, preservatives and fragrance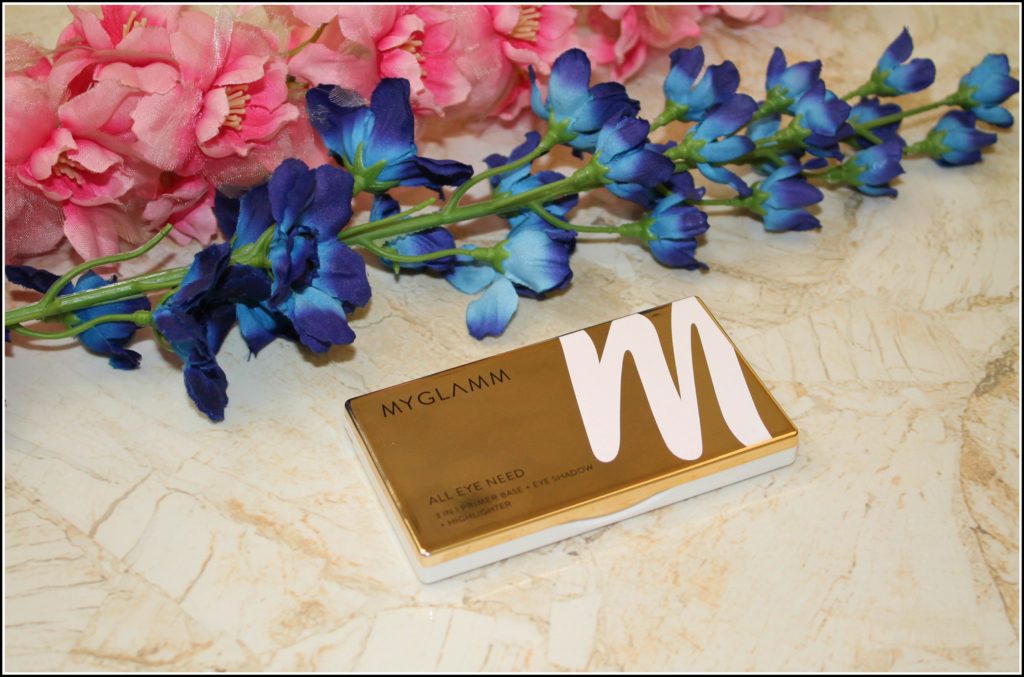 How to Use:
Primer

Placement: Prime wherever you desire to apply the eyeshadow. Mostly all over the eyelid and below the lashline.
Technique: Use the Eyeshadow applicator brush and gently press the colour all over the eyelid within the crease. You can also use your fingertips to apply.
Eyeshadow

Placement: All over the eyelid, below the lashline.
Technique: Use the Eyeshadow application brush to apply the product all over the eyelid. Complete the shape by rimming the lower lash line with the same colour.
Blend with Eyeshadow blending brush to soften any harsh lines.
Highlighter:

Placement: Browbone, Tear duct.
Technique: Use the eyeshadow applicator brush and highlight the browbone, tear duct and the centre of the eye to sculpt the eye and give it dimension.
Ingredients of the MyGlamm All Eye Need – Dare To Wear:
Talc, Mica, Calcium Sodium Borosilicate, Zinc Stearate, Paranum Liquidum, Ethylhexyl Palmitate, Dimethicone, Silica, Polybutene, Caprylyl Glycol, Alumina, Phenoxyethanol, Hexylene Glycol, Dehydroacetic Acid, Tin Oxide, Disodium Edta, Lecithin, Tocopherol, Glyceryl Oleate, Isoeicosane, Synthetic Fluorphlogopite, Tricaprylin, Carnuba Wax, Polysilicone – 11, Silica Dimethyl Silylate, 1 Dimethicone, 1, 2 – hexanediol, Caprylyl Glycol, Mother Of Pearl, Calcium Carbonate, Sunflower Seed Oil, Quartz Powder, Capric Triglyceride, Rosemary Leaf Extract, Crithmum Maritimum Extract.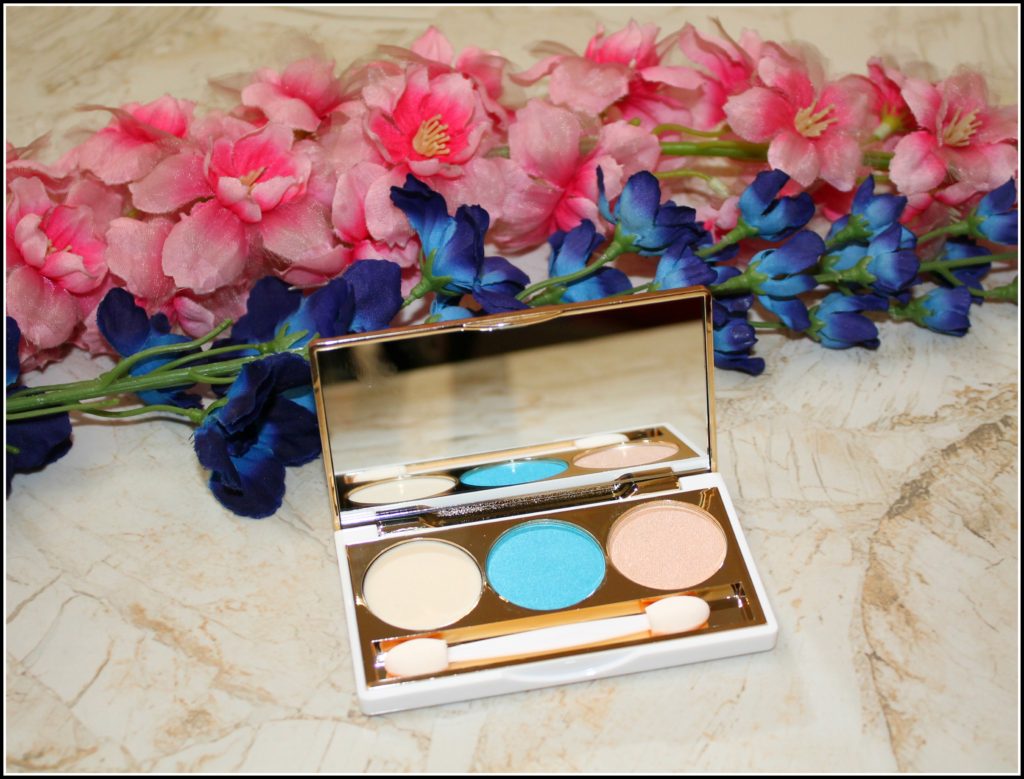 Net weight of the MyGlamm All Eye Need – Dare To Wear:
1.3g + 1.5g + 1.5g = 4.3g
Price of the MyGlamm All Eye Need – Dare To Wear:
Rs.1195
You can buy this product from MyGlamm official website from HERE.
Packaging of the MyGlamm All Eye Need – Dare To Wear:
If you guys have gone through my previous post you might be aware how much I am liking the packaging of MyGlamm makeup products. Guys, the packaging of all their products is top notch. They are so classy and elegantly packed makeup products. They look chic, sophisticated and can give any luxury brand a run for their money if we compare luxury brand packaging to MyGlamm packaging. All their products come in a glossy white cardboard packaging with a golden logo of the brand on top and all the details about the product, the price and the ingredient list is mentioned on the box itself.
Once you open the box there is another layer of foam packaging that holds the palette and keeps it safe and secure. I love such detailing in the packaging and it is great to see when a brand emphasizes on the packaging so much. I am a kind of a person who loves to keep her products in the original packaging, means I never throw away any outer packaging of any product that I own and when a brand puts so much effort to create a packaging like this I like to appreciate their hard work. All this detailed description was about the outer packaging, now let's come to the packaging of the palette.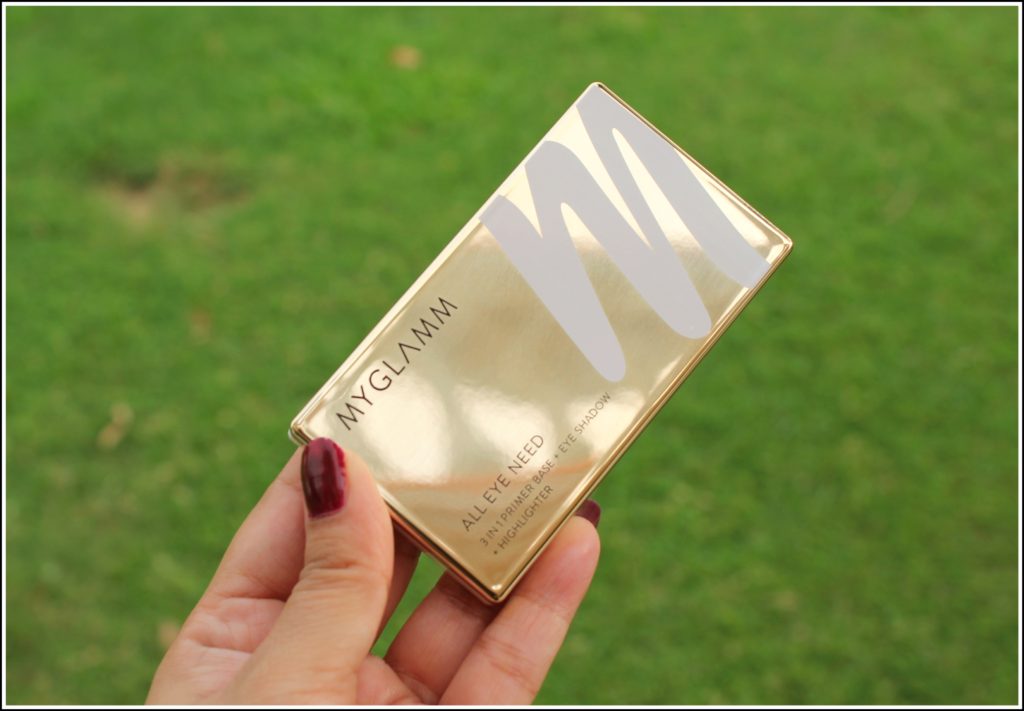 OH MY GOD…. The packaging of the palette is to die for. It is a sleek, rectangular palette which has a golden mirror like finish with the brand logo, the brand name and the product name printed on it. Once you open the palette there is a mirror inside which is great for doing touch ups and there are 3 pans inside the palette, one is a eye shadow primer, other is an eye shadow and the third one is a highlighter.  The palette comes with a sponge tip applicator which is great to highlight the inner corner of the eye. You can look at the pictures and see how gorgeous this palette looks.
Swatches of the MyGlamm All Eye Need-Dare to Wear: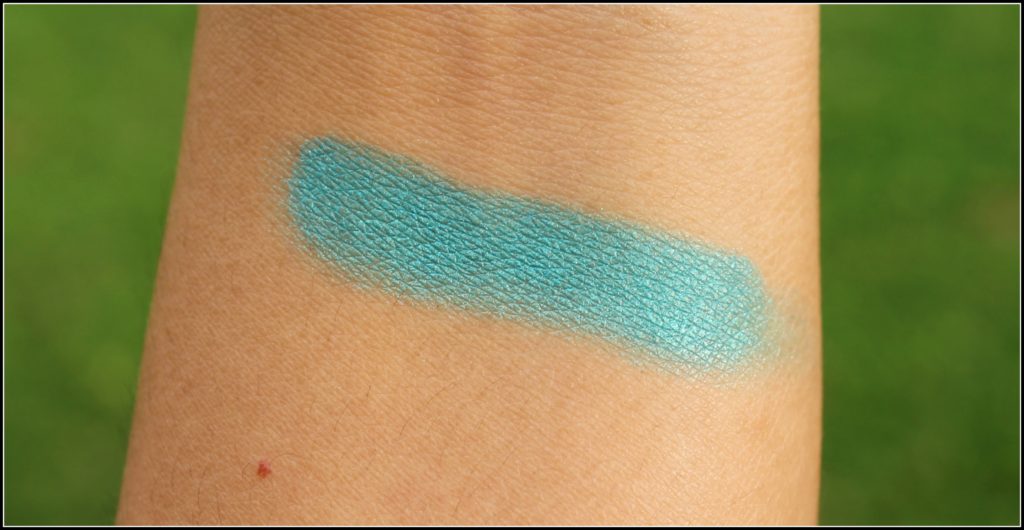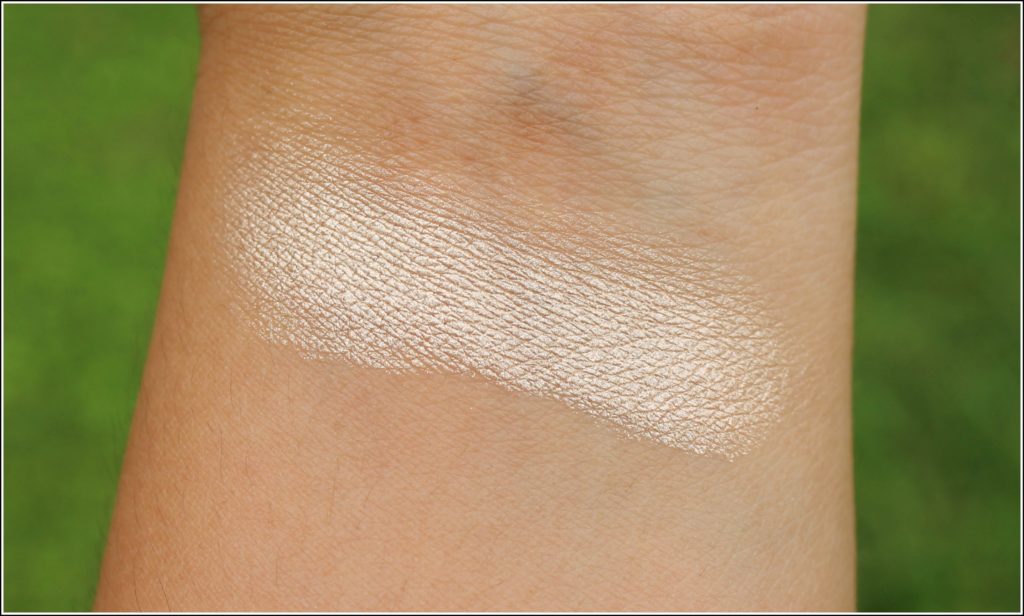 Texture of the MyGlamm All Eye Need-Dare to Wear:
The Primer: Filament
The eye shadow primer has a very siliconey feel to it, I apply the primer on my eyelid with the help of a flat brush and it instantly smoothens out the eyelids giving a very smooth canvas to apply the eye shadows on. It fills in the fine lines on the eyelid, blurs out the creases on the eyes and makes it super easy to apply and blend the eye shadows. It is very soft in texture, it applies and blends on the eyelid without an issue.
The Eyeshadow: Ultramarine
Now let's come to the texture of the eye shadow. This one is a metallic bright electric blue eye shadow which is super soft and satiny.The eye shadow is finely milled, the powder is super bendable, there is no fall out whatsoever. I apply the eye shadow on my eyelid with a flat eye shadow brush and it applies like a dream. The shimmer particles in the eye shadow are super fine and are not at all chunky at all.
Highlighter: Creme Brulee
The Highlighter in the palette is a beautiful subtle golden highlighter with very minute shimmer particles. The powder is again very finely milled and there is no fall out at all. The highlighter blends in the skin and a give svery nice sheen to it. I apply this to my inner corner and under my brow bone and it instantly brightens up the entire eye look.
You can also read:  MyGlamm Chisel It – Show Stopper : Review and Swatches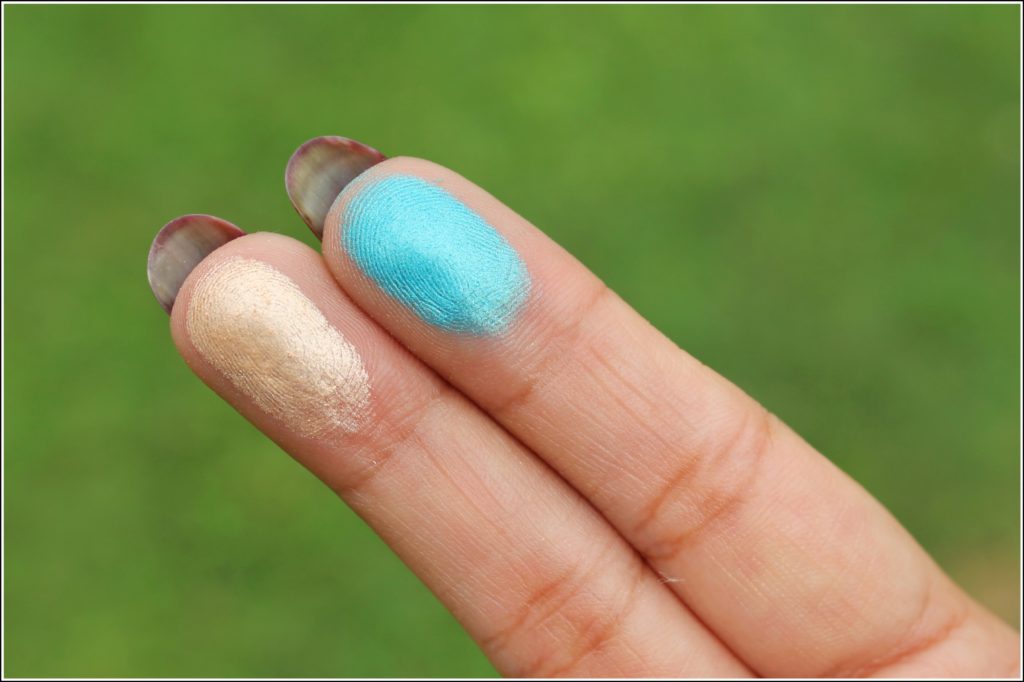 Pigmentation of the MyGlamm All Eye Need-Dare to Wear:
Both the powders in the palette  i.e. the highlighter and the eyeshadow are extremely pigmented. You just need to swipe your brush once in the powder to get the maximum pay off.
Staying Powder of the MyGlamm All Eye Need-Dare to Wear:
The staying powder of both these powders is great. I always apply the eye shadow primer underneath my eye shadow and highlighter and both these powders stay on my eyelids for a good 5-6 hours without fading off. So overall the staying power is pretty good.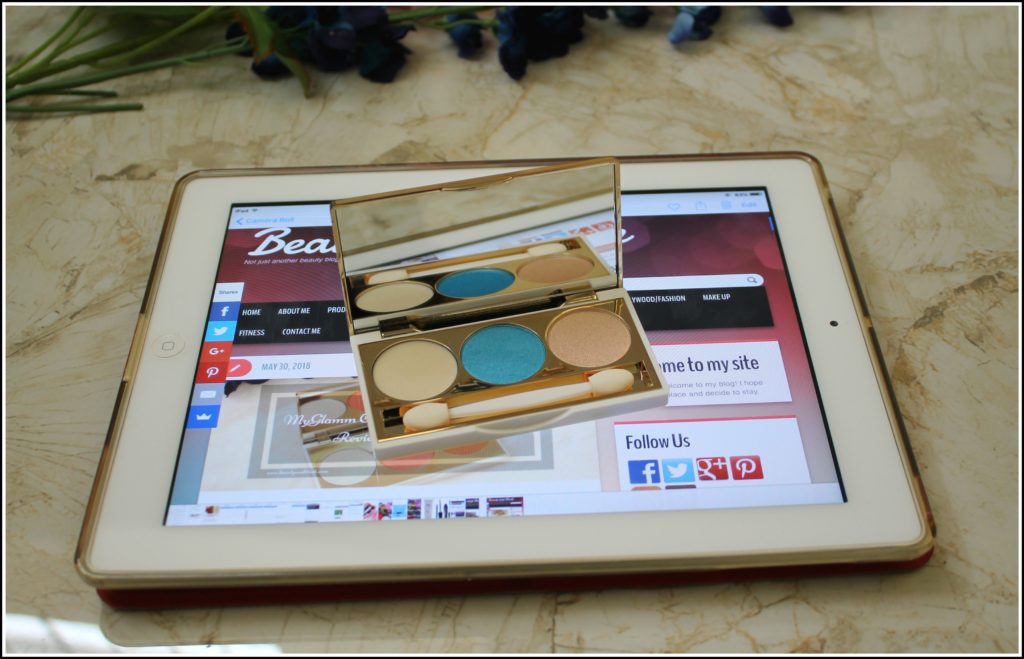 My Take on the MyGlamm All Eye Need-Dare to Wear:
The MyGlamm All Eye Need-Dare to Wear is a palette that has a eye shadow primer, a eye shadow and a highlighter. I have tons of eye shadow trios and palettes but this one is one of its kind. For the past one month I have been using only MyGlamm palettes and seriously my life is sorted. I don't need to gather tons of products for my entire makeup look, I just pull out few of My Glamm palettes and I am done.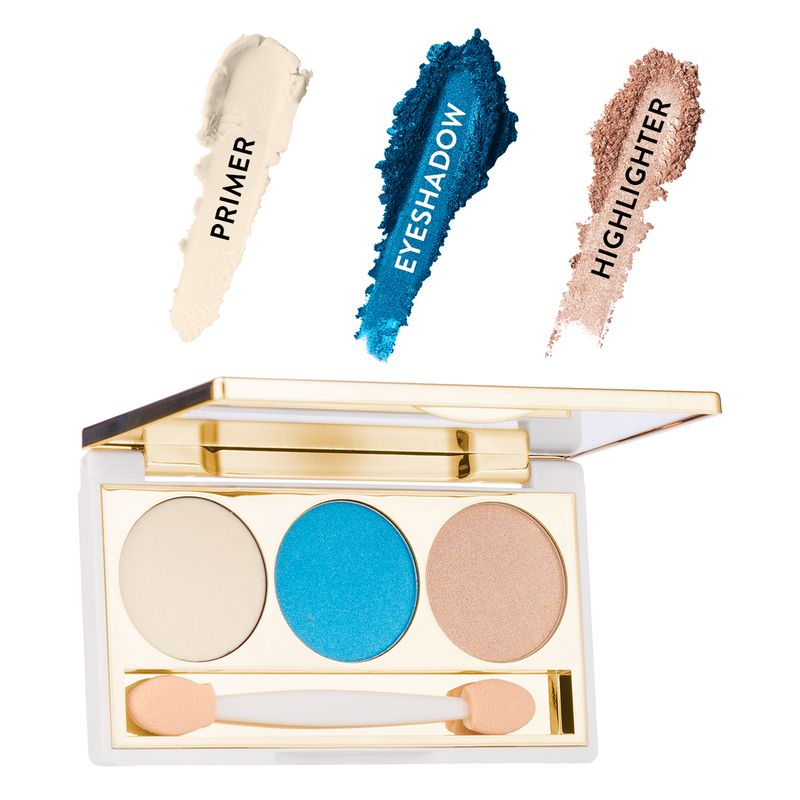 MyGlamm All Eye Need-Dare to Wear palette is one of my favourites now. I have been reaching out for this palette a lot in the past one month. The unique combination of a eye shadow primer, one eye shadow and a highlighter has all my hearts. I just feel the absence of a crease shade in the palette, I use the bronzor in the MyGlamm Chisel It palette to carve out my crease and to give my eye some dimension.
The primer works pretty well and it gives the entire eye look a polished look by blurring out the creases and fine lines on my eyelids. The bright electric blue eye shadow is a perfect choice for the summer season. It adds the much needed glamour to a rather simple makeup look and the pop of colour of the eyelids looks so good. I sometimes apply a crease shade on my eyelid and apply the bright blue eye shadow on my lower lashline and OMG… it looks soooo cool…It transforms my look altogether.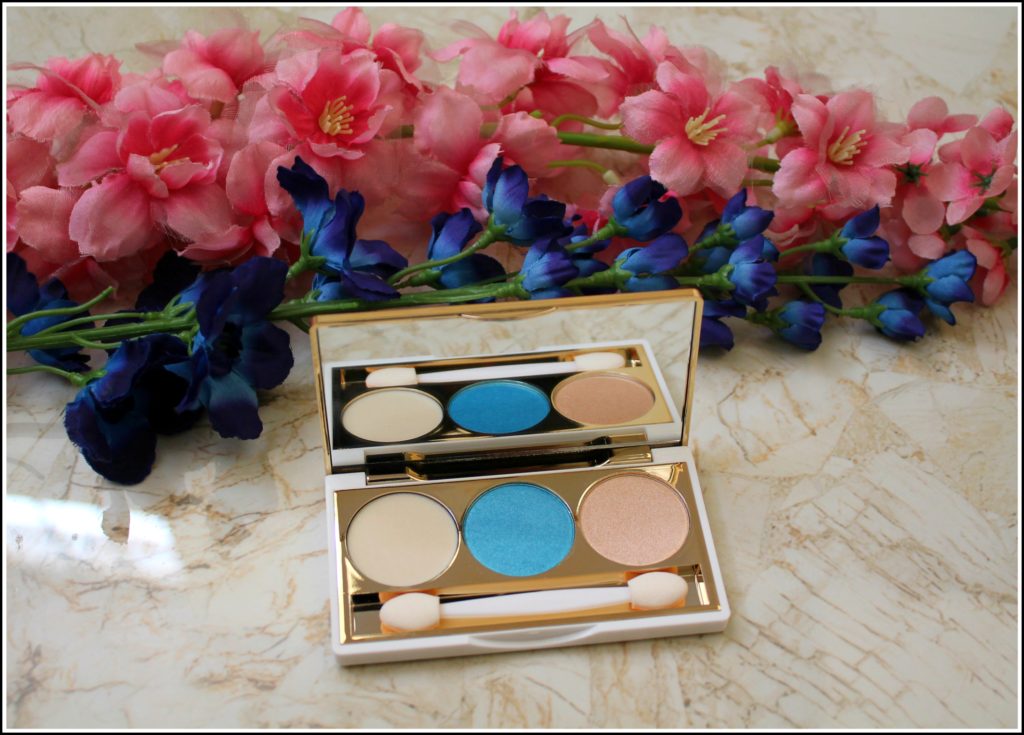 The highlighter in this palette is a BOMB… I apply it to the inner eye of my eye and under my brow bone and it instantly lifts my eye. I also use it to highlight my nose and my cupids bow and it does the job perfectly.
The best thing about all MyGlamm palettes are that they are so sleek and handy that you can carry them with you anywhere, they even fit into the smallest of handbag or even into a small clutch. They are so travel-friendly and they save on a lot of space while travelling. The MyGlamm All Eye Need-Dare to Wear is my summer favourite this year. Guys, if you planning to invest in some good quality makeup products then do give MyGlamm products a shot and I assure you, you don't be disappointed..
Pros of the MyGlamm All Eye Need-Dare to Wear:
Great packaging.
Travel friendly.
Utterly pigmented.
Awesome staying power.
Love the idea of this palette.
No fall outs.
No chunky shimmer particle in the eyeshadow and in the highlighter.
Applies on the eyelids like a dream, so soft and satiny.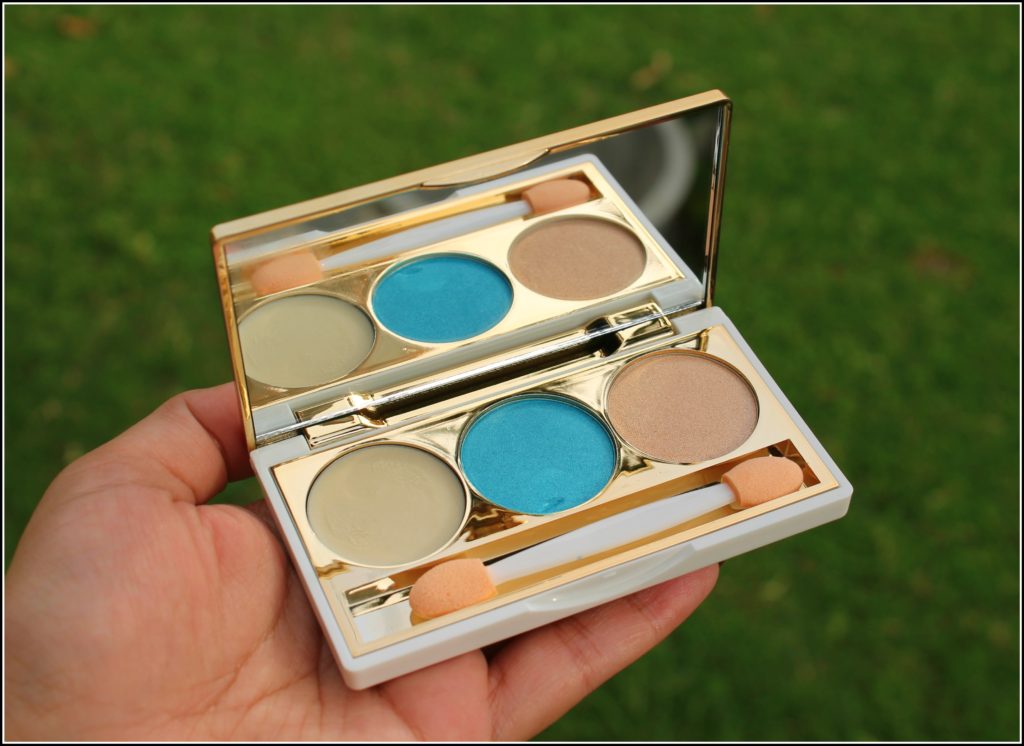 Cons of the MyGlamm All Eye Need-Dare to Wear:
I just feel that there should have been a crease shade or a blending shade in this palette.
Would I recommend the MyGlamm All Eye Need-Dare to Wear to anyone?
I would highly recommend this palette to all my readers and friends, it's a BOMB.
Would I re-purchase the MyGlamm All Eye Need-Dare to Wear?
I will be buying some other color variants from this range.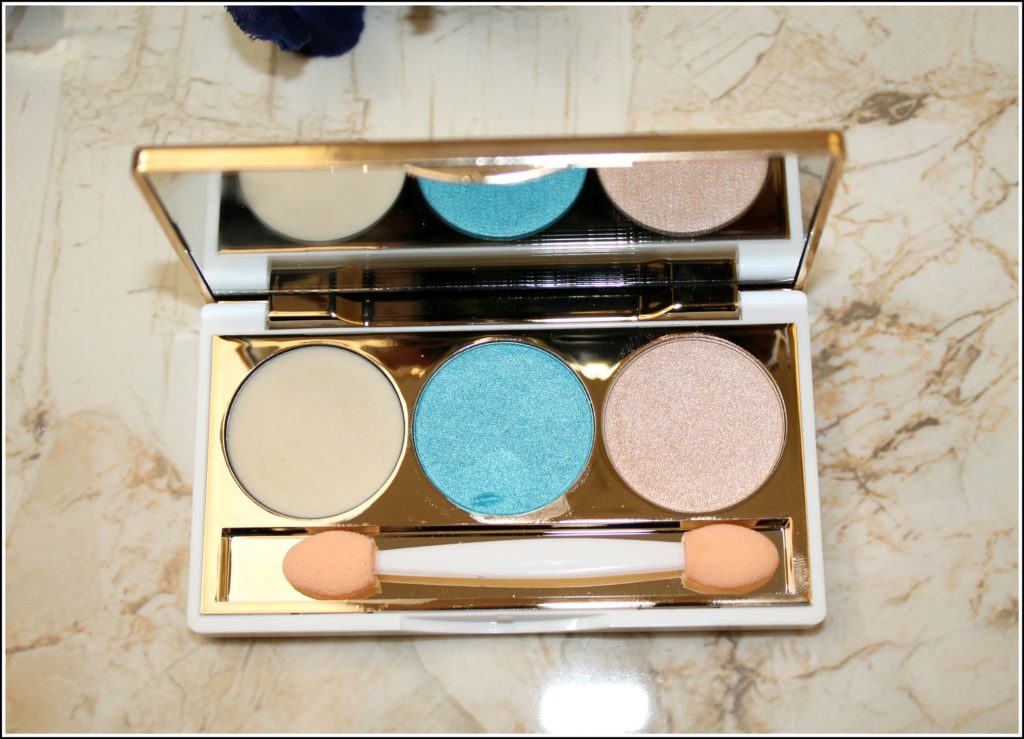 Rating of the MyGlamm All Eye Need-Dare to Wear:
I would give it a 4/5. -1 for the absence of a crease shade.