Mac 217 Blending Brush Review
Hey all my lovely ladies,
Today I will be reviewing the King of all blending brushes- The Mac 217 Blending Brush. Ever since my makeup classes at VLCC I had used Vega Professional Makeup Brushes for my makeup as they were the ones which we used at our makeup classes. After finishing my course I tried a lot of makeup brushes from the drugstore but they didn't make my eye makeup stand out. They just made my eye makeup look ok, nothing great inspite of putting in a lot of effort the results were not satisfactory at all. I was not that much of an eye makeup lover but since I started my blog last year I went through a lot of beauty blogs, watched tons and tons of makeup videos and in no time I became an eye makeup addict. First my eye makeup used to be just a wash on colour on my lid and a soft brown or taupe in my crease as my transition shade but ever since I started blogging I started experimenting a lot with my eye makeup.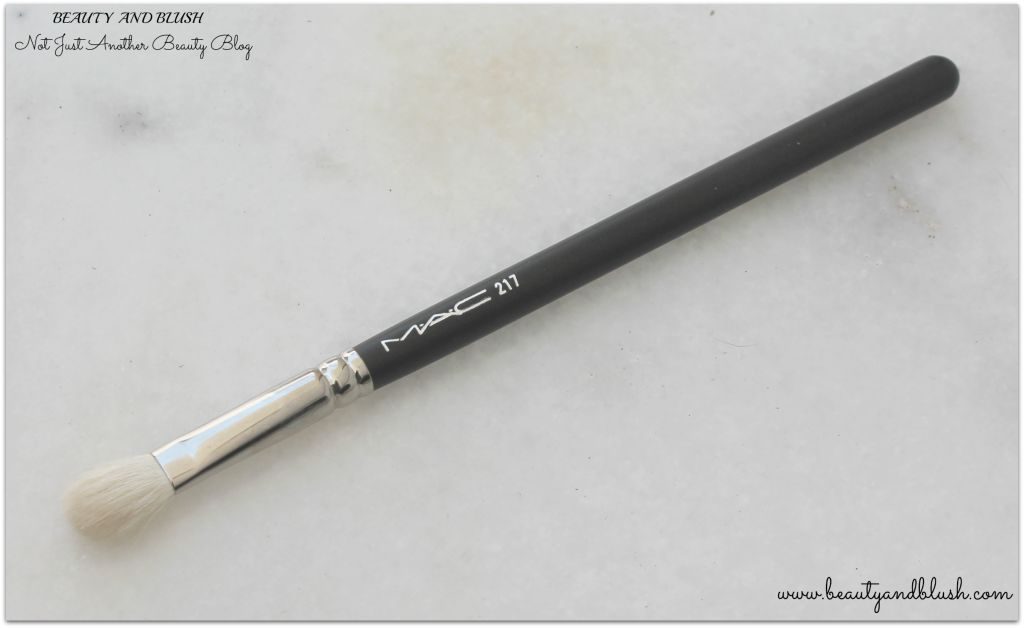 The problem with my eye makeup was that my colours used to spread more than I wanted them to and the whole look used to appear muddy, then one day while discussing this problem with a fellow blogger she suggested me to try out the Mac 217 for my blending purposes. I had seen almost every Youtuber and Beauty Blogger use the Mac 217 but I never thought that the problem with my eye makeup was actually the use of wrong makeup tools. Every Youtuber all over the globe swears by the Mac 217 and literally each and every makeup lover owns it. So after reading a lot of reviews I finally decided to buy the 217. The Mac 217 costs a whooping Rs.1800 and spending so much on a brush seemed too extravagant to me. I just could not see the feasibility on spending so much on just a simple eye brush but now that I own it I can say that it the most wise decision I made. I was really skeptical on buying it but the MUA urged me to buy it so I bought it and here I am with the review of the famous Mac 217 Blending Brush.
What Mac says about the Mac 217 Blending Brush:
A brush for the shading or blending for powdery or creamy products.
Full Description:
This brush has luxuriously soft, densely packed fibers that are arranged in an oval shape. Mac professional  brushes are hand sculpted and assembled using the finest quality materials. They feature wood handles and nickel plated brass ferrules.
InStyle 2014 Best Beauty Buys: Best Eyeshadow Brush Mac 217.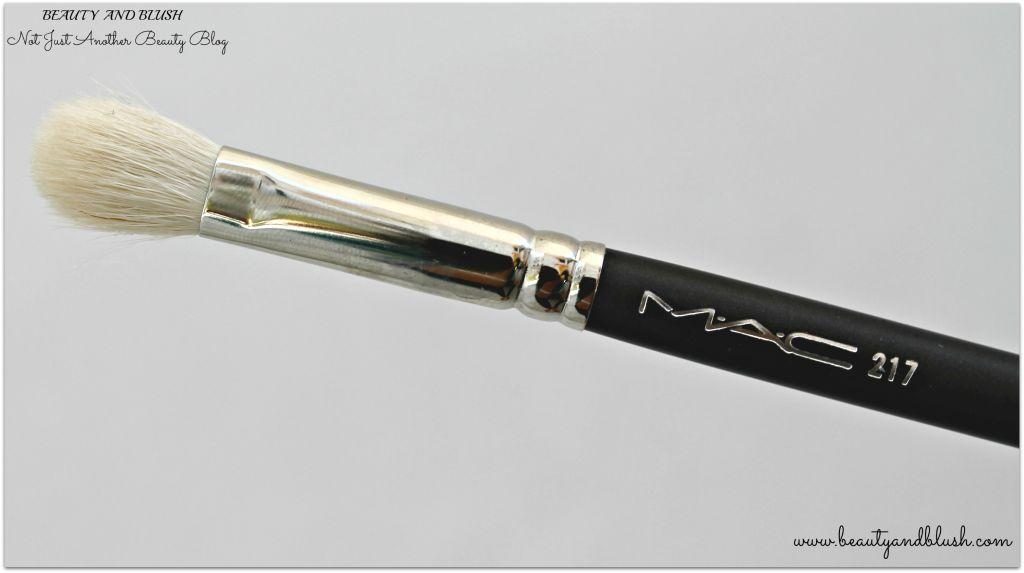 Price of the Mac 217 Blending Brush: Rs.1800.
My Experience with the Mac 217 Blending Brush:
The Mac 217 had been on my wish list for quite a while now and finally I bought it. The Mac 217 comes in a very smart, sleek, black wooden long handle. The bristles are slightly tapered and are very densely packed. The brush is dome shaped which makes it perfect to fit in the crease area and makes the blending of eye shadows super easy and quick. This brush is actually hand sculpted. The bristles are very densely packed, they pick up just the right amount of eyeshadow that is needed and there are no fallouts at all. The bristles are silky smooth and very soft for using on and around the delicate areas of the eyes. It is not at all harsh on my eyelids. The bristles do not feel scratchy and it blends seamlessly. It helps to achieve the soft and gradient effect in my eye makeup. The bristles are made of goat hair. The classic Mac white bristles look so stunning and pristine that I didn't want to dip the brush in the eyeshadows because they will never be the same again once you start using it. They stain a lot and even after washing it with a good brush cleanser they will never come back to its original colour.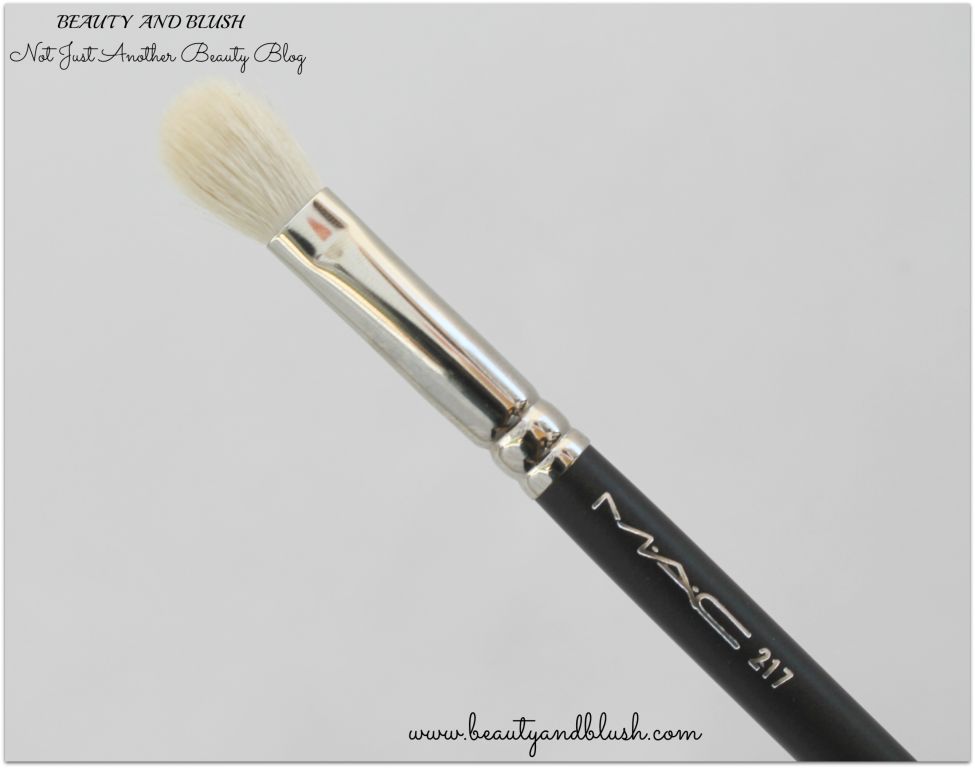 Mac 217 is a multi tasking brush-it is just not great for blending eyeshadows, it is even perfect for applying cream and powder eyeshadows over the lid, to highlight the brow bone. It is a perfect blending brush and it feels very luxurious. Other blending brushes that I had used earlier were more fluffy but this one is a perfect mixture of fluffy and dense. The MUA at Mac used this brush to apply corrector and concealer on my under eye area and it did that job also perfectly.
I usually dip my 217 in eyeshadow and use the windshield wiper motion to blend the eyeshadows and it creates such a seamless and blended look with no harsh lines at all. Mac 217 is a very sturdy and durable brush, you can see it as an investment and you will surely not regret spending a bomb on it because it will prove its worth on its own. I have washed it around 10 times and not a single bristle has shed. I think this brush is going to last me for ages. The brush shape is intact, the bristles are all in good shape and condition even after using it for each and every day in the past one and a half month.
I think for all you makeup lovers or beginners who are just starting with their makeup journey should invest in a multi tasking brush like Mac 217. It is the most versatile brush ever, for sure. This brush has solved all my eye makeup problems, now I have the most blended and flawless makeup ever, all thanks to this miraculous brush.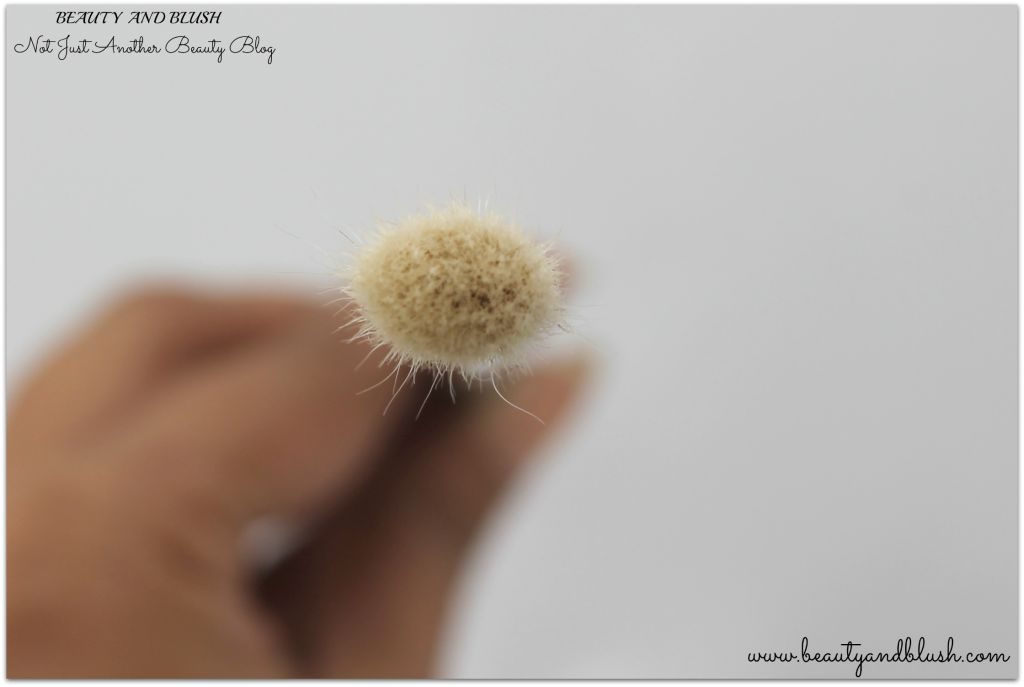 Pros of the Mac 217 Blending Brush:
Blends seamlessly.
Multi tasking brush.
Picks up a good amount of eyeshadow and applies it evenly.
Can be used for both powder or cream products.
Natural goat hair brushes.
Super soft on the delicate areas of the eyes.
Fits in my crease perfectly.
Cons of the Mac 217 Blending Brush:
Rating of the Mac 217 Blending Brush:
I would give it a full 5/5.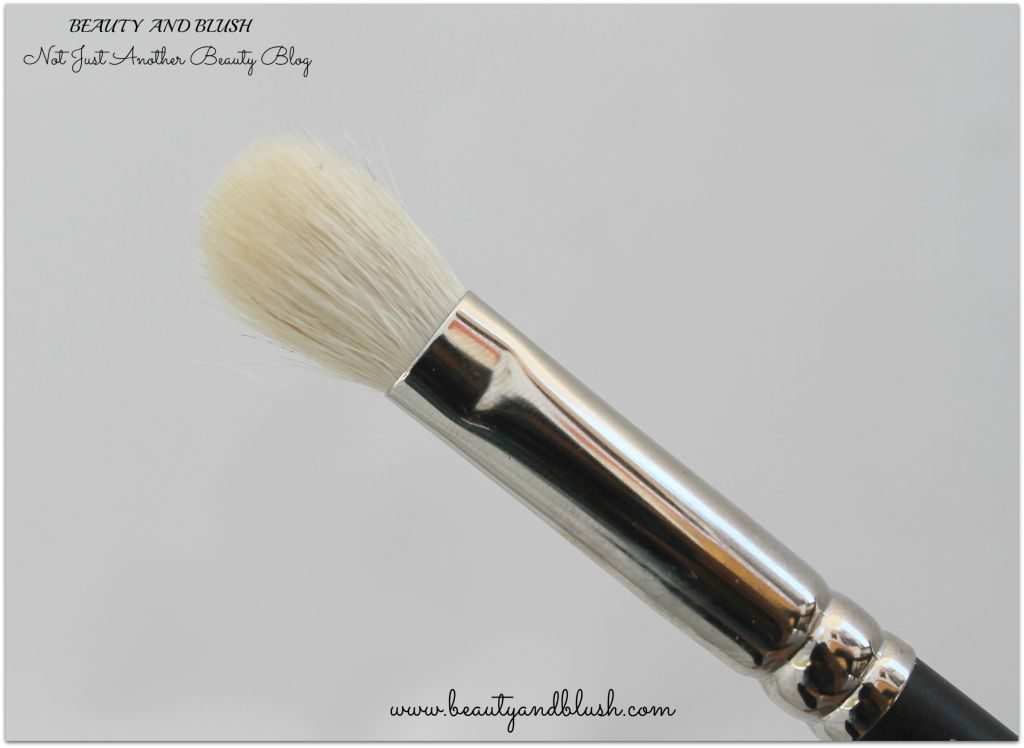 Would I repurchase the Mac 217 Blending Brush?
I think this brush will last me for ages but whenever I want to buy a blending brush again, it will definitely be the Mac 217.
Will I recommend the Mac 217 to anyone?
Definitely, I would recommend it to each and every girl who loves to do eye makeup, this one will make  your eye makeup perfect.
Please do comment if you have any eye makeup brush that you guys swear by because I want to try out some more blending or eye makeup brushes.