Hair Growth Oil for Long Shiny Hair: DIY
Hello ladies,
Long and lustrous locks are a dream of every girl, isn't it? Not only long, shiny and healthy hair adds to the beauty of a girl but it also indicates the overall health of our body. Hairfall, dull and lifeless hair, dandruff are some of the hair problems we all face in our everyday lives. There are tons and tons of products available in the market which guarantee to solve all our hair problems but I personally feel that home or natural hair care remedies are the most beneficial ones. I try out a lot of diy's to solve all my hair related problems and today I will be sharing with you guys my super effective hair growth oil which works like a miracle on my hair. I have been using it for 3 years now and it takes care of all my hair related problems. It is super easy to make and all the ingredients are usually available in our kitchen. It works as a hairfall remedy, it works for thinning hair problems, for dull and lifeless hair and with the continuous use of this oil it also helps in growing the hair long and shiny. So without blabbering too much let's start preparing the DIY Hair Growth Oil for Long Shiny Hair.
Ingredients: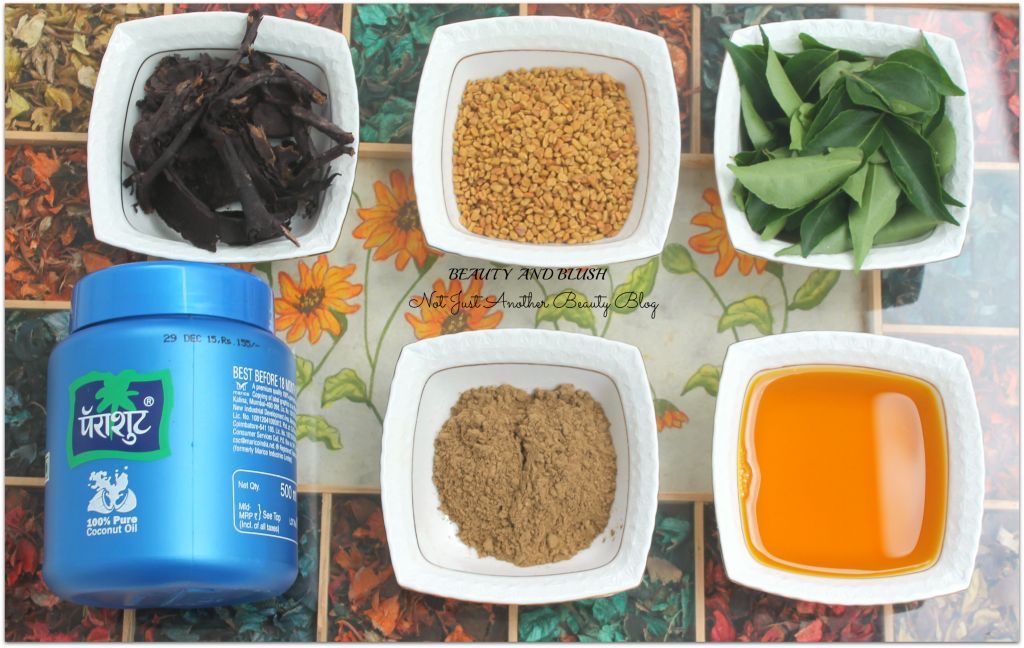 500 ml of coconut oil.
4 Tbsp of Ratanjot or Alkanet Root.
4 Tbsp of Fenugreek or Methi seeds.
Bowl full of Curry Leaves.
4 Tbsp of Amla Powder or Indian Gooseberry Powder. You can also use fresh Indian Gooseberry but as they were not available right now so I chose to use the powder.
100 ml of Mustard Oil.
Procedure to prepare the Hair Growth Oil for Long Shiny Hair: DIY:
Take a deep cooking pot/kadahi and pour the 500 ml of coconut oil in it. Place it on a burner or induction plate and let it come to a boil.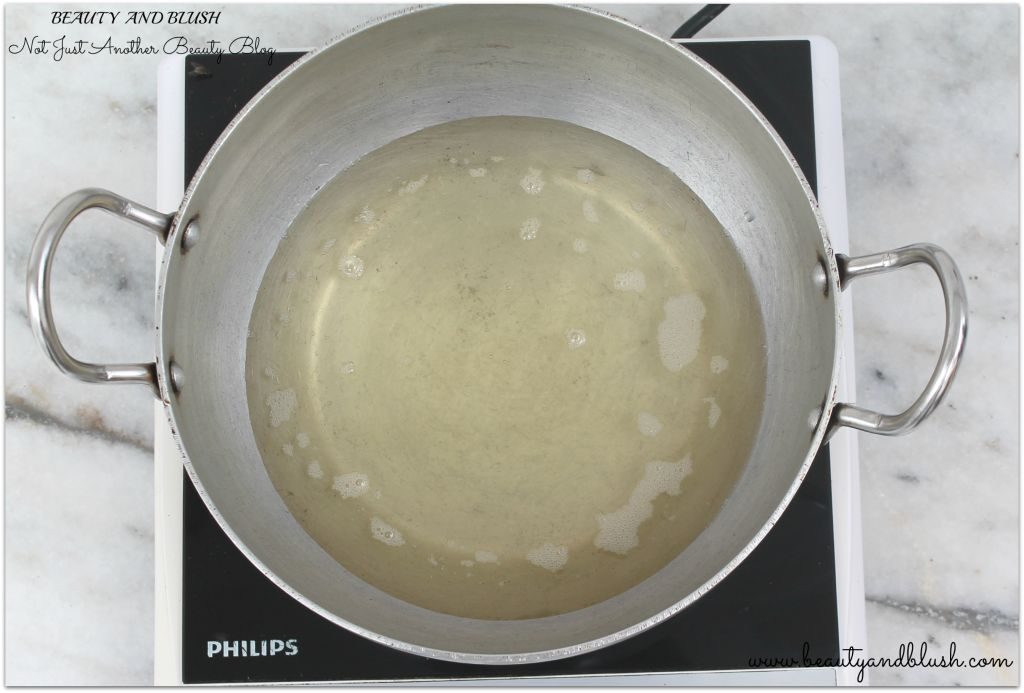 Once the oil starts heating add the bowl full of curry leaves and stir in.Keep stiring it and let the leaves cook in the oil for 10 minutes on medium heat.
Next add the fenugreek or methi seeds and let them sizzle in the hot oil for 10 more minutes on low heat.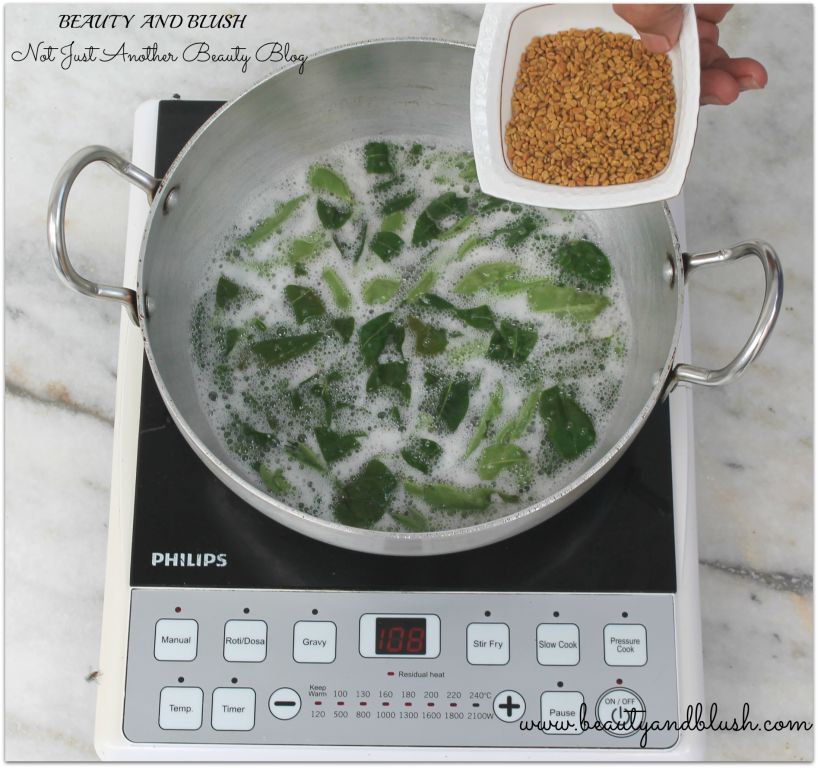 After 10 minutes add in the ratanjot or alkanet root. Stir it, the oil will turn red in color once you add the ratanjot. Keep stiring it and let it boil on low heat for 5 more minutes.
Next goes in the amla powder or Indian goosberry powder.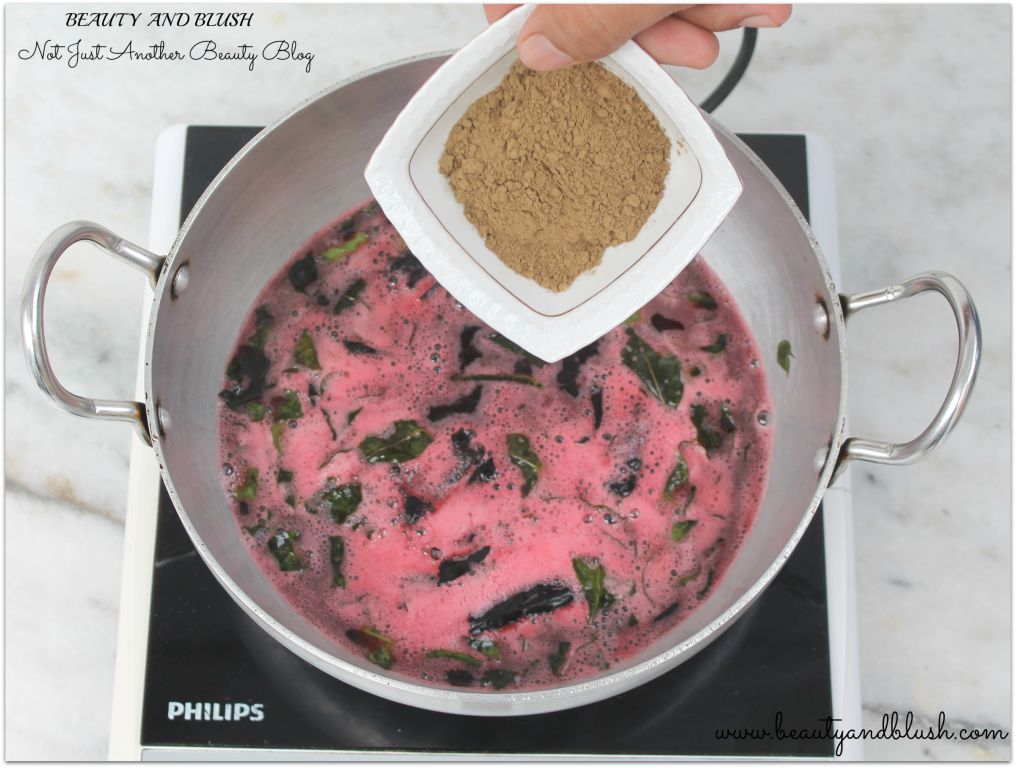 After 2 minutes add the mustard oil add let it boil for 5 minutes on medium heat. Till this time the curry leaves must have become very crispy and brown in colour. Turn off the gas and let it cool for 1 hour.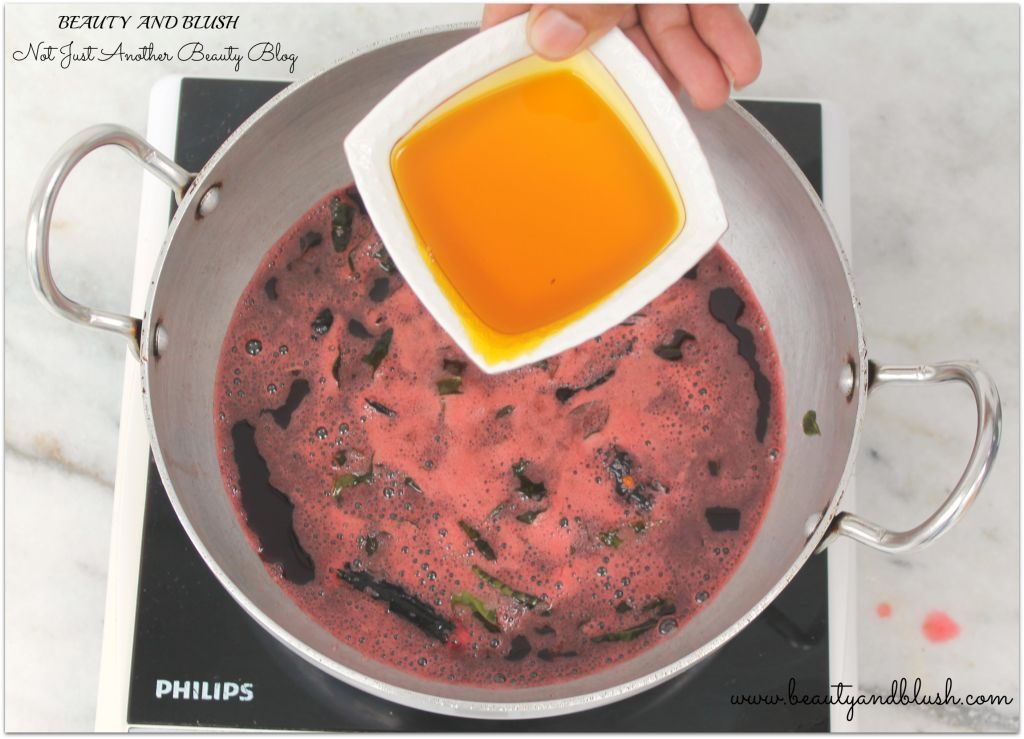 After 1 hour sieve the oil and keep it in any glass bottle or jar. The Hair Growth Oil for Long Shiny Hair: DIY is ready now. Keep this bottle in sunlight for a week and start using it and get long lustrous hair that you have always dreamt of.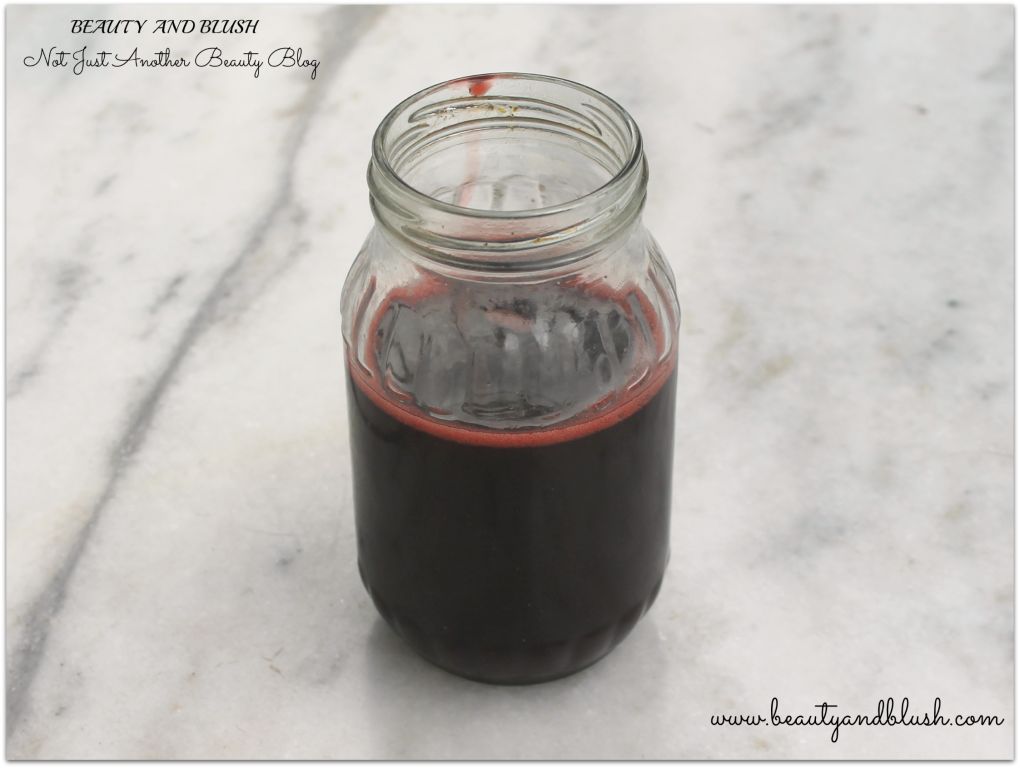 Benefits of using the Hair Growth Oil:
Coconut oil is a natural ingredient that helps hair to grow longer, thicker and faster. The vitamins and the essential fatty acids found in coconut oil nourish the scalp and help to remove sebum build up from the hair follicles thus helping in hair growth.
Curry leaves constitute a combination of essential nutrients required for the growth of the hair. They are rich in antioxidants and amino acids which are capable of reducing hair fall and stimulate hair growth. They also help in preventing the hair strands from thinning by strengthening the hair follicles. Curry leaves are also rich in beta-carotene and proteins. Beta-carotene limits hair loss while proteins prevents hair thinning.
Methi or Fenugreek seeds are a natural solution to dandruff. It is also effective in controlling hair fall and strengthening the hair roots. It contains nicotinic acid as well as proteins that aid in hair growth. Lecithin present in methi seeds impart shine to your hair and also helps your hair to retain its natural color.
Ratanjot or Alkanet is very good in conditioning the hair and helps to prevent premature greying of the hair.
Amla powder is loaded with antioxidants and is a rich source of Vitamin C. Regular use of amla helps to nourish the hair, stimulates hair growth, strengthens hair follicles and prevents dandruff and split ends. Amla also contains all essential fatty acids that help in stimulating hair growth.
Lastly, Mustard oil is loaded with vitamins and minerals such as zinc, selenium, and beta-carotene. Beta carotene converts to Vitamin A which helps in stimulating hair growth. The oil also has a lot of fatty acids, iron, calcium and magnesium.
When you want to oil your hair, take out the required quantity in a microwave safe boil, warm it a little bit and apply with a cotton ball on the scalp and on the roots. Apply the left over oil on the hair length and the hair ends. After applying the oil massage it into your scalp for 2-3 minutes and then flip your hair upside down and massage on the roots and scalp for 2 more minutes. The flipping of hair helps in proper blood circulation to the scalp and it helps in hair growth. I prefer oiling my hair at night and then I give myself a hot towel wrap in the morning prior to the wash. The hot towel treatments helps to penetrate the oil deep into the roots. Wash as usual with any mild and paraben and sulphate free shampoo.
Do try out this hair oil as it is going to solve all your hair problems, for sure. Please try it out and let me know did it work for you or not.
Until next time,
Take care and love yourself.
XoXo.